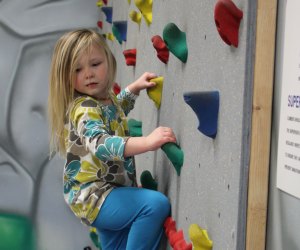 Questers Way - Indoor Play, Classes, and Smoothies
Questers Way, tucked away in a strip mall in Mansfield in Eastern Connecticut, will surprise and please you from the moment you walk into the door. Conceived by longtime martial arts teacher Ken Caputo, Questers Way's mission is to encourage kids to pursue a healthy lifestyle with good food choices, exercise, and intellectual pursuits. There are spaces to learn, play, create, get physical, dance, sing, and play board games. Each class has its' own specialized teacher whose goal is to help students expand not only their knowledge, but also their self awareness and personal confidence.
What makes Questers Way different and unique are the classrooms. Kids (and adults) can participate in classes that will stimulate their minds, bodies and their social lives such as ballet, cheer, Zumba, and martial arts. These are all part of the "Move U" neighborhood.
If those things aren't your kids' styles, maybe something in the "Think Tank" is. In the "Think Tank," kids can draw, paint, and experiment with STEM-style projects. Past "Think Tank" classes have included puppetry, writing a mystery play, and cartooning.
Lastly, maybe your kids love gaming. The "Game On" teachers offer weekly board game and role-playing game sessions and provides kids with a place to create their own board games as well as a place to play Pokemon battles.
The full-size gaming classroom also doubles as the birthday party room.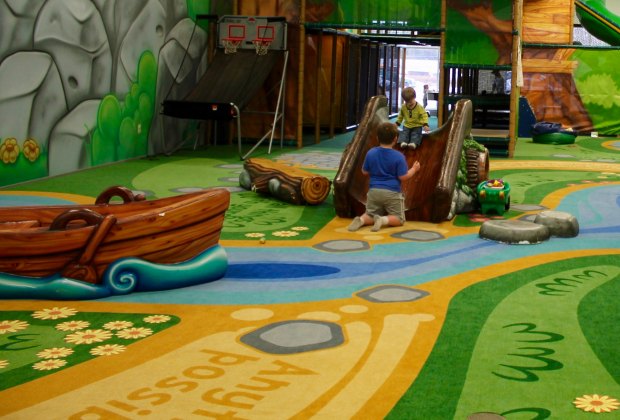 As you walk into Questers Way, the first thing you see is a huge play area for kids age two to twelve. It is full of things to climb and play on: a rock wall, a soft play area for early walkers, and plenty of space to just run around. They also have an air hockey table, Thomas tracks, and a foosball table. Families would, quite honestly, pay an entrance fee just to play in this area for a couple hours.
In the center of the 16,000 ft. facility is Crossroads Cafe where the healthy menu is highly thought-out. Food choices are aimed at giving kids nutritious options like chicken, fruit, smoothies, and salads. Junk food is not an option. You can order toasted cheese sandwiches, pita pizzas, and amazing (very large) salads. Tables and chairs are available but no outside food is permitted. Crossroads Cafe is also a great place for parents to hang out while their kids are in classes.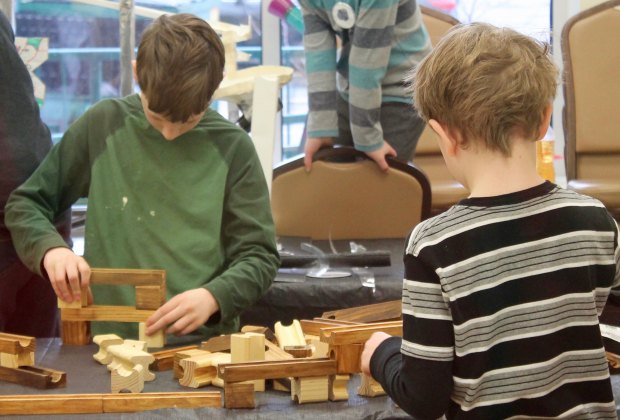 Classes are affordable and divided into peer groups such as Wanderers (0-36 mo), Adventurers (Prek-K), Explorers (K-2nd), Enthusiasts (3rd to 6th), and Pathfinders (7th to 12th). And of course, don't forget the convenient dojo! Caputo hasn't lost his passion for martial arts and runs martial arts classes on-site as well. For more information, and to get a look at their entire list of events and classes, go to www.questersway.com.
Photo credit: Jennifer Coe
Questers Way
95 Storrs Road East Brook Road
Mansfield, CT 06250