Insports Trumbull Indoor Playtime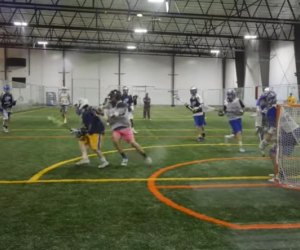 While child rearing, you come to learn all the places you can take your toddler to blow off steam. Some are free. Some are not. Some of you don't discriminate because you're just deliriously happy you're over the stomach bug. The library, Stew Leonard's, Kids U, Fairfield's Playscape, the mall, Westport Y, Next Dimensions Gymnastics, the Bruce Museum, they're all fair game. But what if there was a place you didn't know about? One with coffee. Are you leaning into your screens wondering if this is a joke, or rather, the entrance to nirvana?? Alright, I'll stop teasing. Introducing Insports Trumbull's Wild Cat Play.
This 100 000+ square foot facility reopened after renovations in 2013, and mainly services budding athletes and adult leagues. But every Wednesday and Friday morning, from 10am - 12pm, they throw the parents of little ones a bone (they know who'll be carpooling here six times/week in 10 years) and set up a fantastic playspace for tots. A basketball court (or two or three) is devoted to all things fun -- ride-on toys, scooters, mini basketball, slides, balance beam, bean bags, hula hoops, scarves and a bunch of rubber chickens. Yes, that's right. Rubber chickens. Because who doesn't need a nap after haphazardly hurling a bunch of rubber chickens around ... and then collecting them, over and over and over again. In my experience, the moms grab a scooter to get around (and reminisce about elementary school), while the kids frenetically move from station to station until the place is a mess. It's fantastic. The occasional parent has a runner who finds his/her way around the court curtain and onto the adjacent basketball court, but it doesn't matter because no one else is there!!! Everyone within a mile gets you, and the nonsense you deal with during public outings. And they get your need for coffee.
Oh yeah! Coffee! Either bring in your DD, and use one of the courtside tables on the other side of the plexiglass (if you have an independent tyke, you can literally just SIT there and sip while watching your little one run amok), or BUY coffee when your weary self arrives, at the snack bar (they'll brew some if it's not ready when you get there). They've thought this through. (Like, REALLY, thought it through ... when you graduate to after-school carpooling, you grab a Sam Adams at the bar, and find that aforementioned courtside table with your name on it). And did I say snack bar? Yes I did. Which means you can do (unhealthy) lunch here before putting your angels back in the minivan to fall asleep. Or, pack something and plunk down at the snack bar tables right next to the exit. So streamlined! Come to think of it, the bathrooms are actually between the court and snack bar for a pre-lunch pitstop. (If you need a spot to change diapers, there aren't changing stations in the bathrooms, but they do have a room you can use -- just ask at the front desk).
And one little cherry on top. Last winter, they flirted with setting up a bounce house from time to time. I know. Glorious. While they haven't done it yet this winter, the staff tells me they are in talks to PURCHASE one, so it might become a staple of the Wildcat Play experience. We'll keep you in the loop.
Finally, price. When your time is done, (or when you enter -- they aren't too fussy), you pay $8/hour/kid. Access is easy via the Merritt or 95 -- just take 25N until the expressway ends, and then it's a quick right and left.
For those interested, Insports also offers classes for the preschool set -- even those as young as 2.
Insports Trumbull
29 Trefoil Dr., Trumbull, CT 06611
203-268-1214
Photo courtesy of Insports Trumbull.