Indoor Swimming Pools in New Haven County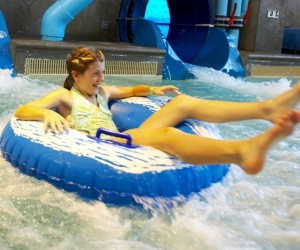 When it's 20 degrees out and your kids are "trying on" their summer swim suits you may think they are going crazy or have cabin fever! Well, I'm not an expert, but I'm guessing the latter is the case. Make their day and take them to one of the indoor swimming options we have found in New Haven County. More indoor pools can be found in Hartford and Fairfield Counties. Your kids will thank you!
Coco Key- Waterbury - CLOSED
It's always 84 degrees here, with 50,000 square feet of indoor water park bliss. They have three 40-foot body and raft rides, an activity pool with water basketball, and a lily pad. Another attraction is the "Parrot's Perch" interactive island with a kiddie area. In addition to water fun there is also the Key Quest Arcade. Food choices include an A&W and a Pizza Hut express.
3580 East Main Street Waterbury, CT 06705 (203) 706-1000
YMCA-Waterbury
With a membership here you will find an indoor, six-lane, 25 yard pool. Open swim is for all, and children under 8 and non-swimmers must have an adult who can swim in the pool with them at all times. Children under 12 must have a parent with them in the pool area at all times. Pool hours vary based on availability of a lifeguard.
136 West Main Street, Waterbury, CT 06702 (203)754-9622
Derby Veterans Community Center
This indoor pool has both membership options and daily "pay per use" options. It's a good deal and worth checking out!
35 Fifth Street Derby, CT (203) 735-4222
Orange Town Pool
This pool is indoor, with 8 lanes that are 25 yards long. Pool memberships are available to anyone, but residents have special rates. Prices are listed on their website in chart form and are far too numerous to list here.
525 Orange Center Road Orange, CT 06477 (203) 891-4790
Woodbridge Town Pool
There are family membership and non-resident family memberships available. Per day it will cost the Woodbridge resident $5 and the non-resident $7, so it's another good deal for the hot months to come.
40 Beecher Road in Beecher Road School South Woodbridge, CT (203) 389-3400
Originally published 3/2/13.
Photo courtesy of CoCo Key.