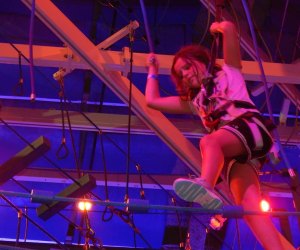 Family Friendly New Year's Eve in Greater New Haven
Do you remember all those late evening's out on New Year's eve...drinking champagne, eating fancy dinners and dressing up....before you had kids? Well, the fun doesn't have to stop just because the babies have come along. Bring the kids along to these fun and memory-making events. You may even start a family tradition!
Mr. Gilbert's Railroad - Hamden
The Eli Whitney Museum's exhibit of toy trains is the perfect place to spend New Year's Eve! If you've got a train lover, you'll definitely want to check out this annual hands-on exhibition. Kids can even build a toy wooden train. Check the website for hours.

Eli Whitney Museum, 915 Whitney Ave., 
Hamden, CT 06517 203-777-1833
Fantasy of Lights - New Haven
Check out this amazing light display in New Haven. Featuring over 60 animated light displays and a 3D glasses option, drive through this beautiful display while listening to a special radio broadcast.
Lighthouse Point Park, 2 Lighthouse Road, New Haven, CT 06512
Yale Peabody Museum - New Haven
Bring your children to one of Connecticut's premiere museums on New Year's Eve and bring along a non-perishable food donation. In honor of Martin Luther King Jr., the museum is collecting food until January 17 for the local soup kitchen.
170 Whitney Avenue, New Haven, CT 06520 203-432-8987
Knights of Columbus Museum - New Haven
Christmastime Family Day is a great opportunity to visit the KOC Museum on New Year's Eve (open 12-3) and see the amazing display of German creches and the Festival of Trees. The museum will offer crafts, refreshments and live, festive music.
Knights of Columbus Museum, One State Street, New Haven, CT 06511 203-865-0400
Creative Arts Workshop - New Haven
This FREE Noon Year's Eve event will include tasty treats provided by Katalina's Bakery, decorating a real pinata, a kid-size Times Square ball drop and music and dancing.
Creative Arts Workshop, 80 Audubon Street, New Haven, CT 06510 203-562-4927
Festival of Lights - Meriden
Witness the illumination of more than 350,000 twinkling white lights. Enjoy more than 200 figures and buildings decorated with the lights in this spectacular free display.
Hubbard Park, 1000 West Main Street, Meriden, CT 06451 203-630-4259
IT Ropes Course at Jordan's Furniture - New Haven
With two 60 foot high rope courses, liquid fireworks, zip-lines, a catwalk and awesome sound and lighting effects, your kids will have a blast on New Year's Eve at IT Ropes Course. A smaller version of the ropes course is available to kids 48" and under.
IT Ropes Course, 40 Sargent Drive, New Haven, CT 06511 203-812-9981
Monkey Joe's - Hamden
Bring your little ones to jump and bounce all their energy out. That way mom and dad get a guaranteed bedtime and can ring in the New Year together! Open New Year's Eve 11 to 6 p.m.
Monkey Joe's, 35 Marne Street, Hamden, CT 06514 203-230-9922
Discovery Depot - Oakdale
Although The Dinosaur Place is closed for the season, Discovery Depot Indoor Adventure Center will be open on New Year's Eve from 10 a.m. to 2p.m. In addition, The Shops at Nature's Art Village and The PAST Antiques Marketplace at Nature's Art Village will both be open 10 a.m. until 4 p.m.
Discovery Depot at The Dinosaur Place, 1650 Hartford New London Tpke., Montville, CT 06370 860-443-4367
Photo credit: C Sasportas