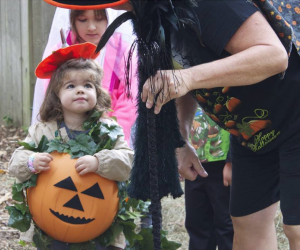 Trick or Treating /Trunk or Treating Events in Southeastern Connecticut
The brisk chill in the air, the sounds of walking on crunchy leaves, homes decorated with pumpkins and mums...all signs point to the heart of fall! And, that means for most of us Moms, we're in the midst of constructing crazy characters or making that last, mad dash for the department store to find our kiddo's favorite costume! (While you're there, don't forget to pick up your goodies to hand out on Halloween!) Want to supplement your neighborhood trick-or-treating experience or would you rather your kids attend a safe trick-or-treating event? Southeastern Connecticut has lots of fun events coming up!
Halloween Trick or Treat at Olde Mistick Village - Mystic
On Halloween from 4-6pm, merchants hand out treats to the little ones throughout the enire village! It's a rain or shine event and don't forget to feed the geese while you're there!
Spooktopia - Jewett City
The first annual Spooktopia is a truck or treat event that features rides, a jack o' lantern display, haunted firehouse, and trick or treating for kids 13 and under. Admission is free!
New London Halloween Town - New London
Downtown New London is transformed into Halloween Town! This annual festival features a costume contest, a walk through pumpkin display, creepy animal sanctuary and safe trick or treat for the kids! Admission is free.
Trick or Treat Night - Downtown Putnam
Merchants and business owners line Main Street to hand out candy to thousands of kids during this safe trick or treating event! October 25 5-7pm.
Scarecrow Kingdom - Danielson
Round up your oldest, scariest, scarecrow clothes and come to Davis Park in Danielson to build a scarecrow with hay and stakes! This event includes trick or treating down Main Street and is limited to the first 100 families, so get there early!
Halloween Parade - Niantic
Come show off your costume and trick or treat in downtown Niantic. There will be candy for the kids and a costume contest.
Fire House Halloween Party - Quaker Hill
The Fire Houses' annual Halloween party will be held on Oct. 31. Come enjoy pizza, candy, soda and fun Halloween games!
Spook-a-Thon - Norwich
Held at Dodd Stadium, kids can enjoy the 7th annual event sponsored by Panera Bread. Bagels, pastries and some coffee (for mom and dad) will be provided and a costume parade and trick or treating for the kids.
Trick or Trunk - East Lyme
Come to the Smith-Harris House with your kids and take part in their trick or trunk event. Your kids can hear (not so scary) folktales and trick or treat.
Image courtesy of Ally Noel