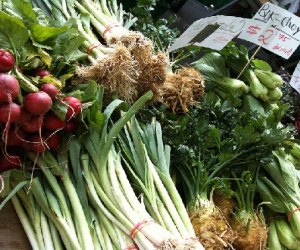 Connecticut Farmers' Markets and Farm Stands Kids Will Love
Connecticut has more than 100 certified CT Grown Farmers' Markets in the state to check out this summer, so it is easy to take the family out for a fun day of shopping for fresh, local produce. Many of the markets are mini destinations where children can be entertained while learning about the importance and nutrition of locally grown food. We love to pick our own berries when they are in season, too, so check out our list of our favorite Pick Your Own Farms in CT.
Here are suggestions on kid-friendly markets, so get out there, eat some healthy food, have fun, and explore!
Eastern CT
Coventry
Sundays, June-October 2017
Voted Best Farmers Market in Hartford Magazine for 2017. Yankee Magazine calls it "New England's Best Farmer's Market" and USA Today puts it on the list of "Top 10 Places to Shop at a Farmer's Market." Those accolades make it worth a trip and the diversity of the products and entertainment will keep you coming back for more. Each week has a different theme, and the street performers, artists and kids' activities provides something for everyone. Chef demonstrations, wine and beer tastings, and pop-up markets around the state make this something special.
2299 South St, Coventry
Chester
Sundays 10 a.m.-1 p.m., June 11-October 8, 2017
This market is billed as European-style, where Main Street is closed, so people and children can roam freely without worrying about cars. Chester residents take their art seriously, and it shows with the musical acts and brightly-decorated store fronts. About 20 vendors, with many local farms, provide provisions such as free-range eggs, organic tea, coffee and dairy, fresh flowers and more. Check the website for weekly entertainment and children's activities. After the market you can visit their acclaimed restaurants, art galleries, nearby lakes and hiking trails.
25-58 Main Street, Chester Center
Lyme
Saturdays, 9 a.m.-12:30 p.m., June -October 8, 2017
This scenic, working coffee farm is the site of the Lyme Farmer's Market. On Saturdays you can find everything from organics, to grass-fed beef, and seafood. About 30 vendor tents are on site, including a food truck. The kids will love visiting with the animals including goats, horses, and cattle.
Ashlawn Farm, 78 Bill Hill Road, Lyme
Stonington
Saturdays 10 a.m.-1 p.m., May-mid-October 2017
This is a year-round market that heads outside from Velvet Mill to the Town Docks in May. You'll enjoy scenic water views while you shop from 25-30 vendors offering local meat, cheese, produce, baked and prepared goods and more. There are picnic areas as well as a neighboring playground to the market. Kids can also meet live animals and children's authors, while listening to live acoustic music and making crafts.
22 Bayview Avenue, Stonington
​Northeastern CT Farmers' Market
Varied hours, June-October
Poultry, vegetables, fruits and more. The NECT Farmers' Markets has been operating markets for over twenty years in several locations in the 'Quiet Corner' of CT.
25 Westcott Road, Danielson, Saturdays, 9 a.m.-noon
18 Kennedy Drive, Putnam, Mondays, 3:30 pm. - 6 p.m.
651 Norwich Road, Plainfield, Tuesdays, 4 p.m.-6p.m.
564 Providence Road, Brooklyn, Wednesdays 4 p.m.-6 p.m.
Fairfield County
Monroe
June 23-October 27, 2017
This 20+ vendor market will feature live, family entertainment for children of all ages. Live music, coloring station and take-home craft projects are just some of the things to look forward to. Homemade pastas and pastries, kombucha, Italian ice, and olive oil highlight the inventory at this diverse market. Several organic produce options and and humanely raised meat and eggs are also plentiful.
7 Fan Hill Road at Route 111 - Town Green
New Canaan
​Saturdays, 10 a.m. to 2 p.m., April 22-December 16, 2017
Yummy herbs, fresh breads, succulent herbs, delicious breads, hanging flowers and custom pet foods Family friendly and kids are welcomed. Rain or shine.
64 Maple Street, New Canaan

Old Greenwich
Wednesdays 2:30 p.m.-6 p.m., May 31-October 2017
Kids will love the location of this market; adjacent to a playground! There is live music every other week, and 12-15 vendors will be on hand. Pies, cookies and dog biscuits are among the selections, so the kids and the furry friends will be licking their chops. Local artists will display art work, cards, hand made soaps, and bath products.
38 West End Avenue, Old Greenwich
Wilton
Wednesdays, 12-5 p.m., May-October 2017
Held at the Wilton Historical Society, the market draws in many families who like to visit the museum, which is free and open to the public. Tours are given everyday at 2 p.m., should you want to schedule your shopping around it. Weekly children's activities including crafts and workshops change each week, and they are featured on the market's Facebook page. Fifteen vendors offer local produce, wood-fired pizza, salads, organic baked goods, and much more.
Route 7 at 224 Danbury Road, Wilton
Hartford County
Collinsville
Sundays 10 a.m.-1 p.m., June 11-October 22, 2017
Historic and hip Collinsville (a section of Canton) is the perfect place for a farmer's market. Amid the river, shops and the CT river trail, you'll find local vendors, many organic, set up in this picturesque small town setting. Live music will keep everyone happy and you can canoe or kayak on the river after you shop.
Corner of Route 179 and Main Street, Collinsville
South Windsor
Saturdays 10 a.m.-1 p.m., June-October 2017
Local companies have donated funds to make this market a family favorite thanks to the entertainment they provide. The Kids Nature Series includes pony rides and animal exhibits. Live music and the ever popular local hot dog stand will have the little ones begging to come back every weekend.
Community Center, 155 Nevers Road, South Windsor
Enfield
Wednesdays, 4 p.m. to 8 p.m., July 12-October 11, 2017
The market is located next to Freshwater Pond in downtown Thompsonville and icncludes vendors that offer crafters, bakers, farmers, handmade jewelry and more. You may even get a visit from Faith the Goat! Falcetti Music plays live music. 2017 will be Enfield's fourth year hosting a farmers' market.
Freshwater Pond, North Main Street, Enfield
Wethersfield
Thursday 3 p.m.-6 p.m., May 18-October 2017
Over 40 vendors and crafters selling local produce, meat, baked goods and more will greet you in the heart of one of CT's most historic towns. Bring the kids and dogs and explore beautiful Cove Park, next to the market. Face painting, crafts and live music make this a community event the entire area has embraced.
The Solomon Welles House, 220 Hartford Avenue, Wethersfield
Litchfield County
Norfolk
Saturdays 10 a.m.-1 p.m., May 13-October 7, 2017
This is a festive event showcasing an array of farmers, musicians, artisans and artists. Up to 50 vendors participate during the season; providing items such as local wine, breads, jams, flowers, yogurt and eggs, prepared food as well as top quality produce and meats. There are several activities to check out after the market including hiking, canoeing, seeing a show at Infinity Hall or touring the Norfolk Historical Society.
Town Hall, 19 Maple Avenue, Norfolk
South Farms Morris Marketplace
Thursdays, 5 p.m.-7:30 pm
Locally grown foods and artisan specialties., South Farms is a place to get healthy and unique treats. Farm fresh eggs, local beef, sausages, olive oil, Italian ice to name just a few. Children's activities like yoga and planting flowers.
21 Higbie Road, Morris
Kent
Fridays, 3p.m. to 6 p.m. and Saturdays 9 a.m. to noon, May-October , 2017
Located in downtown Kent, the market offers local ketchup, eggs, vegetables, cheeses, flowers, herbs and more. Vendors include local farms.
6 North Main Street, Kent
New Milford
Saturdays, 9 a.m. to noon, May-October, 2017
Homemade breads, homegrown flowers and locally grown and produced veggies, soap, beef, milk, cheeses and more. This market is extremely family friendly with features like clowns and magicians in attendance to entertain. They have kids' themed days and lots of activities catered to children. Music each week.
Town Green, Main Street, New Milford
New Haven County
Rose Orchards
Open 7 days a week; Farm store 9 a.m.-6 p.m.; Creamery 9 a.m.-8 p.m., April-December 2017
The Rose family has been farming since the 1600s, so they know their business. They grow and sell a vast supply of fruits and vegetables, and provide pick-your-own strawberries, raspberries, pears and apples in season. They tempt you with baked goods such as pies and cookies, and have a creamery for delicious frozen custard. Custard is creamier and thicker than ice cream, due to more egg yolk. Children can feed the farm animals, take hay rides, and explore the covered bridge and scenic woods.
33 Branford Road, North Branford
Dudley Farm
Saturdays 9 a.m.-12:30 p.m., June 3 - October 28, 2016
On this panoramic farm you'll find nearly 40 vendors providing homegrown or homemade food and goods. Shop for humanely-raised meat and eggs, organic fruit and vegetables, fine baked goods, herbs, flowers and more. Kids can visit with livestock, tour the Farmhouse Museum and hear live music.
2351 Durham Road, Guilford
Hamden
Fridays 11 a.m.-3 p.m., June 24-October 7, 2017
This popular market kicks off on June 24 with 30 food trucks serving up deliciousness. This market caters to the kids thanks to the all-abilities playground, face painting, sidewalk chalk, crafts and more. Entertainment such as live animal exhibits and touch a truck also grace the calendar.
Miller Library Lower Parking Lot, 2901 Dixwell Avenue, Hamden
​Milford
Saturdays, 9 a.m. to 1 p.m., June 17 -October 14, 2017
Artisans, growers, farmers, musicians, friends, food, and fun!
58 River Street, Milford
Updated on 5-7-2017