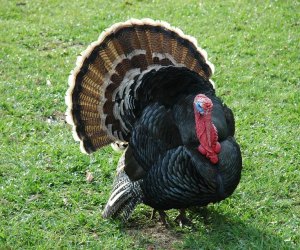 Where to Buy Local, Farm Fresh Turkeys for Thanksgiving in CT
Thanksgiving is almost here, so let's talk turkey. Connecticut has some of the best local, pasture-raised turkeys around. Farm-fresh, never frozen turkeys are a little harder to come by than the endless supply of frozen turkeys at the supermarket. People in the know place their orders weeks, if not months, in advance to reserve a fresh bird for their main dish. If you didn't get in on the pre-ordering action, don't despair! You can still snap up a fresh turkey before they're all gone (hint: order it today). We've even found services that deliver the farm-fresh turkey right to your door in time for Thanksgiving. From Fairfield County to the Shoreline and everywhere in between, it's easier than ever to celebrate Thanksgiving with local foods and a fresh turkey straight from the farm.
Gozzi's Turkey Farms - This third generation farm in Guilford is an institution and their turkeys have been the main event on Connecticut holiday tables for decades. You still might be able to find a Gozzi Broad-Breasted White at the Village Market in Wilton, but your best bet is to pre-order directly from the farm. The farm is worth the trip for so many reasons, not the least of which is that Gozzi's has a pen filled with bright neon turkeys on display through Christmas. Your kids will never forget seeing hot pink, bright blue and neon orange turkeys strutting around the farm. Gozzi's wont reveal how they do it, but they will say that the dye is non-toxic and temporary.
Gozzi's Turkey Farm, 2443 Boston Post Rd, Guilford CT, 06347, 203-453-2771.
Ekonk Hill Turkey Farm - This farm is the largest grower of pasture-raised, free-range turkeys in the state. Their turkeys are not only available for home delivery through CT Farm Fresh Express (see below) but you can also order turkeys directly from the farm. While the Heritage turkeys have already sold out, you can still stake your claim on a Broad-Breasted White at $4.49/lb. While you're at it, pick up one of their delicious pies like Dutch Apple or Pumpkin. I recommend you call or stop by the farm store as soon as possible to place your order.
Ekonk Hill Turkey Farm, 227 Ekonk Hill Rd, Moosup CT, 06354, 860-564-0248
Stone Gardens Farm - The turkeys raised on this family-run farm range in size from 15 to 35 pounds. The cost is $3.75/lb for birds under 19 pounds, and $3.25/lb for birds over 20 pounds. Contact the farm by email to pre-order your Thanksgiving turkey and it will be ready for pickup on November 24, 25 or 26th. Stone Gardens Farm is also one of Fairfield County's largest vegetable growers, so you can find everything else you need for your feast at their farm stand, which is open every day from 10-6 until Thanksgiving.
Stone Gardens Farm, 83 Saw Mill City Road, Shelton CT, 06484, 203-929-2003, stonegds@comcast.net
Saugatuck Craft Butchery - This amazing Westport butcher shop is taking orders for both Heritage Turkeys at $10.99/lb and Broad-Breasted Whites at $6.99/lb. Antibiotic and hormone-free, these bird are free-range and fresh. While the turkeys sold here are not local, they are raised on the famous BN Ranch in California which is considered the ultimate in sustainable and humanely raised meats and poultry.
Saugatuck Craft Butchery, 580 Riverside Ave, Westport CT, 06880, 203-226-MEAT
Ox Hollow Farm - You can order their pasture raised turkey online through Fresh Nation and schedule the delivery right to your front door. Otherwise, you must contact the farm directly to place your order and schedule a pick-up from the special day before Thanksgiving market at the Westport Farmer's Market or from the New Canaan Farmer's Market.
Westport Farmer's Market, 50 Imperial Ave, Westport CT, 06880; New Canaan Farmer's Market, Old Center School Parking Lot, New Canaan, CT, 06840
Bunnel Farm - This fifth generation farm in Litchfield raises Broad-Breasted Whites. The turkeys are pasture-raised and the farm offers hay rides and a store with lovely things to decorate your table like gourds and decorative stalks, making it a nice stop with the kids. The deadline to pre-order Thanksgiving Turkeys just passed on November 15th, but you may be able to persuade the nice farmers to let you reserve a turkey anyway, but only if they have any left.
Bunnell Farm, 498 Maple St, Litchfield CT, 06759, 860-567-9576
CT Farm Fresh Store - This home delivery service brings the farmer's market right to your doorstep. You can order a heritage breed turkey and have it delivered, along with all sorts of other CT grown farm-fresh goodies. Fresh, not frozen, Broad-Breasted Whites from Ekonk Hill Turkey Farm are $4.99/lb. These pasture-raised, antibiotic free birds are available for pre-order through November 20th. You need to pay a deposit of $20 to reserve the bird, and the balance will be due on delivery. The Broad-Breasted Bronze Heritage breed turkeys from Monument Hill Farm are free range birds, raised without chemicals or antibiotics. It's $6.50/lb and it arrives frozen, but that's OK, just plan ahead with enough time to safely thaw it out before the big day. Read their website carefully for ordering instructions.
Mike's Organic Delivery - This home delivery service features farm-fresh and organic foods from CT and NY farms. Mike delivers to lower Fairfield County, so Greenwich including Riverside, Cos Cob and Old Greenwich as well as Stamford, Darien and New Canaan. You can order fresh, not frozen, pasture-raised Broad-Breasted Whites from Hemlock Hill Farm from 12 to 24 pounds. Mike's also offers entire Thanksgiving dinners for up to 16 people. These meal packages include the turkey for you to prepare and together with prepared sides like mashed potatoes, whipped sweet potatoes, stuffing and cranberry sauce as well as an apple crisp for dessert.
OUR LATEST VIDEOS