Spring Fairs in Fairfield County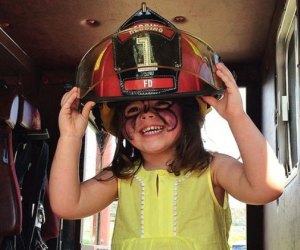 Aaaaah, spring is in the air! It's like the entire world is waking up from a long winter's nap and is ready to party. You and your family can join in on the fun with these festivals, fairs, and special events located around Fairfield County this season. If all that fresh air has awakened your sense of wanderlust, make sure you hop over to Westchester and check out some of their Spring Festivals too!
Spring Fling Pancake Breakfast + Sheep Shearing - Wilton
Saturday, April 30, 2016
If you like your pancakes with a side of sheep, then you have come to the right place! Enjoy a stack of pancakes while watching the farm's resident sheep get sheared for the warmer weather. You can also make a spring craft, take home a packet of seeds at this fun-filled family event.
Dig Into Spring Festival - Westport
Saturday, Apr 30, 2016
Join Terrain in Westport and celebrate the arrival of the garden season at their annual Dig into Spring Festival. There will be food and activities for the whole family (and some special workshops to make a little something for mom too!)
21st Annual Frog Frolic - Redding
Saturday, April 30, 2016
Mark Twain sure knew how to throw a party! Come on down to the Redding Community Center and hop in on the fun. The Frog Frolic is a take on a children's county fair as only Mr. Clemens could imagine. It's a day of leisure dedicated to food, family, friends, and of course, fun and games.
Kite Festival - Greenwich
Saturday, April 30, 2016
The Festival is sponsored by the Greenwich Arts Council and the Town of Greenwich Department of Parks & Recreation in partnership with Smart Kids Toys. Participants are encouraged to bring kites of all shapes and sizes, made of plastic, paper or fabric. Award ribbons will be presented to all high fliers.
Greenday Celebration - Westport
Saturday, May 14, 2016
Take a twirl around the maypole at this Westport celebration. Meet animals, watch sheep shearing, and other fun will help give everyone a case of spring fever.
Spring on The Farm Festival - Stamford
Saturday, May 14 through Sunday, May 15, 2016
Join the Stamford Nature Center for this fun weekend on the farm and meet the newest additions to the Heckscher Farm family! Watch as the sheep get their annual shearing and learn about what happens with their wooly coats. See first hand how to turn wool into felt or yarn, among a variety of other hands-on demonstrations. There will be activities for all ages including face painting, crafts, live music with Jay and Ray, and a plant and herb sale.
Farm Day at Flanders Nature Center - Woodbury
Saturday, May 21, 2016
Come and capture the sights, sounds, and smells of a real New England Farm at Flanders' Farm Day. This is an annual favorite for families! This year, they are launching the new "Flanders Farm Olympics" event where family members can compete in farm related activities for a chance to win prizes.
Check out our Best of Spring guide for even more Spring activities.