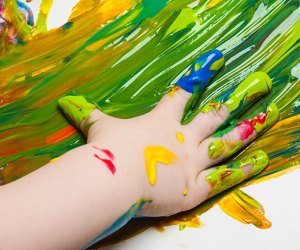 Kids' Art Classes in Eastern Connecticut
Many children are naturally drawn to art, always interested in exploring with color and texture. Art is interesting, educational, creative, and usually, the messier a project, the more fun it is. If your kids are visual or sculpture aficionados and ready to delve into a class, here's a list of options we found for families in Eastern Connecticut. For even more after school fun, check out our Classes and Actvities Guide.
Expressiones, New London
This cultural art center offers classes in visual arts, including painting, performing arts, and language arts. Adult classes are available also.
TDP Art Studio, New London and Westbrook
Every Sunday, TDP opens for family "mini artist" classes, where TDP staff walk each student through creating a masterpiece on canvas. Past subjects include a sock monkey, peek-a-boo giraffe, and Dottie the Fish. Appropriate for kids ages 3 and up. All skill levels are welcome.
Mystic Museum of Art, Mystic
From toddlers to teens, the Mystic Art Center helps all kids explore the artist inside. Classes meet weekly and help kids discover their love for art with activities that nurture creativity and imagination, whether that includes drawing, sculpture, painting, or mixed media. Summer camps are also offered.
Lyman Allyn Museum, New London
The museum offers Free First Saturdays, summer art immersion camps, and unique opportunity for homeschool students, ages 5-13, to participate in comprehensive art classes that teach artistic techniques and to explore the museum.
Wee Little Arts, Marlborough
Classes are designed specifically for preschool aged children and focus on a specialized curriculum that covers the basic elements of art, painting, drawing, and three dimensional art projects.
Photo credit: courtesy of bigstock.
Originally published 09.16.2013