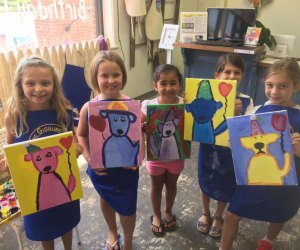 Get Crafty at These After School Art Classes in Fairfield County
Art. So simple. Yet, impossible to define. What I will say is, it can be the antidote to the stresses of an uber-busy Fairfield County kid. Yes, they need to do their homework, practice their gymnastics and/or hockey, learn the piano, attend swimming lessons, and hey, master computer coding, but what about an after-school activity that's theirs to make and mold? There are art classes on everything from anime to weaving available, and you can enroll in a short session, or one that lasts all semester.
Green Moon -- Greenwich and Westport locations ONLY
Green Moon caters to the youngest of artists, up to age 7 -- so your Kindergarten or 1st Grader would be the big fish here (after a full day of being the small fries)! They take a holistic approach with their instruction, and this fall will offer 'Art Class' which incorporates group, individual and sensory work, while 'Themed Art' gets kids into the crazier stuff, like printmaking and sculpture. Courses run early September to mid-November.

170 Post Road West, Westport 06880
Chabad Center of Greenwich, 75 Mason Street, Greenwich
The Little Red School of Art and Music -- Stratford
This incredibly sweet school tucked along the Academy Hill section of Stratford has been offering art and music classes for children of all ages since 1991. Once a week art classes are held on Tuesdays, Thursdays, Fridays or Saturdays for 90 minutes and include watercolor or acrylic painting, cartooning, sculpting, and more.
2979 Main Street Stratford 06614
Art Spot -- Danbury
This place has it all ... plus, private lessons if you'd like. Even better, they offer payment plans, and you can watch for discounts on their Facebook page. Anyhow, onto the art! Classes are available for school-aged children up to 16. They have SO MANY classes, with different start dates, we weeded through and found solely the after-school ones from Fashion Design to Fine Art.
88 Sugar Hollow Road Danbury 06810
Silvermine Art Center -- New Canaan
Classes for kids in all sorts of mediums are available from scultpture to drawing, pottery to painting. Plus, the onsite gallery is always fun to peruse!
1037 Silvermine Road, New Canaan 06840
Splatterbox -- Westport
They are closed on Mondays, but Tuesday-Thursday they have 5-week sessions for school-aged children (a little less commitment!). Even better, you can start that 5 weeks whenever you'd like -- ahh, convenience! Then, on Fridays, they offer a "Kids' Night" session, so parents can go out to dinner. Clever!
1252 Post Rd East, Westport 06880
Paint, Draw & More! -- Various Locations
A myriad of arts (think printmaking, weaving, cartooning, and classical) are taught at one of many community centers throughout Fairfield County (Fairfield, Norwalk, Newtown, Brookfield, Prospect Park, Ridgefield, Stamford, Weston, Wilton). There are too many options to list here, but know they generally have two fall sessions to choose from.
The Giggling Pig Art & Party Studio -- Shelton, Bethel
Ah, the lovely little Giggling Pig. Though I can't say little anymore because they keep expanding their space along 110 in Shelton. Owner, Hannah Perry, likes to mix it up, keeping projects fresh for her repeat customers. This place is extra awesome for its great prices, unparalleled flexibility and attention to those with special needs. Classes range from Mommy & Me to Intermediate and Advanced and are held on both weekdays and weekends.
472 River Rd.,Shelton 06484
178 Greenwood Ave Bethel 06801
The Studio -- Fairfield
Guided open studio (painting, sculpting, drawing) and pottery for all ages. Portfolio prep also available.
85 Mill Plain Rd., Bldg. B, Fairfield
Originally published 9/4/15.