Best Cooking Classes for Kids in Connecticut: Hartford, Fairfield, and New Haven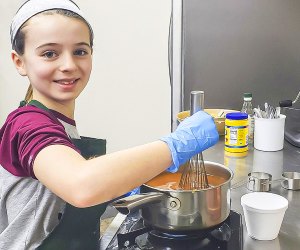 The best cooking classes in Connecticut are a great activity for kids. Cooking classes provide healthy enrichment, giving kids hands-on experience in the kitchen. Cooking lessons are a great way to enage a fussy eater; whatever their skill level with cooking, kids are more likely to eat cuisine they have prepared themselves. There are skilled professsionals at these kid-friendly culinary schools in Fairfield County, Hartford, and New Haven Connecticut. These instructors reinforce the importance of practicing safe cooking techniques and trying new foods. For teens, younger kids, even toddlers, these cooking programs are sure to spark creativity and expand palates, inviting your child to try something new. Kids cooking classes might even inspire your junior chef to lend a hand in your own kitchen. So, get those aprons ready and sign your child up for a kids' cooking class! And read on for our guide to the best cooking classes for kids in Connecticut.
You can find more cooking classes for kids, and even book a class online, in our directory of classes and listings. Check our Connecticut Classes for Kids Guide for more kids' activities and classes for kids of all ages and interests.