Parks, Farms & Nature Places to Visit This Fall in Granby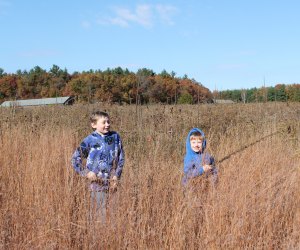 At the northern tip of Hartford County, you'll find a pastoral oasis: the towns of Granby, East Granby, West Granby and North Granby. Their rolling hills and dense woods make for some of the best hiking in the county, and an abundance of farms offer exciting and delicious experiences for children of all ages. Whenever my family craves a break from city noise and concrete buildings, we head to one of the Granby towns where tranquility and open vistas await, Spring, Summer, or Fall! Without further ado and in no particular order, here are our top 10 favorite stops in the area:
Salmon Brook Park
Bring a picnic basket and spend a few hours here. Kids have plenty to keep them happy: soccer fields, baseball fields, a batting cage, and a volleyball area are perfect for ball enthusiasts. On hot days, enjoy the sandy beach and cool off in a pond ideal for young swimmers: its bottom descends gradually, a lifeguard is on duty, and the water quality is regularly tested. The park is also home to two playgrounds: a small, fully fenced play scape for tots, and a large area designed for ages 2-12. Here they can climb, slide, chase, swing, and perfect their balancing skills. Picnic tables and restrooms (open seasonally) provide comfort and convenience. In the Fall, check out Salmon Brook's Trunk or Treat event held on October 29.
Holcomb Farm
This 367-acre working farm offers art classes, nature education programs, and miles of walking, hiking and bird watching. The trails vary in difficulty and are well marked. Some connect with Mclean Game Refuge and Enders State Forest. Pack water and snacks, and spend some time listening to leaves rustling in the wind or playing a game of I Spy. In the Fall, Holcomb Farm will play host to a "When I am Home" class for kids where they will learn how to safely be at home when they need to be. They will also be holding a Junior Chef class at the Farm.
Sweet Pea Cheese
Take a peek at the cows and goats, and enjoy a variety of deliciously fresh cheeses and chocolate milk that could pass as a milkshake (cash only). In the Fall, come and enjoy their annual corn maze!
Clark Farms at Bushy Hill Orchard
Tractor-driven wagons will take you to the orchard where you can pick more than 17 kinds of apples. Further satisfy your apple cravings with cider donuts and apple turnovers from the Apple Barn Store, and apple pie ice cream from The Creamery. Pic-your-own is open on the weekends from 10:30 to 4 p.m.
Maple View Farm
A home to chickens, pigs, cows, and goats, this is a small farm with big personality. The horse-riding program is especially geared toward young learners, and Barn Fun sessions are a fun way to learn about caring for animals and their environment through the end of the year. Don't leave without checking the Farm Store; Maple View's own grass-fed beef and pasture-raised pork are sold here, as well as local maple syrup and eggs.
Grass Roots Ice Cream
If you're overheated by a play session at Salmon Brook Park in the summer or a hike on one of the trails in the Fall, stop by this ice cream shop located in the town center. What makes this ice cream parlor special is the use of real fruit, and natural and organic topics, and the absence of artificial dye and colorings.
Enders State Forest
The five wonderful waterfalls found here are as refreshing as they are striking, especially as the snow melts or following a rain storm. The hike is short, and though steep in some spots, little hikers don't seem to have a problem. Because guard rails are absent, be prepared to hold on to little ones as you get close to the falls. FREE.
Peak Mountain
Also known as Copper Mountain, pack water and snacks, and get ready for a somewhat challenging hike up Peak Mountain. This hike will reward you with incredible views beginning at the first lookout. On the way back, be prepared to keep up with children running down the mountain, which is part of the Metacomet Trail. Enjoy the silence and beautiful surroundings, especially striking on autumn days. FREE.
Mclean Game Refuge
Enjoy 3,200 acres of abandoned farms and wild land offering everything from water, waterfalls, wild flowers, birds, and hiking trails. In the warmer months you'll see horses strolling by, and the occasional black bear. A unique feature of the Refuge is its ability to accommodate visitors with mobility impairments. Electric or manually-powered devices can be used here, though not on every trail. FREE.
Old Newgate Prison
​This attraction appears last only because it is currently closed for renovation, BUT, it will be reopening in October of 2017 for a Newgate Prison Halloween event! Check out this colonial-era copper mine turned into Connecticut's first prison in 1773. Tunnels, history, and mystery – sounds like a perfect outing with children.
Originally published: 9/12/2015.