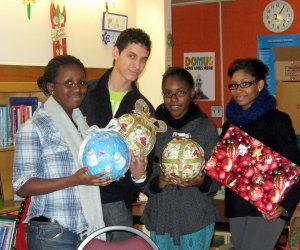 Where to Volunteer with Kids in Fairfield County, Connecticut
With all the getting that goes on this time of year, you have to be intentional to get your kids to understand the importance of giving as well. If you'd like to go beyond the family gift exchange to teach your kids about the needs in their community, there are several ways to do it here in Fairfield County -- even if they're quite young.
(We've listed some options for volunteering with kids as well in Litchfield County and Hartford County.)
It can be as simple as coming up with healthy snacks, or as ambitious as coordinating your own collection drive. Here are a few organizations looking for help, be it one-time only, or something your family elects to do on a regular basis.
In Stamford
Domus, in Stamford, cares for the region's most vulnerable youth and their families through charter schools, residential programs and community programs. They currently have two options for families who want to tap into the spirit of giving:
1) Prepare a meal for abused or neglected teenage boys in one of two group homes. Whip up a well-balanced, ready-to-eat meal that can satisfy 10 growing men ... and drop it off by 5pm! It's important to note, your children are not allowed to enter the home. Comfort foods such as ribs, beef stews, lasagna, beef tacos, meat loaf with mashed potatoes are greatly enjoyed.
2) Work a 2-hour shift at the 'Domus Holiday Mall' on December 17, 2016. This shopping experience is set up for the parents of children in Domus' care. Volunteers help keep the gift tables and clothing sections organized, wrap gifts, schlep gifts and keep the cafe stocked and tidy. You can also offer to bring clothing store shopping bags, wrapping paper and ribbon, or baked goods for the cafe. Festive music and holiday cheer provided!
83 Lockwood Ave., Stamford, CT
Contact: Julia Wade
jwade@domuskids.org
203-324-4277
In Norwalk
The Family & Children's Agency, in Norwalk, is an expansive non-profit committed to bettering the lives of the very young, very old, and everyone in-between. They tackle the big stuff: homelessness, foster care, addiction, education and eldercare. They've got four opportunities for your family to jump in and help immediately:

1) Provide Sunday Lunch for 40 Homeless Adults
This South Norwalk drop-in center acts as a first point-of-contact for the Agency and the homeless. It is a place where the homeless can come during the day to socialize or seek out support. You and a couple other families can team up to plan, purchase and provide Sunday lunch for 40 individuals, to be delivered by noon on the day you've selected.

2) Organize a Collection or Drive
Go big and collaborate with your office, school, youth or religious group to collect needed items for one of the many groups the Family & Children's Agency serves.
Ideas:
New baby items (clothes, diapers, socks, bottles)
New school supplies (backpacks, pens, pencils, paper, folders, rulers, markers)
Personal care bags for teens (chapstick, scented lotions, and hair care products)
Arts and craft kits for foster care children (crayons, markers, pads, construction paper)
Norwalk Wheels bus tokens for safe rides for middle school students
Non-perishable food items
Hygiene bags (soap, deodorant, hair products, dental care items)
New clothing collection for homeless adults (t-shirt, seasonal clothing, socks)
Gently-used winter coats for homeless adults (in season)
Baskets of cleaning supplies
"Welcome" baskets (linens, utensils, cups, plates)
New gifts for all ages to be given for birthdays or prizes for academic excellence

3) Be Creative & Make Gifts
Use your special skills, or put a hobby to good use by creating special gifts. Examples include hand-knit scarves for homeless adults, handmade baby quilts for newborns, welcome baskets for newly-housed clients, and "jars of joy" dry cookie jar mixes and soup mixes.
4) Make Baked Goods or Provide Snacks
The Agency has two programs requiring baked goods or snacks on a daily basis, for approximately 50 clients -- either the Drop-In Center for homeless adults or the After School Program for at-risk middle school students. Ideas include: breads, muffins, cookies, fruit, pretzels or any snack of your choice (please refrain from using nuts).

Each volunteer opportunity has a different drop off location, so call or email for details.
Contact: Mayx Holmes
MHolmes@fcagency.org
203-523-5715
In Westport
Save our Strays, in Westport, is for the family with a soft spot for animals. The caveat: this is for older children, as all volunteers must be 16 or older. Help care for, socialize, and love on all the pets they have up for adoption.

1677 Post Road East, Westport, CT 06880
(203) 255-0514
In Bridgeport
The Bridgeport Rescue Mission serves the largest population of hungry and poor in our state. As such, they are never short of activities to keep young hands busy. The "Kids Who Care" volunteer program offers multiple opportunities for kids to give back including:
Sweet Treats - Create Sweet Treat packages for the more than 200 men, women and children who enjoy free meals each day through our main dining room and Mobile Kitchens. Bake cookies or brownies (no nuts, please) and package two each in Ziploc® bags for dessert. Deliver them to the kitchen at 1088 Fairfield Avenue, Bridgeport, before 3 p.m. any day of the week.
We Care Kits - Put together kits for overnight guests including items travel-size soap, shampoo, conditioner and toothpaste along with a toothbrush, tampons, and pair of white tube socks.
Bare Necessities – Socks are the most requested and needed item at homeless shelters. Provide the bare necessities for the working- poor and homeless men, women and children. Collect new, packaged underwear, bras and socks for all ages and sizes. Or, collect gift cards to Kohl's or Wal-Mart so purchases can be made as needed.
For information about volunteer opportunities at the Bridgeport Rescue Mission, contact Courtney Pandolfi, volunteer manager, or call 203-333-4087, etc. 112.
In New Canaan
The Wavenly Health Care Network in New Canaan seeks loving friends of all ages to share your skills, hobbies and interests by being a companion or assisting in therapeutic recreation programs. Opportunities exist to perform as well as designing your own programs, such as sharing a collection, gardening or teaching a class. Others serve lunch, dinner or tea or greet visitors at the reception. To help out, contact Debbie Perron at (203) 594-5334.
In Shelton
Area Congregations Together operates the Spooner House in Shelton, CT, the only homeless shelter in the Lower Naugatuck Valley and one of the few in the state that welcomes families with children as well as individual adults. Kids can volunteer with their parents to:
Serve lunch or dinner meals to residents of Spooner House
Sort and pack non-perishable food items in the Food Bank
Run a food drive on behalf of Spooner House
Weed the garden
Suggest an activity that matches your interests
All new volunteers must attend a New Volunteer Orientation before starting to volunteer. Contact Kate Pipa at 203-225-0453 ext. 102 to volunteer your time.
Other Resources
Finally, we've included this LINK to a listing of 16 homeless shelters in Fairfield County. Ring up the one nearest you to see what your family can do!
Originally 11/3/14.
Photo courtesy of Domus.