TGIF Cruise: Relax (and Learn!) on the Water in Norwalk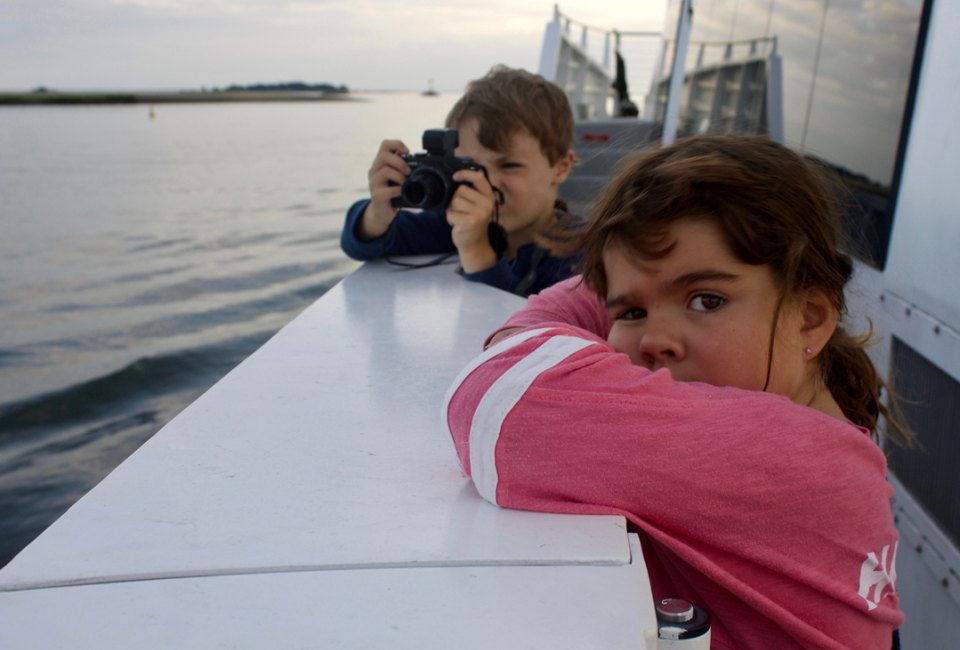 7/6/18
- By
Ally Noel
One of our favorite things about living in Fairfield County is our direct access to the Long Island Sound. On warm summer days, you can often find us with our toes in the water, staring longingly at the horizon, thinking "if only I had a boat." Well, that is where the Maritime Aquarium's "TGIF Cruises" come in.
During the day, the research vessel (R/V) Spirit of the Sound welcomes school groups and tourists to study marine biodiversity, learn about plankton, and examine coastal terrain. But, on Friday nights all that changes. Guests are encouraged to start their weekend off with a "relaxing boat ride out to the Norwalk Islands."

Enjoy a peaceful evening on the Sound.
For the second summer season in a row, the Maritime Aquarium is offering public cruises on Friday nights called "TGIF Cruises". This laidback cruise provides us "boatless" folk with the means to get out onto the water. We had the pleasure of joining them on board the R/V Spirit of the Sound on a warm summer evening.
We arrived in South Norwalk a little after 6pm to give us time to park and head over to the boat. The Aquarium's dock is located next to the IMAX theater. There is a small parking lot located directly adjacent to the dock, but you will probably have better luck parking in the large lot next to the Aquarium.
A small crowd was gathering on the dock in anticipation of boarding; it was an eclectic group including other families with young children, a couple enjoying a date night, and a small family reunion. The proximity of the Maritime's dock to downtown South Norwalk makes the TGIF Cruise an ideal way to kick off (or in my case, end) your Friday night.
After we learned about the boat's safety features, we were ready to hit the open seas. Aquarium educators are on board to answer questions, but there is no official program on the TGIF Cruise. We had a great time looking for fish, an elusive humpback whale, and birds. Mainly it was just nice to actually get out on the water, beat the heat, and feel the cool sea air blow through our hair. We waved at other boats passing by as we watched the sunset turn the sky into beautiful pink and blue swirls. The cruise provided a lovely, quiet respite after surviving the chaos of the work/school/camp week.

Looking for wildlife aboard the R/V Spirit of the Sound
There is no food or drink available for purchase on the boat. Guests are encouraged to bring food and beverages in a small bag or soft-sided cooler. For safety purposes, glass bottles are prohibited. We packed a few snacks and treats to enjoy on our journey, but there were definitely people with way more interesting spreads.
The TGIF Cruise departs at 6:30 on Friday nights and returns around 8:00 PM: just in time for a late dinner. South Norwalk (or SoNo, as we like to call it) has a wide range of dining options. Families are drawn to Burger Bar & Bistro, Mecha Noodle Bar, or Kazu Sushi Bar. Whatever you decide to do afterwards, a TGIF Cruise is definitely the perfect start to a summer weekend.

Photos courtesy of Ally Noel
Places featured in this article:

Sign up for our free
newsletters.
Mommy Poppins is a family activity website that helps people find things to do with kids.
©
2023
MommyPoppins. All Rights Reserved.
mp-prod4-v4.32.99
Sign up for the Mommy Poppins Newsletter today!
i