SPONSORED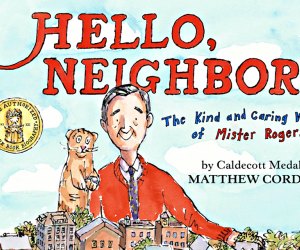 Bring Mister Rogers Home With These Interactive Activities and a New Picture Book
If ever there was a time we needed Mister Rogers, right? Chock full of inspiring messages about kindness, caring, and reliance on our neighbors, the classic TV icon is perfectly timely right now, as our communities and kids navigate the unprecedented Coronavirus pandemic. While some of our challenges have changed since the show first aired in 1968, Mister Rogers Neighborhood has always offered children and their families a way to understand and talk about difficult topics—all while finding hope for a brighter tomorrow.
Fortunately, there are a few ways to fill your home with the nostalgic comfort that only a certain man in a certain red cardigan can bring. Caldecott Medalist Matthew Cordell just released a brand new book called "Hello, Neighbor! The Kind and Caring World of Mister Rogers" (the only authorized picture book biography of Fred Rogers, by the way), which tells the tale of Fred Rogers' early life and the creation of his historic show. Brought to life with playful, scribbly illustrations and soft watercolors paired with exclusively published archival photographs, kids get a behind-the-scenes look at the thought, care, and hard work that went into the production, along with a much bigger lesson about what it means to truly come together.
Can't wait for the book? Make the most of your time at home with the activities below—brought to you by the team behind Matthew Cordell's beautiful book—from watching a classic episode of Mister Rogers Neighborhood, to writing a poem about being special, to printing out a sign to hang on your door when you're busy daydreaming. So, get to work, and make sure to place your order for "Hello, Neighbor! The Kind and Caring World of Mister Rogers"

Mister Rogers Activities
Start by watching an episode of Mister Rogers' Neighborhood!
Can you define the word "neighborhood"?
What makes a good neighbor?
Mister Rogers always conveyed kindness.
Can you explain your idea of kindness in words?
Can you illustrate what kindness means to you?
Mister Rogers used to say, "You are a very special person. There is only one person like you in the whole world."
What are some of the things that make you special?
Can you write a poem that's titled "I'm Special"?
Mister Rogers' favorite number was 143 because it represented the number of letters in each word of "I Love You." Make a chart of numbers that represent the following, then choose your favorite number and write a paragraph or draw a picture that best explains your choice.
I Care About You
You Are My Friend
I Am Happy
It's You I Like
I Am Brave
Let's Be Neighbors
I'm Proud of You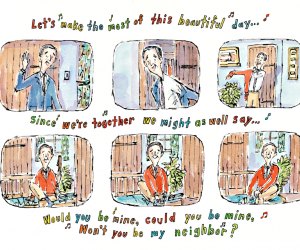 Listen to one of Mister Rogers' songs!
How does the song make you feel?
Can you create a dance that expresses the meaning of the song?
Fred Rogers once said that when he saw scary things, his mother would say, "Look for the helpers. You will always find people who are helping."
Can you make a list of people who are helpers when you feel sad, lonely, or scared?
How might you thank the helpers?

Free Mister Rogers Printables
I'm Reading/I'm Daydreaming Door Sign
Print this adorable sign to hang around your house, so no one disturbs your reading hour!
Open/Closed Door Sign
Print this downloadable open/closed door sign and hang it at home to welcome people to your own Neighborhood of Make-Believe!
Now, bring home the ideals of compassion, kindness, and patience that make us all good neighbors, by ordering this totally captivating picture book, "Hello, Neighbor! The Kind and Caring World of Mister Rogers."
All photos courtesy of Holiday House and Matthew Cordell