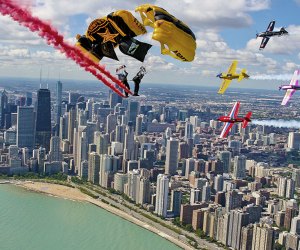 Things to Do This Weekend With Chicago Kids: Air and Water Show, Bit Bash, Summer Fests
Look to the skies: The Chicago Air and Water Show returns this weekend with incredible displays of aerial skill. You can also look to the screens, as The Museum of Science and Industry hosts Bit Bash, where kids (and adults) can play dozens of cutting edge games as part of this weekend-long festival of technology and art.
On Saturday, Girls Who Code hosts a free workshop for middle school aged girls interested in digital design, with hands-on activities and plenty of experts on hand to inspire. Kids can also work side by side with professionals at the Chicago Philharmonic's Side by Side concert, where musicians from the award-winning orchestra play and rehearse with students and community members.
Kid-friendly street festivals and block parties around town this weekend include Pilsen Fest, Edison Park Fest, the Glenwod Ave Arts Fest in Rogers Park, and the South Shore Summer Festival, each with tasty food, performances, and plenty of kid-friendly action. And if you've ever wondered what a million-dollar penny looks like, one will be on view at this weekend's World's Fair of Money at Rosemont.
Our summer bucket list of things to do before school starts has even more ideas, and the event calendar is packed with performances, exhibits, and festivals for making the most of your summer. Have a great weekend!