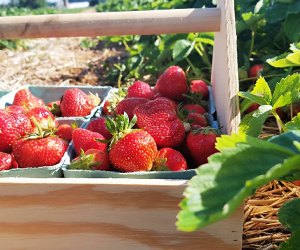 Strawberry Picking near Chicago: U-Pick Berry Farms for Illinois Families
When kids pick their own strawberries, those berries taste even better—especially after several months of staying at home. As summer arrives in the Midwest, families can begin to enjoy strawberries in June and blueberries, blackberries, raspberries, and even gooseberries (if you know what to do with those) in July and August. We found 11 farms within 90 minutes of Chicago where kids can get some fresh air and some fresh fruit as they enjoy a trip away from the city.
Each u-pick farm has posted its own guidelines for 2020, regarding how to socially distance and whether or not masks are required (if they are, we know some fun kids' masks). Some area farms have opted not to open for pick-your-own this season if they do not have the space for social distancing or the staff to enforce distancing rules. Families should call or check each farm's website or social media pages for more details before heading out to pick since weather conditions and COVID-19 guidelines change. Many berry patches have cancelled festivals or other annual events, but the patches below are all open in 2020!