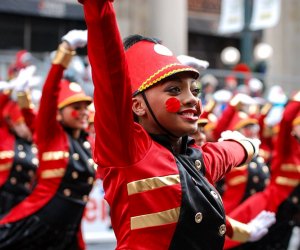 Thanksgiving Weekend Things To Do in Chicago with Kids: Thanksgiving Parade, Millenium Park Sing-Along
Looking for the best things to do in Chicago this weekend? Here are some family-friendly events and activities to add to your list for this weekend.
Gobble up some activities along with your turkey this Thanksgiving weekend! There's plenty to do around Chicago, and many of the activities are outdoors. Check out the Chicago Thanksgiving Parade along State Street or sing along with carolers in Millennium Park to kick off the holiday season. Take part in an outdoor escape experience near the Art Institute or Opt Outside at North Park Nature Village. Families that are ready to enjoy indoor experiences again can see the music from Home Alone performed live by the Chicago Symphony Orchestra, see one of the season's first performances of The Nutcracker, or take in the acrobatics of Cirque du Soleil at 'Twas the Night Before at the Chicago Theater.
As COVID-19 continues to be a concern for many Chicagoans, families may want to take part in some less structured activities such as viewing fall foliage on a nature hike or skating on one of our favorite outdoor rinks. Looking to save some money for holiday gifts? Check out our guide to free holiday activities in and around Chicago
Let's all give thanks for our wonderful kiddos as we enter this holiday season together!
More Things To Do in Chicago this Week with Kids
OUR LATEST VIDEOS
Things To Do Thanksgiving Weekend in Chicago
More Things To Do in Chicago this Season