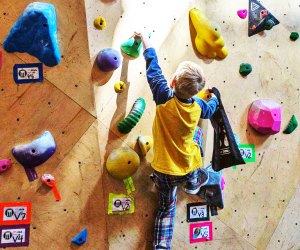 Chicago Winter Fun List: 50 Things To Do Indoors with Kids
A little bit of winter weather never stopped a true Chicagoan from getting out there and enjoying the city…Except when the city is in the grip of a polar vortex, of course. Or when just getting outside also involves putting boots and five layers of winter gear on a troop of small people.
So yeah, sometimes it can be hard to get motivated to head out into the cold for all the kid-friendly events happening in Chicago. But to help, we've compiled a list of 50 awesome places for kids to run, jump, bounce, learn, create, and get cultured indoors this winter. And some are even FREE.
Sign up for our FREE newsletters to get local events and picks delivered straight to your inbox.

Head to the Smart Museum of Art for Family Days. Photo courtesy of the museum
1. Visit of one Chicago's many always-FREE museums, such as the Smart Museum of Art or the National Museum of Mexican Art. Kids under 14 are always free at the Art Institute of Chicago, and kids under 18 are always free at the Museum of Contemporary Art.
2. Take advantage of Illinois resident FREE days at the Shedd Aquarium, the Adler Planetarium, or the Museum of Science and Industry. The Field Museum is FREE the entire month of February!
3. Spend the day at one of the top-notch children's museums in Chicago: There's the Chicago Children's Museum at Navy Pier, of course, but don't forget the Kohl Children's Museum in Glenview, the DuPage Children's Museum in Naperville, the Bronzeville Children's Museum, the KidsWork Children's Museum in Frankfort, Wonder Works in Oak Park, and the Children's Museum in Oak Lawn.
4. Explore a slightly off-the-beaten-path museum like the Lizzadro Museum of Lapidary Art in Elmhurst, full of unusual treasures.

Watch an intricate miniature model railroad wind through magnificent scenery. Photo courtesy of the arboretum
5. Watch the model trains whizz by at the Enchanted Railroad exhibit at the Morton Arboretum.
6. Play tourist at the Chicago 360 observation deck in the John Hancock Center.
7. Settle in for a good read at one of Chicago's independent bookstores. Women and Children First and Volumes Book Cafe are especially welcoming to young visitors and readers. FREE
8. Hit one of the regular storytimes hosted at bookstores and culture centers around town, like the Little Squirrels Storytime at the American Writers Museum.
9. Don't forget the library! The massive Thomas Hughes Children's Library at the main branch of the Chicago Public Library has a puppet stage and interactive play-and-learning zones, plus regular storytimes and workshops. The Chinatown branch is also beloved for its award-winning design and bright, action-packed children's center. FREE
10. Drop in to the daily, FREE art studio for kids at the Art Institute of Chicago.
11. Get messy at drop-in arts and crafts sessions at Easel Art Studio in Bucktown, The Paintbrush in Lake View, or Sunshine Arts & Crafts in Highland Park.
12. Drop off your young artist (age 3 and up) at the Young Art studio in Northbrook Court: While kids paint, draw, and create, grownups can get shopping or errands done.
13. Get the best of all worlds—an open art studio, an imaginative play zone for kids, and a comfy lounge for diving into a good book—rolled into one space at Gather in Evanston.
14. Shake off the winter blues at a family concert series like Juicebox at the Chicago Cultural Center and Garfield Park Conservatory, the Rock and Roll Playhouse at Thalia Hall, or World Music Wednesdays at the Old Town School of Music.
15. Jam with the animals at the weekly Sing Along with Mr. Singer series in the Main Barn at the Lincoln Park Zoo, and explore the indoor play stations for little ones after the show. FREE
16. Climb, slide, dress up, make believe, or play at one of the city's best indoor play spaces.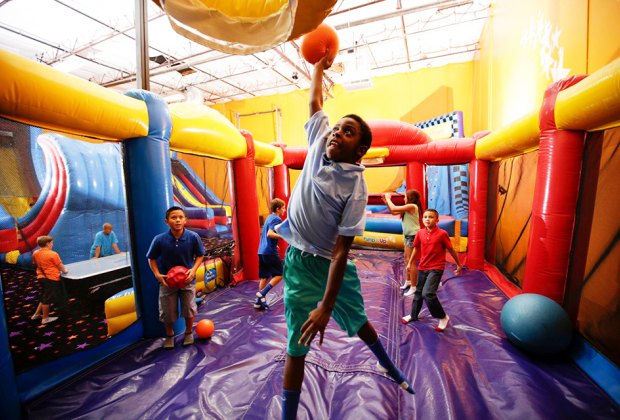 Check out Pump it Up and give it your best shot! Photo courtesy of Pump it Up
17. Bounce into an open play session at indoor bounce house Pump it Up or Sky High Sports.
18. Get some big air at the indoor trampoline park in Skokie.
19. Test your junior ninja warrior's skills at a kid-friendly indoor obstacle course.
20. Take the family to bowl a few frames at a kid-friendly bowling alley—Pinstripes has locations throughout Chicago and the suburbs, and on the North Side, Waveland Bowl is fun for all ages, with a free kids' movie theater if kids get tired of throwing gutters.
21. Climb the walls (literally) at Funtopia in Glenview or Naperville, or at Brooklyn Boulders in the West Side.
22. Team up with another parent and take turns shopping while the kids have a ball at an innovative mall play space, like the new Northbrook Court, the Yu Kids Island at the Woodfield Mall in Schaumburg, or PLAY at Yorktown Mall in Lombard.
23. See if you can unlock the secrets of the Genie's Lamp at Vault Escape Rooms, one of the rare escape room challenges that's actually designed for younger kids.
24. Play arcade games, bash around in bumper cars, and let kids loose in the play zone at Funzone in Downers Grove.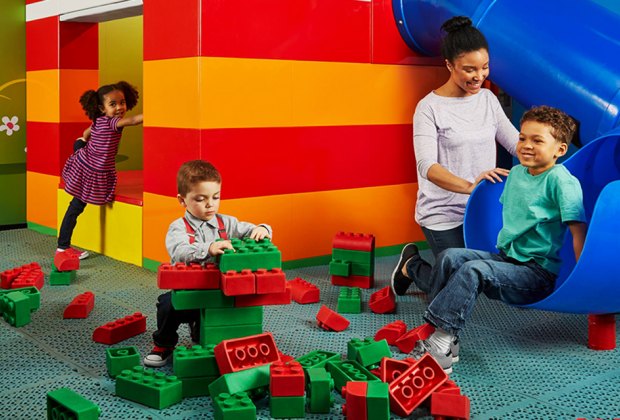 Legoland Discovery Center has a whole range of activities for all ages. Photo courtesy of Legoland Discovery Center
25. Build a brick masterpiece, captain a pirate ship, ride the mini-rides, and advance your master builder skills at Legoland Discovery Center in Schaumburg.
26. Examine the works of real-world master builders at the Chicago Architecture Center, which also hosts family building workshops on Sundays.
27. Ride the twisty slide in the jungle-like atmosphere of the indoor Children's Garden at the Garfield Park Conservatory, which hosts nature workshops for bigger kids as well as the toddler-to-preschooler set, plus weekly kids' concerts and family events. FREE
28. Dodge the tourists at Navy Pier to explore the bright, lush indoor atrium of the Crystal Gardens. FREE
29. Climb the treehouse-like structure, burrow in a play forest, and scramble on play logs in the Pritzker Family Children's Center at the Lincoln Park Zoo. FREE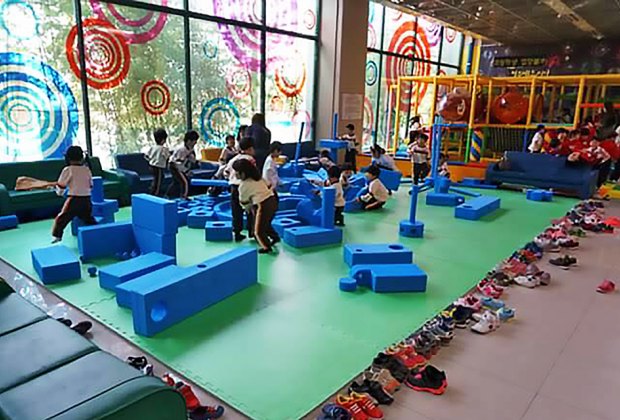 The South Loop's only indoor playground at Chicago Women's Park & Gardens is FREE. Photo courtesy of the park
30. Conquer the play structure and climbing wall at the indoor playground at the Chicago Women's Park and Gardens. FREE
31. Let firetruck-obsessed little ones loose on the gear, trucks, and play centers in the firefighter-operated FireZone play space.
32. Stay and play at one of Chicago's independent toy stores, like Cat n' Mouse Games, which hosts frequent game nights and game-play events for families.
33. Splash into one of the city's indoor swimming pools. The Chicago Park District operates 44 indoor pools in neighborhoods across the city, at park district centers with plenty of indoor activities both wet and dry. There's also the indoor water playground at Water Works in Schaumburg, and the indoor waterslides and sprays at the massive Pelican Harbor in Bolingbrook.
34. Take a day trip to a nearby indoor water park like Great Wolf in Gurnee or Timber Ridge in Lake Geneva.
35. Get your swing ready for summer at an indoor batting cage.
36. Glide in climate-controlled comfort at an indoor skating rink at Centennial Rinks in Wilmette, McFetridge Sports Center in Irving Park, or Morgan Park Sports Center.
37. Shred at kid-friendly indoor skateboard park Asylum in Skokie, or at House of Vans in the West Loop, which hosts skateboard workshops and weekly all-ages open skate nights.
38. Breathe and stretch together in a parent-child yoga class at Ahimsa Yoga Studios in LaGrange, Elmhurst, Berwyn, or Oak Park, Bloom Yoga in Lincoln Park, Sweet Pea's Studio in Lakeview, or Tula Yoga in Logan Square.
39. Fly on an indoor zipline.
40. Or for a taste of what it means to literally fly, kids as young as 4 can try indoor skydiving.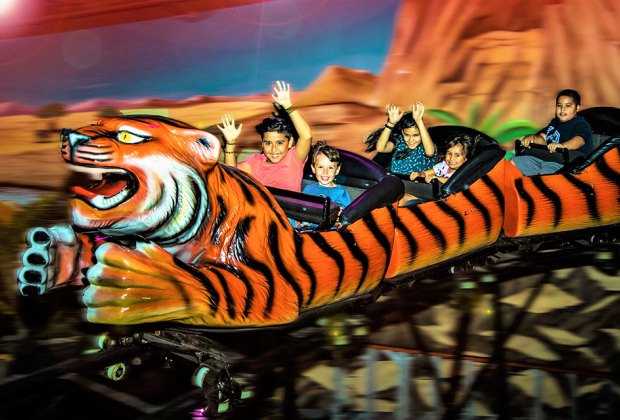 Tiger Terror Roller Coaster is a great indoor thrill ride at Safari Land. Photo courtesy of the park
41. Ride Illinois's largest indoor roller coaster at Safari Land in Villa Park, or an indoor ferris wheel at Odyssey Fun World in Tinley Park.
42. Munch your way through the aisles at one of Chicago's great food halls: Revival and Wells Street Market are fun places to sample different dishes, while the massive Eataly is HQ for all things Italian, and Latinicity offers pan-Latin tastes, from tacos to tortas.
43. Skip cooking and take the kids to a dine-in movie theatre for dinner and a show—or catch cartoons and brunch at the Davis Theater every weekend.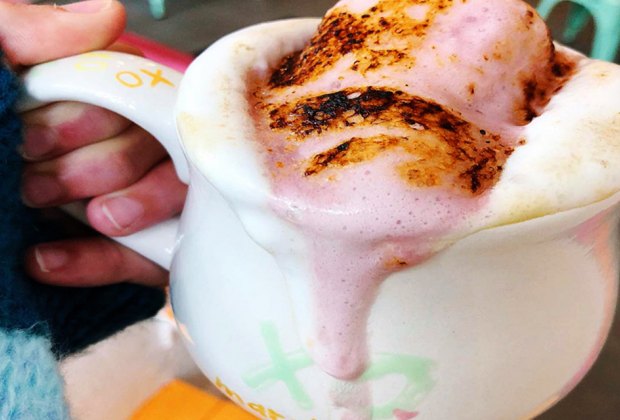 Nothing like a lavender white hot cocoa to get you through this chilly winter at XO Marshmallow Cafe. Photo courtesy of the cafe
44. Sip fancy hot chocolate worth braving the chill and making the trip for at Mindy's Hot Chocolate, XO Marshmallow Cafe, or Katherine Anne Confections.
45. Get cuddles with your cocoa at a cat cafe or cat arcade!
46. Allergic? Kids can still play while you enjoy some coffee at a play café.
47. Take kids to The Laboratory when school's out, or when you and your partner need date night—this hands-on science discovery center for kids hosts one-day camps as well as drop-off "Science Night Out" sessions that include dinner.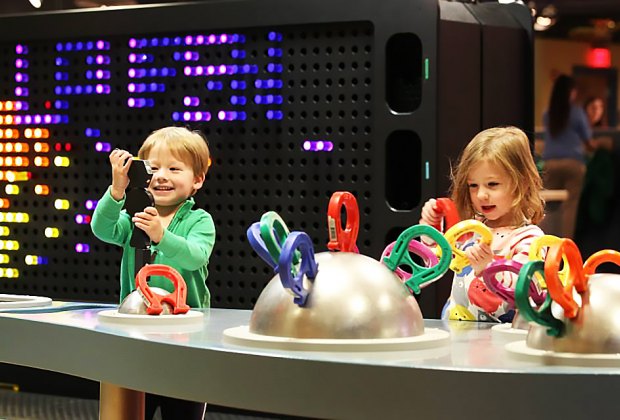 Bring out your inner scientist at The Exploritorium. Photo courtesy of the Exploritorium
48. Make waves, light up a giant "light bright" wall, try engineering experiments, and bring out your inner scientist at indoor "imagination playground" The Exploritorium.
49. Encourage STEM skills with a FREE trial class at Codeverse. 75-minute classes are offered daily for kids in grades 1 through 8, in cheerful "coding studios" in Naperville, Lincoln Park, and Wilmette.
50. Wear everybody in the family out with bowling, bouncing, and arcade games at all-purpose fun zone Razzmatazz.
Still not willing to open that door? Try one of these indoor activities you can do at home as a family, or one of our 40 Indoor Snow Day Boredom Busters.
This post is updated annually.