Holiday Volunteering Opportunities in Chicago for Families
Holiday volunteering opportunities are a great way to show your children that there's more to the season than parties and getting gifts. This year, show them how good it feels to help someone in need. To help you find the right volunteering opportunity in Chicago for you and your family, we've rounded up several holiday (and year-round) volunteer opportunities in Chicago for families. Many of these groups even have events and opportunities for kids as young as 5. It's never too early to show your kids the importance of helping our community.
For more holiday events, happenings, and festive fun, check out the Mommy Poppins Guide to Holiday and Christmas Activities for Chicago Families.
This Thanksgiving, kids over the age of 5 with an adult chaperone are invited to volunteer and help pack Thanksgiving meals for local families. The Thanksgiving mobile pack will take place on November 23rd and November 24th at Hobson Road Community Church (2531 Hobson Road) in Downers Grove, IL. Invite your friends and family to participate in this great cause. Groups of 10 will be placed together at a packing station.
In addition to the Thanksgiving event, there are also year-round permanent facilities in need of packing help for weekly meals for families. Children over the age of 5 are welcome to attend with an adult volunteer. The meals you pack will be shipped and delivered to families most in need.
The Greater Chicago Food Depository (4100 W Ann Lurie Place) in Chicago is looking for volunteers to repack meals for those in need. Because much of the food they receive is in bulk, children over the age of 11 are invited to help separate and sort items. One adult must be present with children volunteers. Kids over the age of 16 are welcome without an adult. On their calendar page, you'll also note holiday-themed re-pack dates, kid re-pack days, and special kids' events for groups with younger kids.

Volunteering in Chicago at the Greater Chicago Food Depository. Photo courtesy of the Greater Chicago Food Depository
The Chicago Children's Advocacy Center gives thousands of gifts to kids in need every holiday season. This year, consider hosting a toy drive with your family, friends, or school. The Chicago Children's Advocacy Center offers a Toy Drive Flyer you can download and share to host a drive of your own.
At your Thanksgiving and holiday party this year, get the kids involved by having everyone bring new, unwrapped toys to your home. Toys off their Amazon and Target wish lists are also provided for direct donation. Any toys your kids and their friends collect can be dropped off in person at the center (1240 S. Damen Avenue) in Chicago.
The Common Pantry invites kids to spread a little holiday cheer this year by baking holiday cookies. All the sweet treats they make will be delivered to neighbors in need. You can sign up for two time slots each week. On Wednesdays from 9:00-10:00 am, individually wrapped cookies and brownies can be dropped off at the Common Food Pantry (3744 N. Damen) in Chicago and given to a staff member. These cookies accompany the hot lunches offered at the pantry each week. Check their website for open cookie baking dates this holiday season and throughout the year.
Their Common Kids program also gives kids the chance to raise money for Common Pantry through lemonade sales in the summer months and their back-to-school drive in the fall.

Young volunteers at the Common Kids Program, photo courtesy of Common Pantry
Kids over the age of 13 are invited to volunteer with the People's Resource Center (201 S. Naperville Road) in Wheaton. You and your family can help pack food boxes for those in need. Families of 4 are welcome to sign up as a group. Larger families may split into multiple groups. You can also sign up to deliver pre-packed boxes. Boxes are placed in your car, and you'll help deliver food bags and boxes to those who need them most.
The People's Resource Center will also be hosting its 2021 Share the Spirit event. 700 local families will be able to drive through the DuPage County Fairgrounds to receive gifts and gift cards. Donations are accepted to collect hats, games, books, and more.
My Block My Hood My City is hosting a series of holiday, Be a Part of the Light events this December. Volunteers are needed to help decorate, distribute hot cocoa, and more. There will be two events taking place on December 4th at Washington Park Field House (5531 S. Martin Luther Kind Drive) and December 11th at Tuley Fieldhouse (501 E. 90th Place). Kids are welcome to volunteer with their parents.

Volunteer in Chicago at a Be a Part of the Light event. Photo courtesy of My Block My Hood My City.
The Lakeview Food Pantry has volunteer opportunities for kids as young as 9 with a parent or guardian. Teens over the age of 16 are welcome to come without a parent. Register as a family to help pack food boxes, distribute food, and participate in holiday events.
For younger volunteers, they have a kids advisory committee for children ages 5-13 who want to make a difference in their community. Parents can attend meetings with their kids and discuss upcoming events and ways to fight hunger in our neighborhoods.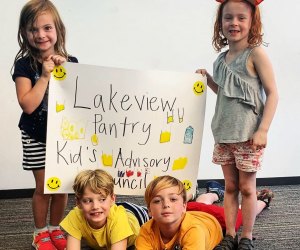 Photo courtesy of the Lakeview Food Pantry
The Ronald McDonald House Charities Meals from the Heart program offers families staying at the Ronald McDonald House freshly prepared meals. With the stress of caring for their young children often undergoing treatments and hospital care, it is almost impossible for them to enjoy a home-cooked meal together. Through this program up to 4 volunteers are able to shop for, cook, and prepare a meal for a family in the fully equipped Ronald McDonald House kitchen. During the pandemic, all volunteers must be over 16 to participate. This is a great opportunity for families with teens who love to cook.

All volunteers must be over 16 to participate at this Chicago volunteering opportunity - photo courtesy of Meals from the Heart program, at the Ronald McDonald House
The Northern Illinois Food Bank is in need of volunteers to help pack, sort, and distribute food to families in their communities. Kids as young as 8 are welcome to volunteer with a parent or guardian. Groups and families are welcome as long as there is one adult per group of 4 kids ages 8-12 and one adult per group of 10 kids ages 12-15. No adult is needed for teens over 16. There are several pantry locations, pop-up markets, and mobile pantries to choose from across Chicagoland.
The American Red Cross is always looking for teens to volunteer their time. From fundraising to helping with blood drives, there is no shortage of opportunities for teens to help out with the American Red Cross this holiday season. There are also virtual and at-home opportunities for more behind-the-scenes help. To apply for a position or to sign up as a teen volunteer, visit their website for the full list of opportunities.
OUR LATEST VIDEOS