Elmhurst with Kids: The Best Things to Do in Elmhurst, Illinois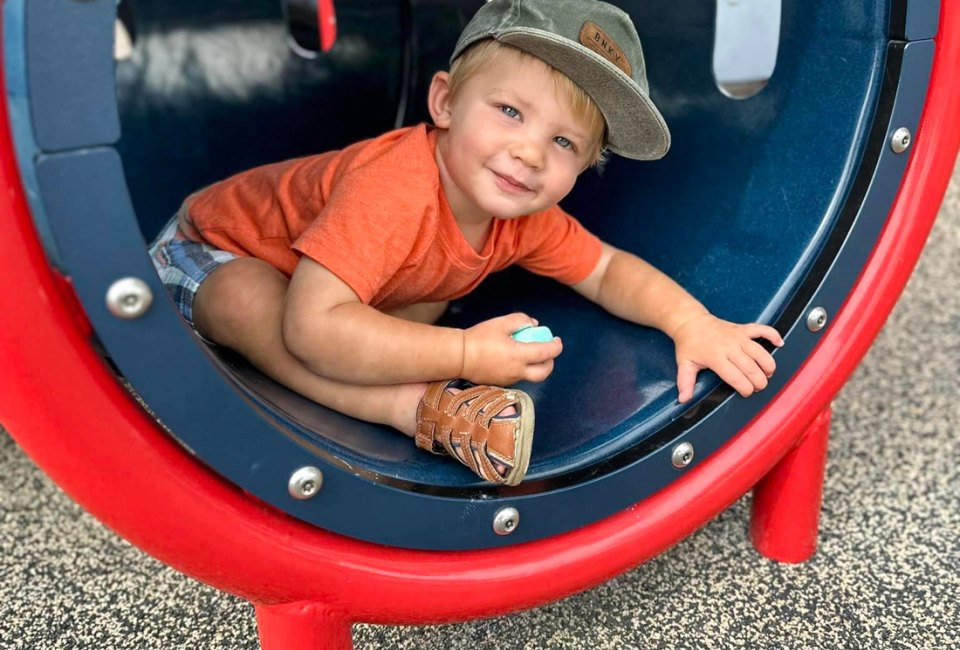 10/6/23
- By
Lauren LaRoche
Nestled 25 miles from downtown Chicago is the quaint and vibrant town of Elmhurst, Illinois. If you're looking for a new train town to explore, Elmhurst is a quick ride from the city and many of the main attractions are walkable. Make a day or a weekend out of exploring all Elmhurst has to offer for families. Between kid-friendly museums, state-of-the-art playgrounds, and family-friendly breweries, there is something for kids and adults to enjoy in Elmhurst.
Check out our Visitors Guide for more neighborhoods to explore near Chicago.
Depending on the time of year you're visiting, you can get around Elmhurst via the free trolley.
Top Attractions in Elmhurst for Families

Wilder Park has a playground and more. Photo courtesy of the Elmhurst Park District
The area surrounding Wilder Park consists of a few family-friendly stops. This beautiful area is just a few minutes walk from the train station. There is also ample parking. This area of town is home to Wilder Park Playground, the Wilder Mansion, and the Wilder Park Conservatory.
At the playground, you'll find a rock-climbing structure, a sand area, a smaller play space for little ones, and multiple play areas for big kids. There is a ton to climb, slide down, and explore. Just down the pathway, you'll find Wilder Mansion, the previous home of the Elmhurst Library. While it isn't open to the public every day, the Elmhurst Park District often holds kid-friendly events at Wilder Mansion. You'll find movies in the park during the summer and fall months, festivals, and a Christmas shop designed just for kids over the holidays.
A few steps further is the Wilder Park Conservatory, which is free and open to the public almost every day of the year. It only closes during season changes for construction. Each season you'll find new plants and beautiful seasonal flowers. There is also a pond with fish for kids to observe.

Elmhurst Art Museum is located in Wilder Park. Photo courtesy of the Elmhurst Art Museum
Located in Wilder Park, the Elmhurst Art Museum is always open for kids and mini-art enthusiasts. This beautiful and modern building is home to 15,000 square feet of exhibition and education space. Recent exhibits include Chicago artist JC Rivera, and Marvelocity showcasing the Marvel artist Alex Ross. The art museum also offers kid-friendly art classes and camps.
The Elmhurst Library has a massive kid's section covering almost the entire first floor. You'll find a small play space and play kitchen, tables with LEGOs, trains, dinosaurs, and more hands-on fun for kids. For older children, there are also study spaces and computer labs. There is also always a free seasonal craft available for kids to take home.
The Elmhurst History Museum is located in the heart of downtown Elmhurst. It's easily walkable from the train and Wilder Park area. Founded in 1957, the museum is owned and operated by the city of Elmhurst. The Story of Elmhurst is a permanent exhibit, and they continually have additional kid-friendly exhibits on display throughout the year. There are plenty of hands-on items and things for kids to press and push while learning along the way.

Mini Golf at the Hub in Berens Park. Photo courtesy of the Elmhurst Park District
Berens Park is home to the Hub of Elmhurst. You'll find something for everyone at Berens. There's a playground, sports fields, mini-golf course, splash pad and spray ground, concession stand, and a massive sledding hill in the winter. You'll often find football and soccer games being played here along with a host of park district events for kids, from Touch-a-Truck to Easter egg hunts.
Recently, Butterfield Park got an impressive makeover to make it an inclusive playground for children of all abilities. Kids will love the zipline and rock-climbing areas.
The Prairie Path consists of a 61-mile network of bicycle and walking trails throughout DuPage County. The Prairie Path runs through Elmhurst and has some fun kid-friendly stops along the way. Bring your bikes and ride to several Elmhurst playgrounds, the Spring Road business district, and more. In neighboring Villa Park, Fuel and Crème, and MORE Brewing Company are fun stops along the way.
8. Breweries
For the adults in the group, Elmhurst has become known for its great selection of breweries. It may surprise you to find that breweries are actually really fun and kid-friendly. With a laid-back atmosphere, games, and outdoor spaces, the breweries in Elmhurst are great for grabbing a brew, lunch, and playing a round of UNO with your kids. Notable Elmhurst breweries and bottle shops include Elmhurst Brewing Company, Bottle Theory, and Phase Three Brewing. Each location is walkable from either the train or the Prairie Path. Check out our family-friendly brewery guide here for more around Chicagoland.
Best Restaurants for Kids in Elmhurst
If you're in the mood for a quick bite to eat or a sweet treat, there are plenty of options in Elmhurst.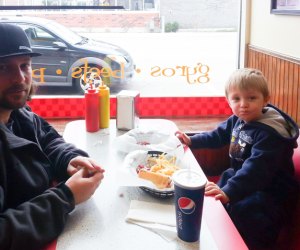 This casual hotdog restaurant is perfect for kids. Photo courtesy of Southtown Hot Dogs
Accessible from the Prairie Path and features hot dogs, burgers, chicken tenders, amazing milkshakes, and soft-serve ice cream options.
This sweet stop started with two sisters and their love for baking. Named after one of their courageous battles with Leukemia, this Elmhurst staple has a downtown café (one in Oak Park as well) and a food truck you'll see around town.Try one of their café bites or famous cupcakes.
A local staple in Elmhurst featuring Italian desserts and delicacies. Stop in for Italian cookies or a scoop of their famous gelato.
A fun local donut bakery located in downtown Elmhurst. You'll find classic donuts mixed with creative recipes and fun toppings. Hello Donut is always a hit with kids and adults.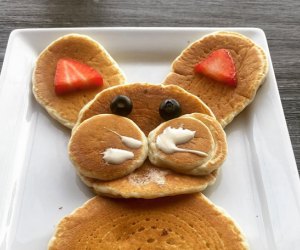 Stray Hen is heavy on the breakfast foods. Photo courtesy of the Stray Hen Cafe
A great casual spot for breakfast and lunch.
This restaurant offers burgers, hotdogs, sandwiches, delicious shakes, and even salads for the healthy eaters.
An Italian joint with pizza, pasta, and a great kids' menu.
Where to Shop in Elmhurst with Kids
If you're looking for a special birthday shopping trip or a place to buy fun kids' gifts, there are a few awesome kids' stores in Elmhurst to check out. Jelly's Children's Boutique and Ice Cream Bar features ice cream and a fun collection of children's gifts and toys.
Bazzy Boutique has tons of cute bath and beauty products. You'll find unique bath bombs, gifts, kid-friendly nail polish, and more. Kie and Kate Couture has adult clothing and home goods but also a cute assortment of kids and baby items and gifts.
Click Here to Sign Up!