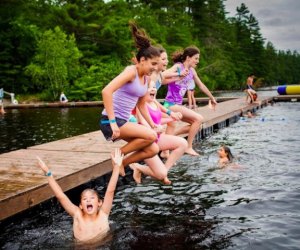 Boston Day and Sleepaway Camps with Availability — Some With Savings!
You've signed your last permission slip, figured out teacher's gifts, and even fished the flip-flops out from the dark reaches of the closet. You give yourself a pat on the back—before suddenly realizing that you haven't figured out summer camp yet. Whether you have a preschooler or a teenager, signing kids up for summer camp is key to surviving those long, hot summer days. But, don't panic; you can still find a spot.
We've sussed out several of our partner camps with availability all over the Boston area. It's amazing what kids can do too! Think specialty camps where kids can learn to sail, act, sing, code, build robots, drones, or debate...or good old traditional camps where they do a bit of everything. There's a perfect summer out there for your kid. Don't see what you like here? Check our Boston Summer Camp Guide and Directory for more options and call for availability. Once you figure out camp, hit our summer fun guide to help you out the rest of the time.
Boston area camps with space for summer 2018:
BCC Summer
All weekly sessions have availability July 23 to August 31 for ages 7 to 12. 9 a.m. - 4 p.m.; early drop-off and late pick-up available. Tuition assistance is available by application.
Boating Is Fun Camp
Spots still available for ages 8 to 13 years old at Lake Cochituate State Park. Both full & half day options available. Sailing, paddling, and fun in the sun.
Club Kidville
Camps available at Wellesley location May 29 through August 30 for ages 2-6 years.
Edge on Science
Weston Location: Weekly sessions available for kids entering 6th-9th grade: June 25 - Catapult Engineering, July 9 - Drone & Code; July 16 - Galileo's Astronomy. For kids entering 5th-9th grade: July 9 - Bridge Building, July 23 - Summer Rocketry. For kids entering 4th-6th grade: July 2 - Hydraulics Makerspace; July 16 - Let's Experiment!. Plymouth Location: Whales n' Things week of Jul 30 for kids entering 5th-9th grade.
Education Unlimited
Day and overnight camps available at MIT week of July 30th for 4th to 8th graders. STEM programs in Engineering, Marine Science, Neuroanatomy, Astronomy, Anatomy/Physiology. Also Public Speaking Institute to help build communication skills.
Gymnastic Academy of Boston
Weekly sessions available June 18 to August 31 for campers 4-12.
Hill House Kiddie Kamp
Weekly themed camps for ages 3-5 June 18 to July 6 and July 23 to August 24.
iD Tech
Day and sleepaway options available for ages 7 to 17. June through August at Harvard, Simmons College, Bentley, Eastern Nazarene, Lasell, Olin, and Endicott locations.
JCC Greater Boston Summer Camps
Limited availability throughout the summer in day, overnight and specialty camps in for ages 3-15. Camps are located in Brookline, Hingham, Newton, Sharon, and Dover, MA, and in Bridgton, ME.
KIDS 4 CODING | Summer Tech Program
Select weeks available in themed tech programs for kids ages 7-16 for full and half days July 2 to August 27 (Cambridge) and July 2 to July 27 (Brookline). Topics include coding, robotics, drones, game design and more. Special: Mommy Poppins readers save $25 off any weekly tech program. Click for more info.

"Ninja warriors" test their strength and mettle at one of LINX's most popular camps.
​LINX Camps
Select weeks open for one to eight week sessions for children three to 18 years, June through August 18. Transportation available.
Lumos Debate Summer Institute
2-week sessions available June 25 to August 24. Grades 7-10 in Newton, Lexington, Acton, Andover. Topics include: Public Speaking, Critical Thinking, Debating, Research, Writing, Current Events. Special: Mommy Poppins readers save $300 on debate and public speaking camps. Click for more info.
The Nantucket Dreamland Performance Camps
Nantucket Dreamland Actors Company (6 weeks) - Ages 8-16, Dreamland Youth (weekly), Ages 9-16 and Dreamland Kids (weekly), Ages 5-8! The Dreamland Camps create lasting friendships and memories both on and off the stage!