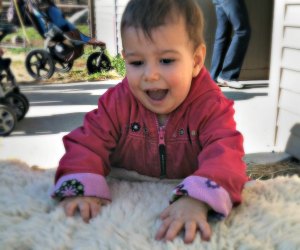 8 Sheepshearing and Wool Festivals in New England
We're finally seeing the first signs of spring! On the farm at this time of year there is new life everywhere, and the sheep are due for haircuts. That means it's shearing festival time. Locally, Gore Place and North Andover are celebrating sheepshearing season with big shindigs. (It's not that strange—think of the big deal you made about your child's first haircut.) If you want to make a fun family day trip or even a weekend getaway out of it, there are also sheepshearing and wool festivals in nearby Rhode Island, New Hampshire and Western Massachusetts.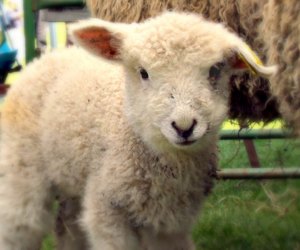 Time to shed your winter coat at the Gore Place Sheepshearing Festival. Photo by Bruce S. Allen
1. Sheepshearing Festival at Gore Place—Waltham
When: Saturday, April 28, 2018, 10am-5pm
For those of you who grew up here, this may be a chance to take your kids to the same farm festival you went to as a kid. Every year, Gore Place rolls out the red yarn for families and fuzzy friends with sheepshearing demonstrations, using both modern and traditional methods. But sheep aren't the only stars of the show; historic re-enactors, crafters and dancers take you back in time, live musicians provide the festival's soundtrack, and fiber artists show and sell their work at the crafts fair. Your children will undoubtedly want to spend some time in the Gore Kids Activities Tent, where there will be hands-on, interactive activities. And they probably won't let you leave until you've all taken a wagon ride (additional $).
2. Sheep Shearing Day at Weir River Farm—Hingham
When: Saturday, April 28, 2018, 10am-4pm
Families can watch the wool being shed while learning about what it means to be a sheep, see how the wool spinner turns wool into yarn, and enjoy other fun spring activities on the farm.
3. New Hampshire Sheep and Wool Festival—Deerfield, NH
When: May 12-13, 2018; Saturday 9am-5pm, Sunday 9am-4pm
At the New Hampshire Sheep and Wool Festival, you'll find educational programs, workshops, and demos, a Handmade with Fiber Show, a Handspun Skein Contest, a Fleece Show & Sale, and a Sheep Quiz Bowl. Join 4-H members at the Family Fun Make and Take Area, where you can help your child make fun crafts like hand spun jewelry, finger weaving, fleece angels, and rock monsters (materials fee for each project). There will be plenty of fair food, or course, and over 120 vendors will be selling products for knitters, spinners, crafters, sheep producers, and everyone else who has ever fancied themselves earthy or crafty.
4. Rhode Island Sheep and Fiber Festival at Coggeshall Farm Musem—Bristol, Rhode Island
When: Saturday, May 19, 2017, 10am-4pm
Crafts and games for kids, furry and fuzzy animals, hay rides, spinning and craft demonstrations. It's all at the historic Coggeshall Farm Museum, plus sheep shearing, of course. After the festival, spend the rest of the day or weekend exploring Bristol and Warren, RI.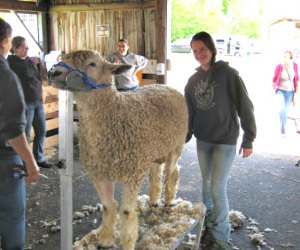 This sheep is getting a trim. Photo courtesy of Massachusetts Sheep and Woolcraft Fair
5. North Andover Sheep Shearing Festival—North Andover
When: Sunday, May 20, 2018, 10am-4pm
The 46th annual Sheep Shearing Festival being held Sunday, May 20th on the North Andover Common. The event includes sheep shearing and herding demonstrations, crafters, food vendors, pony rides, and more.
6. Massachusetts Sheep and Woolcraft Fair—Cummington
When: Memorial Day weekend, May 26-27, 2018: Saturday 7am-6pm, Sunday 6:30am-6pm
About 20 miles west of Northampton is a town called Cummington, which has been home to the Cummington Fair every summer. The fairgrounds have also had a spring tradition of hosting the Massachusetts Sheep and Woolcraft Fair. Starting as a statewide sheep show 40 years ago, the Sheep and Woolcraft Fair has become a celebration of all things sheep, from shearing and herding to spinning and weaving. You can check out the wares of food vendors and craftspeople, and visit the Kiddie Ag area and workshops for kids.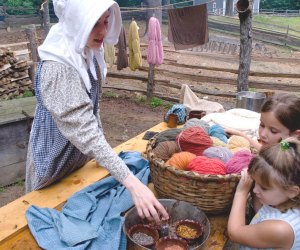 Costumed staffers describe how wool is used at Old Sturbridge Village. Photo courtesy of Massachusetts Office of Travel & Tourism
7. Wool Days at Old Sturbridge Village—Sturbridge
When: Memorial Day weekend May 26-28, 2018: 9:30am-5pm
At Old Sturbridge Village, costumed history interpreters show you how it was done in the good ol' days. (Actually, you'll get to try carding wool by hand, and see how 19th century water-powered mill technology made the process much faster, even back then.) In addition to sheep shearing demos, there's plenty to do during the festivities: Learn about different types of wool and how natural dyes were used, see lambs, chickens, cows and oxen, and watch historical demonstrations like musket firing, shoemaking, blacksmithing, hearth cooking, and launching toy hot air balloons.
8. Spring Sheep Festival at Taylor-Bray Farm—Yarmouth Port
When: Sunday, June 17, 2018, 9am-4pm
Although there are sheep shearing demonstrations, wool spinning, weaving and rug hooking, the highlight of the Spring Sheep Festival at Taylor-Bray Farm for most kids will undoubtedly be the hay ride. There's also a silent auction to raise money for the care of the animals on the farm.
Top photo by Steven & Courtney Johnson & Horwitz/CC BY 2.0
Post published March 27, 2013; updated March 2014, March 2015, March 2016, March 2017, and April 2018