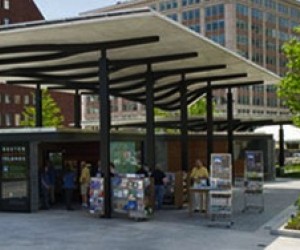 Boston Harbor Islands: Getting There - Ferry Services
From sailing and canoeing on the Charles River to whale watching and sightseeing cruises in the Harbor, Boston offers plenty of opportunities to get out on the water.
And for those who want to find a piece of the great outdoors within sight of the city skyline, the Boston Harbor Islands offer plenty of choices for families, from easy hikes on Spectacle Island, Peddocks Island, or Worlds End and overnight camping on Bumpkin Island, Grape Island, or Lovells Island to visiting historical landmarks like Fort Warren on Georges Island and tours, performances, demonstrations and kid-friendly activities all spring, summer, and fall.
Getting to the Islands is part of the fun, and there are several conveniently located mainland piers where you can begin your trip to the Boston Harbor Islands.
Park-operated passenger ferries regularly leave from:
Long Wharf-North Pier, Boston
66 Long Wharf
Boston, MA 02110
(at Christopher Columbus Park)
Frequent service from downtown to Georges and Spectacle Islands, with free service between them. At Georges Island, transfer to Higham Route and other islands for a small fee.
---
Fore River Shipyard Pier, Quincy; summer only
703 Washington Street
Quincy MA 02169
Serves Georges Island, with free connections to Spectacle. Transfer at Georges to the Hingham Route for service to other islands for a small fee.
---
Hingham Shipyard Pier, Hingham; summer only
349 Lincoln Street
Hingham, MA 02043
Pemberton Point Pier, Hull; summer only
183 Main Street
Hull, MA 02045
Serve Grape, Bumpkin, Peddocks, Georges, and Lovells Islands.
---
Fan Pier Marina, South Boston
2 Northern Avenue
Boston, MA 02110
Departure point for Boston Light Tours.
---
EDIC Pier, South Boston
Dock #10
28 Terminal Street
Boston, MA 02210
Sunday service to Thompson Island, with free connections to Spectacle Island.
---
To return to the mainland, check the schedule and retrace your route. Make sure you leave your island in time to make connections to return to the mainland pier where you started your trip.
Tickets can be purchased online, at ticket machines at the Boston Harbor Island Pavilion, by phone or onboard, depending on which ferry you take an where you're going,