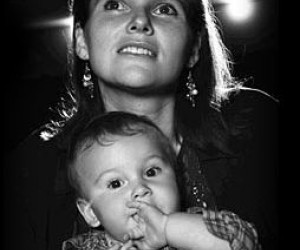 7 Baby-Friendly Cinemas in Boston - Infants Welcome!
It's not often that first-run movies and crying, sleeping, or just-waking babies are mentioned in the same sentence. But at several local cinemas, it's a regularly scheduled event. These theaters offer baby-friendly matinees - special programs that give moms, dads, grandparents, and caretakers the chance to see a new, top-rated film – crying babies welcome!
A comfortable and early daytime setting and a baby-friendly environment where parents can park their strollers and socialize with other parents with infants are common among these theaters. Lights are kept brighter and the volume lower, and no "shush"ing required.
So sit back, relax, and enjoy the show - with your baby.
---
Baby-Friendly Matinees - FEI Theatres
FEI Theatres host baby-friendly movies at the Capitol Theatre in Arlington every Monday afternoon and at the Somerville Theatre on Thursdays (except on holiday or school vacation weeks). The theaters keeps the sound a little low and the lights a little high so new parents can enjoy the movie and still take care of their babies. Regular matinee prices apply ($6 at Capitol, $5 at Somerville) .
Capitol Theatre
204 Massachusetts Avenue
Arlington, MA 02474
781-648-4340
Somerville Theatre
55 Davis Square
Somerville, MA 02144
(617) 625-5700
---
Box Office Babies - Coolidge Corner Theatre
New parents and their infants can join other parents at the Coolidge for a special bi-monthly, baby-friendly screening of a current feature on the giant screen. The theater features new seats and bathrooms with Koala changing tables -- plus plenty of room in a newly expanded lobby to park strollers and stretch out. Box Office Babies takes place on alternate Fridays at 11am. Admission is $6.75 for parents, babies under 12 months free.
Coolidge Corner Theatre
290 Harvard Street
Brookline, MA 02446
617-734-2500
---
Bring Your Baby – AMC Theaters
This matinee program allows parents to enjoy movies in a baby friendly environment without worrying about baby making too much noise, no place to breastfeed or room to park the stroller. The program takes place on the first Tuesday of every month at several local theaters.
Boston Common 19 with IMAX
175 Tremont St
Boston, MA 02116
Framingham 15
22 Flutie Pass
Framingham, MA 01701
Methuen 20 with IMAX
90 Pleasant Valley St
Methuen, MA 01844
---
Baby and Me Shows - CinemaSalem
Each Monday morning at 10am, CinemaSalem presents the "Baby and Me Show", especially designed for moms, dads, grandparents, nannies, and anyone else caring for a infant. Lights are kept brighter, the sound is quieter, and crying or fussing is no problem. There's even a changing table in the lobby if needed.
CinemaSalem
One East India Square
Salem, MA 01970
(978) 744-1400
Photo courtesy of CinemaSalem