Online Robotics Camp
Young Gates - Kids Online Personalized Classes

Artificial Intelligence with Scratch Online Camp
Young Gates - Kids Online Personalized Classes
Sign up for our free newsletters.
Got a Dino Lover? Catch the Life-Sized Dinosaurs Coming to Franklin Park Zoo!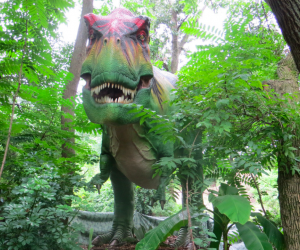 4/9/18
- By
Kelley Heyworth
Catch 'em before they disappear again! For the first time since 2012, an animatronic dinosaur exhibit will be on loan to the Franklin Park Zoo. Destination Dino will feature more than a dozen moving, roaring, life-sized dinos, on display from May 26 through December 3. It's like Dino Dan or Dana come to life...right here in Boston.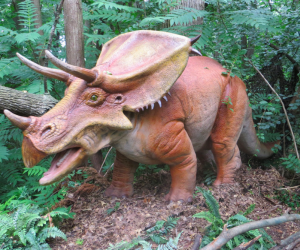 Don't expect a boring lineup of plastic figurines. These dinosaurs look (and sound) lifelike. Plus, the dinos will be "lurking" in the woodland areas around a pond on the zoo property, so when kids enter the exhibit area, they'll delight in spotting the great beasts (and if they're as dino-crazy as many kids I know, identifying them, too). The collection includes a T-Rex, a Diabloceratops and baby, a Baryonyx, a Dilophosaurus, and many others. Kids will also like playing paleontologist at the nearby Dino Dig, where they can explore recreations of fossils and bones.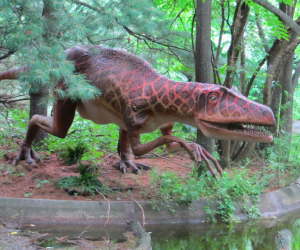 You can access Destination Dino starting May 26, through special $4-5 tickets on top of regular admission to the zoo. But if you'd like to book a special dino-themed event, it would be a good idea to reach out to Zoo New England now, since spots could go quickly. The zoo will be carrying the dino theme into many of its special offerings this summer. There's a "Breakfast with the Dinos" program, allowing families early special entrance to the zoo to enjoy breakfast treats and learn more about dinosaurs. As part of the "Snorin' Roarin' Sleepover" program, participants in dino overnights will learn more about the dinos life and extinction, as well as enjoy a flashlight tour through the exhibit and a visit to the Tropical Forest to see the dwarf crocodile—a living relative of the dinosaurs. Finally, if you're looking to really wow birthday guests, you can book a Dino-riffic Dinosaur Birthday party at the zoo, featuring a special tour of the dinos, dino-themed birthday supplies, and entry and ride tickets for the rest of the zoo's attractions.
Hope to catch you at Franklin Park this summer (before the dinos do).
All photos courtesy of Renee Gillett via Flickr