Caribbean Coast: Flamingos, Macaws, and Bush Dogs Debut at New Stone Zoo Exhibit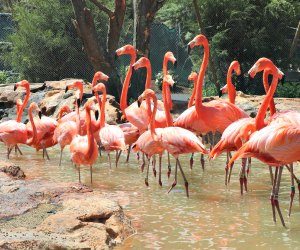 6/21/18
- By
Kelley Heyworth
Situated on 26 acres in the quiet northern 'burbs, Stone Zoo is beloved by many as the smaller, simpler counterpart to the Franklin Park Zoo in Boston. But recently, Stone Zoo has been busy setting itself apart—with a modern new entrance, and now, an innovative exhibit celebrating the exotic, colorful creatures that live as our neighbors to the south. Caribbean Coast will be a permanent fixture in Stoneham, and, as my kids and I recently discovered, a big reason to make the trip.

Photo by Mommy Poppins
First Impressions
We've been to Stone Zoo several times and have always enjoyed our visits, but my three boys, ages 6 to 12 were very excited about the prospect of seeing something new. And there was immediate gratification: Unlike some special exhibits tucked away behind familiar territory, Caribbean Coast has been cleverly integrated into the zoo's spiffy new "welcome plaza." That was a thrill to my kids, who could actually spot glimpses of peachy-pink flamingo feathers as we were parking the car.
One thing we've always appreciated about Stone Zoo is the leafy, nature-inspired feel of it—including the animals' homes, which are especially well-designed to mimic their natural habitats. The new welcome plaza keeps with that aesthetic, with a spray of beautiful plants and a wood pergola roof leading into the zoo. And just steps after paying our visitors' fee, we encountered the equally unique entrance to the Caribbean Coast exhibit. Because it's a walk-through aviary, you access it through a door (with thin metal grills so that it's transparent), which really made my children feel as if they were entering the animals' habitat—going "beyond the fence," so to speak. We'd never seen anything like it. "Are we actually able to go in there? How cool is this?" said my 10-year-old.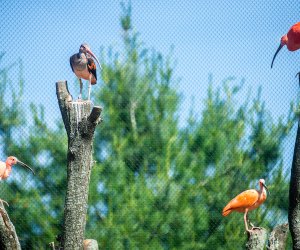 Colorful Highlights
The initial stretch of Caribbean Coast is the walk-through aviary, and the first animals we spotted were jewel-colored macaws on trees. Having grown up with Nick Jr., it was a little like Go, Diego, Go come to life for my boys. There are also endangered Jamaican iguanas, lazing about a sunny, sandy enclosure, and gorgeous scarlet ibis prancing about.
But the highlight of this section is the beautiful flock of flamingos. Situated in the open air, we were able to appreciate their look and quirky, leggy behavior without the less-than-lovely smell that comes with the enclosed exhibits at many zoos. Rather than fences, there are low, glass barriers between visitors and the birds, which really adds to the intimate experience. It turns out visitors will be able to feed the flamingos beginning sometime in July (an official start date hasn't been determined yet). "We'll definitely have to come back for that," my 12-year-old said.

Go ahead and bang on the steel drums! Photo by Mommy Poppins
While strolling through the aviary, you'll likely hear the twinkly sounds of steel drums—the Caribbean's calling-card instrument. Just after you step outside the enclosure, there are actually two large drums for kids to bang on, which my kids were happy to do. There's also a nice patch of green grass to take a seat on or to practice "Flamingo Yoga," described in some witty surrounding signs.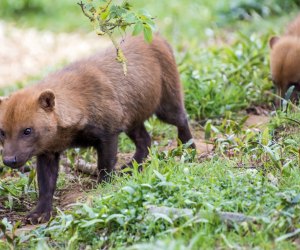 The playful bush dogs!
The Caribbean Coast exhibit flows into a paved loop along which you can observe several more animals, new and old to the zoo, who are native to Central America. First, there are two cute, playful bush dogs—the only ones of their kind in New England—who are easily observed through the glass window barrier. Then, visitors encounter many animals who they may have seen at the zoo previously but now seem ancillary to the new exhibit. This includes, most prominently, the majestic jaguar, who my kids watched lope and jump around his woody enclosure for at least 10 minutes, mouths agape.
Good to Know
Stone Zoo tickets are $17.95 for adults and $11.95 for children 2 to 12 (free for babies and toddlers). You can get discounted tickets online, and Caribbean Coast is included with the price of regular admission.

Photo by Mommy Poppins
There's a lot to see beyond the new exhibit, so plan on 2 to 3 hours for your visit. Some of my kids' favorites include the river otters, the assortment of acrobatic monkeys, two black bears, and three Mexican gray wolf brothers, who are situated at the top of a hill winding around the far side of the zoo. Two adorable snow leopard cubs will also make their debut later this summer, following the zoo's recent birth announcement.And there's a relatively new building called the Animal Discovery Center where kids can do some hands-on projects to learn more about the creatures and critters they see, a petting zoo area with a playground, and some rides that are suitable for small children.
If you haven't been to the Stone Zoo or it's been awhile, take it from a family of animal lovers: It's time for a visit! A chance to get up close to tropical birds, with steel drums playing softly in the background, makes for a unique—and downright pleasant—zoo experience that family members of all ages are sure to appreciate.
Photos courtesy of Zoo New England unless otherwise noted