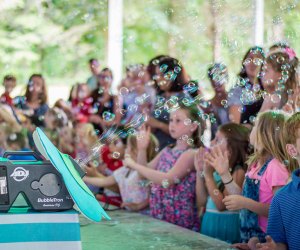 25 Things to Do on Boston's South Shore with Kids this Summer
Even though I grew up in Boston, I knew very little about the South Shore before I moved there. Much to my delight, in addition to being a beautiful part of New England, there is also a lot of fun things to do, especially in the summer. Here are some top picks that are worth the drive (and possible Cape traffic!) to this special area.

Take a ride on some hot rods! Photo courtesy of the Marshfield Fair
1. No summer on the South Shore is complete without a trip to the Marshfield Fair, an agricultural bonanza that has been going strong for 151 years.
2. Set sail on a ferry from Boston and make stops in Hingham, Hull, and various Boston Harbor Islands (or just stay on board and cruise the harbor!)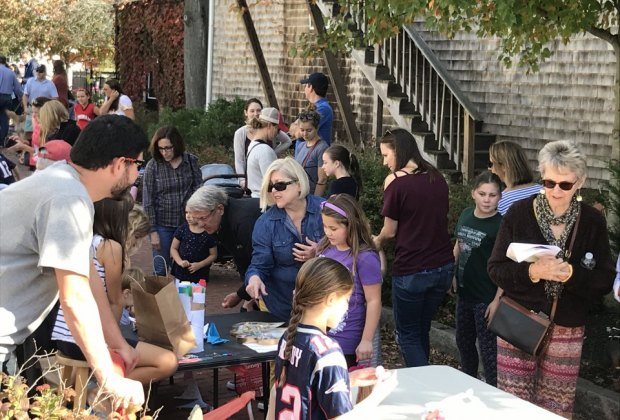 Proud kids peddle their wares at the Children's Craft Market. Photo courtesy of the event
3. Celebrate kids' entrepreneurial spirit at Hingham's Children's Craft Market.
4. Listen to stories about (and among!) animals at Weir River Farm's Barnyard Storytime.
Wander among the region's most beautiful woodlands at World's End. Photo courtesy of The Trustees of Reservations
5. Experience the tranquil trails (designed by the infamous landscape architect Frederick Law Olmstead) and harbor views of World's End.
6. Learn about (and even meet!) the animals who call this slice of Massachusetts home at the South Shore Nature Center. Their EcoZone is an interactive museum featuring live native animals, owl exhibits, Children's Garden, and six interpretive trails.

The Paragon Carousel draws royalty throughout the summer. Photo by Liz West via Flickr
7. Put on your finest princess or prince attire and catch Princess storytime at the Paragon Carousel.
8. Watch rowers glide down the North River at the 28th Annual Great River Race in Norwell.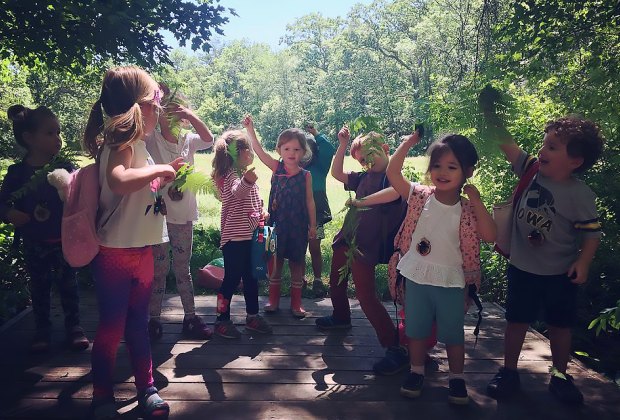 Kids know how to pick 'em! Photo courtesy of Holly Hill Farm
9. Wave to the animals, hike the wooded trails, and pick up some organic produce at Holly Hill Farm.
10. Climb aboard the USS Salem, the world's only preserved US Naval "Heavy Cruiser," (turned shipping museum) in Quincy.
11. Visit the Trailside Museum before hiking up the Blue Hills, which includes trails of all different experience levels.

There's plenty of room to roam at Nantasket. Photo courtesy of the Nantasket Chamber of Commerce
12. Catch some rays, build a sandcastle, or even try a surf lesson at Nantasket Beach.
13. Explore all different parts of the South Shore by participating in a South Shore Quest with adventure options for all ages.
14. Lace up your running shoes for Hingham's July 4th Road Race with food, music, and fun at the finish line.

A beachside arcade is a thrill for kids. Photo courtesy of the Paragon Boardwalk
15. Hit the arcade at the newly revamped Paragon Board Walk at Nantasket Beach where families have vacationed for decades.
16. Experience Scituate Heritage Days, an annual event that includes live music, artisan crafts, kids activities, and historical site visits all over Scituate.
17. Get your groove on at the hottest music and arts festival around.

Climb your heart out in Canton. Photo courtesy of TreeTop Adventures
18. Swing and climb through the trees at TreeTop Adventures in Canton.
19. Spend a day in the sand and sun at Duxbury Beach where kids can also pick up educational booklets about the nature and wildlife of the area.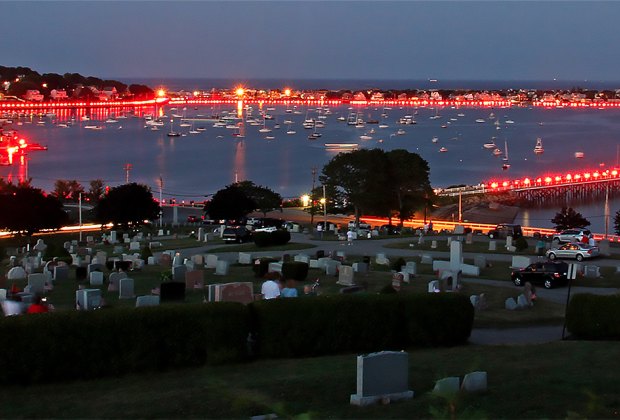 Salute boats in Hull. Photo courtesy of the Hull Lifesaving Museum
20. Appreciate the heroism of MA Humane Society volunteers, U.S. Lifesaving Servicemen, and the Coast Guard at Hull Bay with a colorful Parade of Boats followed by a spectacular illumination of 1,000 flares at Hull Illumination.
21. Grab snack at a clam shack, visit the playground, and take a scenic stroll on Wollaston Beach with awesome views of the city and harbor islands.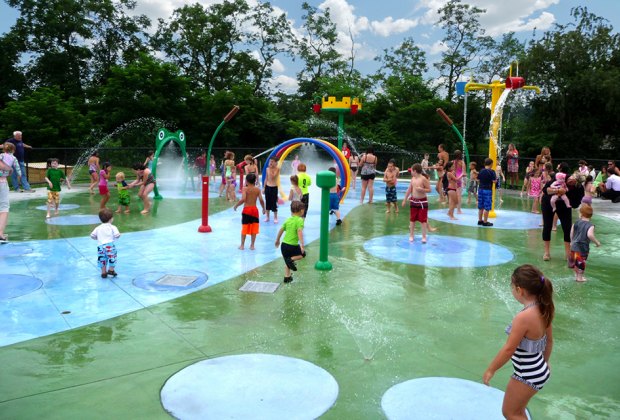 Braintree's splash pad is a local fave. Photo courtesy of the Town of Braintree
22. Pack a swimsuit and get wet at the Petersen Splash Pad at Watson Park in Braintree.
23. Dance to the most popular kids' bands in Boston at the South Shore Conservatory Wacky Wednesdays series.
24. Just be a kid (or kid at heart!) with laser tag, go karts, bumper cars, mini golf, and batting cages at Starland Fun Park in Hanover.
25. Catch a (free) summer movie outdoors in Weymouth in August.