Winnie-the-Pooh Comes to Boston: Sweet, Interactive Exhibit at the Museum of Fine Arts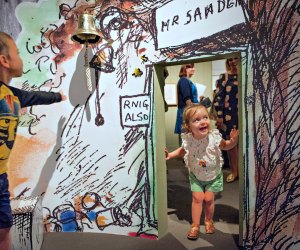 Think your kid isn't old enough to appreciate the Museum of Fine Arts? Winnie-the-Pooh: Exploring a Classic, will change your mind. This interactive exhibit, featuring the "hunny"-loving bear Pooh, encourages your kiddos to not only look, but to actually touch and play, as they're immersed in the world of Christopher Robin and all of his friends in the Hundred Acre Woods. As Pooh would say, "it's no bother" to bring littles; and as I discovered on a recent visit with my own kids, it is in fact a sweet and super-entertaining outing for the whole family.
What's on Display
Your kids may not have an "eye" for art yet, but even preschoolers will love seeing original character portraits and sketches of Pooh and all his friends. And if you have a curator of stuffed animals on your hands, they will love checking out the replica stuffed animals of author A.A. Milne's son Christopher, that the characters are based on. Be on the look out for cuddly versions of Eeyore, Kanga and Roo, Owl Piglet, Rabbit, and Tigger too!

Please Touch the Art!
While you may appreciate original sketches and author inspirations a tad more than your kids, the real fun begins when you enter a replica room of Milne's son Christopher (the inspiration for Christopher Robin), complete with a little bed and a basket filled with Winnie-the-Pooh books. Your kids are encouraged to actually climb into the bed and enjoy a story or two of Pooh's adventures.
From here, it's like you've stepped into a Pooh adventure of your own, with walls covered in whimsical illustrations from stories. Walk, or even run, over a foot bridge in the Hundred Acre Woods that crosses over a screen projecting a river filled with Pooh-esque words like "careless" and "sunny" floating by. For aspiring artists, there's a kid-sized table and chairs with paper and pencils set up among walls covered in sketches. Use your surroundings for inspiration and create your own Pooh story and sketch.
Photo by author
The biggest highlight of this exhibit for young museum goers is a replica of Pooh's house that they can actually can go into. It even has a slide; that's right, the Museum of Fine Arts officially has playground equipment in it! Your kiddos can climb stairs to peek out a window from inside Pooh's house and then shoot down the slide. Then repeat…and repeat. We're just saying, you may be hanging in this area for a bit.
Milne's stories are scattered throughout the exhibit, but towards the end is one area that really encourages you to sit down and have a good read before leaving. Gather together on the green shag rug and have an impromptu story hour or get your own book and climb into the tent for one last quiet read on your own. If you plan on visiting on the weekend, make sure to stop by the Family Art Cart where little visitors can borrow a tote bag with a sketchbook and colored pencils and a storybook to take with them through the exhibit.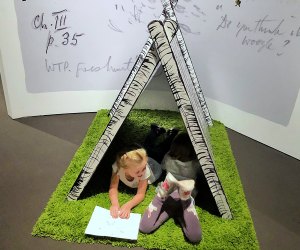 Photo by author
Where to Eat
If you want to stick with the theme of the day, the museum is offering up some tasty Winnie-the-Pooh inspired snacks and meals at their restaurants (think lots and lots of honey). Stop by the Garden Cafeteria for some chicken and waffles with honey and a Bit-O-Honey dessert, or pop into the Taste Cafe for some french honey yogurt and Tigger Tails (chocolate dipped pretzel sticks).
Know Before You Go
While Winnie-the-Pooh: Exploring a Classic is included in your general ticket price, you do need a separate timed entry ticket to enter for every person in your party, kids included. Regular admission tickets are $25/adult; $10/youth age 7-10 (except on weekends and after 3pm weekdays when they are free); children 6 and under are always free.
You can enter anytime within your 30 minute window, and once inside the exhibit, you can stay as long as you'd like. Space is limited, but you can buy tickets ahead of time online so you don't have disappointed Pooh fans on your hands.
Strollers are not allowed in the exhibit, but they are allowed in the museum. You can bring your stroller into the museum and park it in a designated area while visiting the exhibit.
If you've got a stuffed animal Winnie-the-Pooh or any of his friends at home, bring them with you. It's fun to have a cuddly friend along for the journey!
Winnie-the-Pooh and all of his friends are visiting the museum through January 6, 2019.
Photos courtesy of Museum of Fine Arts, Boston, unless otherwise noted