CuriousCity: Pop-Up Children's Museum Opens in Peabody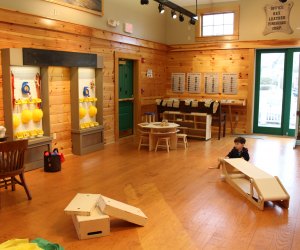 There's a new kid-friendly museum on the block! CuriousCity, a pop-up children's museum, opens Sunday, March 31st in Peabody, and after an exclusive sneak peek just before opening day, we learned that this new addition to our region of world-class museums is worth a visit—and soon. For just three months, this children's museum will occupy the George Peabody House Museum & Peabody Leather Workers Museum in the downtown area, offering kids seven different exhibits that invite learning, creative play, and interactive fun. Here's a preview of the unique, imagination stoking exhibits you'll see at CuriousCity, as well as some helpful hints for taking the kids.
For updates on what's going on at CuriousCity, check out the museum's website and Facebook page. Also, see our reviews and tips for visiting our other fave kid-friendly, brain boosting attractions in the area, including the Museum of Science, the EcoTarium, the New England Aquarium, and the Boston Children's Museum.

Discovery City: The biggest of the exhibits, this beautiful wide open room is filled with interactive stations perfect for inquisitive kids and tinkerers. Kids will find: a geology section where they can examine and identify rocks; a very cool air tube where kids can fly scarves and more to examine wind patterns; and a collection of tools and blocks to build with.
Peaceful City: Now, this is a unique addition to the kiddie museum scene: In this calm, clean space, kiddos are encouraged to chill out and find their inner zen. Keep an eye on the museum's calendar—kids and family yoga classes will soon be offered in this room.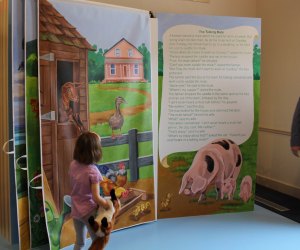 Curious Tales: This room features a gigantic, 20-feet by 8-feet storybook that doubles as a stage. The pages in the book actually turn, providing lots of fun backdrop options for your little performers. The room also has tons of dress up costumes and props to help kids' stories come to life.
Curious World: Considered the geography room, this exhibit is where kids can pretend to travel to the rainforest, desert, ocean, or arctic circle. But by far the biggest attraction in this room is a super-cool topographical "sand" box. As kids dig holes and create mountains in the box, the lights on the sand adjust to accurately depict heights and depths.
Generous City: Kids can take turns playing customer or teller at this bank playhouse. "Drive" up to the ATM window, access the vault, and count out the money.
Cozy City: This sensory exhibit is perfect for kids of all abilities—especially those who may be overwhelmed by other portions of the museum. There are light tables filled with different materials to touch and explore, weighted blankets, a cozy canoe, and a tent filled with sparkly pillows.
EpiCurious: In yet another awesome room for make-believe play, kids can take turns selling healthy food at the "farmstand" and whip up some tasty and wholesome meals in the kitchen. This exhibit was planned with the help of the Essex Agricultural Society to teach kids about healthy eating habits.
Know Before You Go:
The museum is designed with kids ages 2 to 10 in mind.
CuriousCity is open Thursday through Saturday, 10 am to 5 pm and Sunday, 12 pm to 5 pm. Groups can book visits by appointment on Tuesdays and Wednesdays.
There's limited parking behind the museum and free street parking.
You are encouraged to buy your tickets online. Tickets are $5/person or $20/family of five or more. Each ticket has a timed entry to make sure the museum is not overcrowded. Once inside you may stay as long as you would like.
Free tickets will be offered through the follow local libraries: Peabody Library, Peabody Library (Danvers), Nahant Public Library, Boxford Town Library, Langley-Adams Library (Groveland), TOHP Burham Library (Essex), Stevens Memorial Library (North Andover), Lynnfield Library, and Topsfield Library.
Strollers are not allowed in the museum—bring your baby carriers!