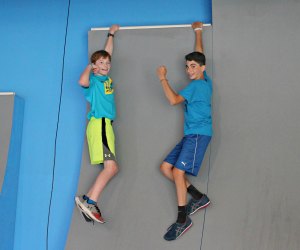 Action Athletics: Heaven for Active Kids (and Ninja Warrior Wannabes)
If your family is familiar with "warped walls" or worships some guy named the Cowboy Ninja—or you simply have a kid with energy to burn—we've found a place for you: Action Athletics in Wellesley. Though a lot of camps and gyms are starting to offer obstacle course activities as more and more kids become hooked on the television show American Ninja Warrior, Action Athletics is the real deal: It's the training home of several prominent TV Ninjas, including Jon "the Giant" Alexis, Jesse Labreck, and Allyssa Beird. And with 25 different obstacles that can be made into countless configurations, it also caters to challenge-seeking children—of all ages—who want to leap, swing, and test their limits, just the way their Ninja heroes do.
When I found out that Action Athletics was expanding from its Newton location to a big new space in Wellesley, where we live, I thought I'd bring my sons and their friends to give it a try. Here's what we learned and what we thought about the place. (Spoiler alert: We've been back three times since). This fall, the Newton location is reopening, too, giving families more options for channeling their inner Ninja.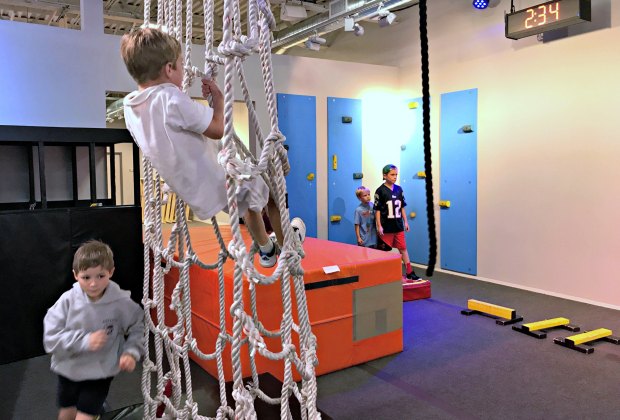 The climbing challenges range from easy, like this rope ladder, to seriously daunting.
How it Works
Your first stop for Action Athletics should actually be its website—and thankfully, it's not much of an obstacle to overcome. The facility makes it easy to see the daily schedule and sign up for programs, which fluctuate by the day and season and sometimes fill up in advance, so it's important to call or check online before going. You should also fill out safety waivers online, which will save you about 10 minutes at the facility (and avoid the whining and wheedling of kids who just want to get playing upon arrival).
Currently, families can choose two different ways to enjoy Action Athletics: open gym or classes. Family open gym is available for families on Saturday mornings, and it's a great way for all ages—from toddlers to grown-ups—to test their mettle on the obstacles. Kids ages 6 to 12 can attend open gym during various two-hour time slots throughout the week (parents don't need to be on the floor, but do need to be present, so bring a book or work); and teens and adults have still more options to choose from.
For children who want to improve their strength and agility, there are classes. Ninja Tots (ages 2-5) meet one morning per week, and parent participation is required. Ninja Kids (ages 6 and up) is a drop-off program, and meets during various afterschool and weekend slots. Check the schedule for details.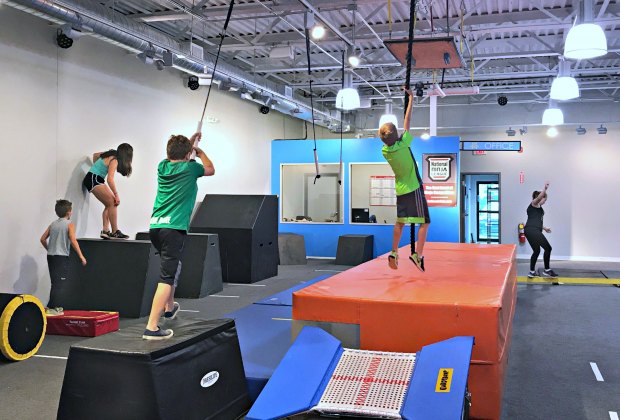 Swinging across the floor takes some practice; kids stayed at it for longer than I expected.

What to Do There
With our busy schedules, Open Gym was the most appealing option for our family. We went for the first time on a rainy day, and signed up online as soon as we woke up in the morning. There were lots of open slots early in the day, but they did fill up later. Tip: If the weather isn't ideal outside, especially, signing up in advance is key.
The Wellesley space is big, but not overwhelming, so it was easy to keep track of kids while they played. There are three distinct areas: First, there's a very popular area with various-sized warped walls, which kids as young as kindergarten-age were trying to run up and touch the top of. In the middle, there's a large center space that includes many ropes and rings to swing on as well as some sawhorses to vault. This space also has some sort of obstacle course that changes every day or so; on the first day we were there, there was a variation on the tricky "salmon ladder" from American Ninja Warrior. The third space is enclosed, and is terrific for smaller children, with a mini warped wall (complete with a button to push, a la the TV show), soft structures to climb on, and a ball pit.
What surprised me most was how long the kids wanted to stay and go over the dozen or so challenges over and over again. My almost-kindergarten, who usually rejects a third try of most anything daunting, from veggies to two-wheel training, must have attempted to conquer one octagonal-edged climbing structure 10 times until petering out. By the end of the day, the three boys I brought to Action Athletics had blisters, and proud smiles on their faces.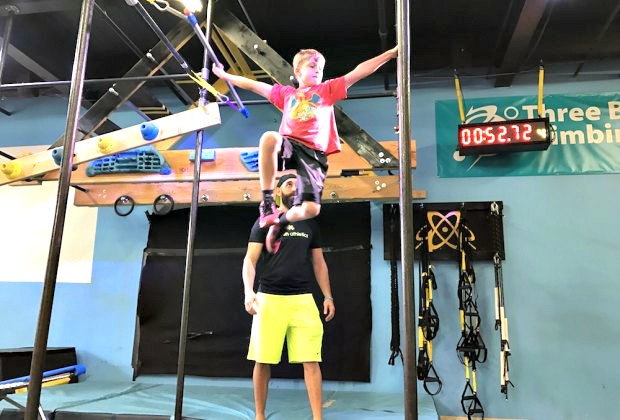 Experienced staffers are always on hand to guide kids through tough obstacles.
Safety Considerations
Kids are boundary pushers by nature, so Action Athletics wisely plants a few friendly (and well-muscled and obviously experienced) staffers around the gym to assist kids who are moving through the obstacles. They are attentive and patient, gently giving kids a hand if they are struggling or need a reminder not to push in line.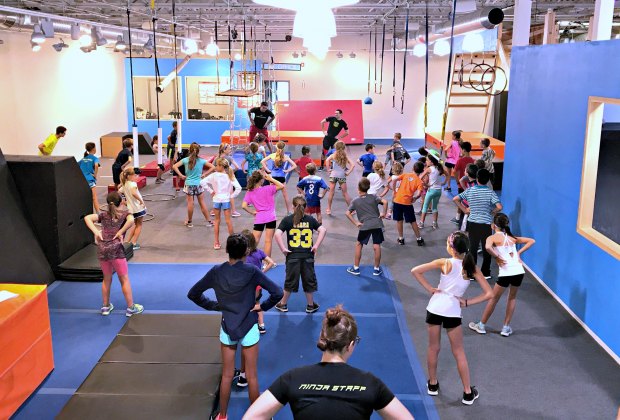 There are classes for tots, kids, and teens.
Special Events
Action Athletics also hosts birthday parties for ages 6 and up. A 90-minute party runs on Saturdays and Sundays and include lots of free play, some guided challenges, and access to a special events room, where hosts can serve food and cake. Parties start at $350 for 10 guests.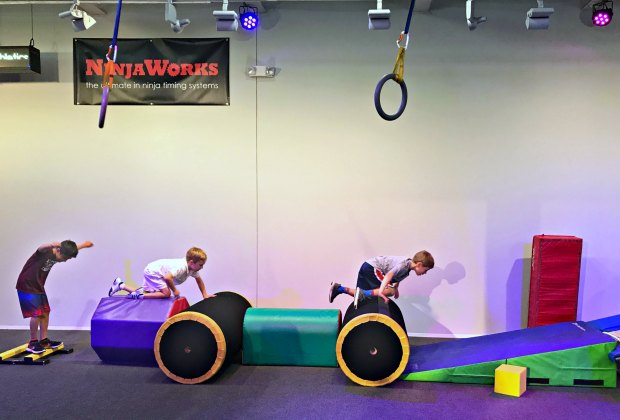 Little kids love conquering these soft obstacles before diving into a ball pit.
Nuts and Bolts
Interested in checking out the place yourself? Here are a few more details that are good to know.
Sneakers are required to participate.
Fall Ninja Kids classes are $350.
A two-hour open gym class is $25, or you can buy a 10-pack or classes for $200 ($20 each). Prices may fluctuate after press time, so check in before booking.
Are you stoked by American Ninja Warrior and have salmon-ladder aspirations of your own? Action Athletics offers private and small-group training for grown-ups, too.
Photos courtesy of Action Athletics