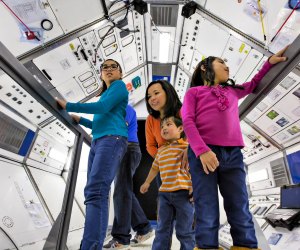 6 Must-See Fall Museum Exhibits for Families Around Boston
A trip to the museum doesn't need to be a "boring" excursion for your kiddos, or strictly refer to your family popping into an indoor space for some play time. Whether it's artwork featuring everyone's favorite honey loving bear or interactive challenges like dodging hanging pendulums, at least one of these half-dozen exhibits on display across greater Boston is sure to delight your kids this fall. They might even learn something (but you don't have to tell them that).
1. Game Play—EcoTarium, Worcester
September 18, 2018-Ongoing
At this exhibit, the smiles and laughs will be as huge as the large-scale games on display. Challenge your little one to a giant game of Chess, see how high you can jump on a humongous Hopscotch board, and test the whole fam's balancing skills on a giant Jenga. And while these super-sized games are super fun to play, they are also great STEAM-based learning tools, so everyone's a winner.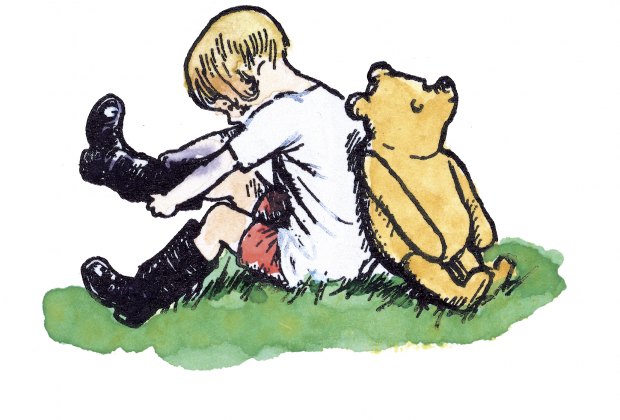 One of the many charming lineblock and watercolor prints of Pooh and Christopher Robin by Ernest Howard Shepard; courtesy of The Museum of Fine Arts, Boston
2. Winnie-the-Pooh: Exploring a Classic—Museum of Fine Arts, Boston
September 22, 2018-January 6, 2019
It will be no bother for your little readers to pay a visit to this exhibit, featuring the honey loving teddy bear Winnie the Pooh and all his friends from the Hundred Acre Wood. Explore original drawings, letters, photographs, and early editions, along with whimsical memorabilia. Kids can walk across a small footbridge inspired by the "Pooh Sticks" story and pop in for a visit at Pooh's house. If you plan your visit on the weekend, stop by the Family Art Cart, where Pooh fans can borrow a tote bag with a sketchbook and colored pencils and check out a storybook to take along during their visit. Be sure to plan ahead, as this popular exhibit requires time-based tickets to enter.
3. The Rockefeller Beetles—Harvard Museum of Natural History, Cambridge
October 20, 2018–Ongoing
What has six legs and a pair of antennas? Each of the hundred-some colorful beetles featured in this upcoming exhibit. If you've got a curious kiddo who loves to get up close and personal with bugs, you'll want to check out the collection of philanthropist David Rockefeller on display at the museum this fall. Rockefeller spent 90 years collecting beetles from around the world, amassing a collection of more than 150,000, specimens and has since donated all of it to the museum. And if you happen to plan your visit on a Saturday, make sure to check out the museum's calendar to see what family programs they're offering.
So many beetles! Photo courtesy of Harvard Museum of Natural History, Cambridge
4. William Forsythe: Choreographic Objects—Institute of Contemporary Art, Boston
October 31, 2018-February 24, 2019
You will not need to have "the talk" about not touching anything before entering this interactive exhibit. The premise is that choreography can be performed by anyone, so let your tiny dancers explore, dodge, dance and problem solve their way through rooms filled with mazes of hanging pendulums and gymnastic rings, structures, and video artwork. For once, you can visit a museum and encourage your kiddos to please touch the art!
5. JFK 100: Milestones & Mementos—John F. Kennedy Presidential Library and Museum, Boston
Through November 25, 2018
No matter where your family stands on politics, all MA residents can agree that JFK and the entire Kennedy family are a fascinating part of our state's history. Take your little ones to the Presidential Library to check out never before displayed artifacts, from personal items like JFK's neckties and a high school scrapbook to hand written notes and speeches from his time in office. Who knows, you just might inspire the next great politician.
6. Space: An Out-of-Gravity Experience—Museum of Science, Boston
Through January 1, 2019
See it before it takes off! Budding scientists will love exploring this hands-on exhibit filled with cosmic adventures and games. Experience what it's like to live aboard the International Space station, operate a robotic arm, learn about the harsh environments of Space, and more. The biggest challenge may be bringing your little astronauts back to Earth when it's time to go.