Guide to Seeing Blink! in Boston with Kids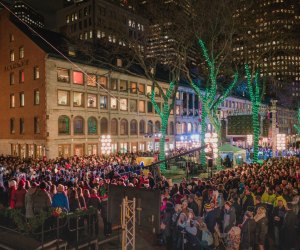 What holiday show is blissfully brief, requires no reservations, allows spectators to jump around, and—best of all—free? Tailor-made for revelers with limited attention spans and a penchant for eye candy, Blink! is a growing Boston tradition that's splashier than ever this year with more colors and songs, and special events for kids. Centered around the 85-foot fir tree (the Northeast's largest) in the middle of the Faneuil Hall marketplace, Blink! is a light show incorporating some 350,000 LED bulbs set to flash in time to piped-in holiday music, from Mariah Carey to the Pops.
Yes, we know that the holiday hustle-bustle can make a trip to the city daunting this time of year, but Blink! is definitely worth an outing. Here are some tips for going with little ones. And remember, make plans soon, as it's only on display through January 1st. Blink and you'll miss it!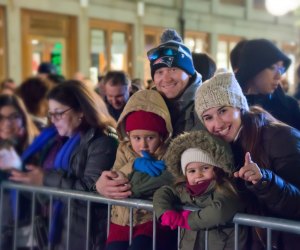 Bostonian families gathered at Blink's 2017 debut. Photo courtesy of Faneuil Hall Marketplace
When to Go
Blink! runs nightly from the end of November through January 1. The show runs every half-hour, starting at 4:30. Much like restaurants, you'll have your best chance of avoiding crowds (especially the adult-mostly ones who may have made the round at the local pubs) if you hit Blink! on the early side of the evening. Your very best bet is to go on a weekday between school and bedtime, and catch a quick show before grabbing a bite to eat and doing a bit of holiday shopping around the Marketplace.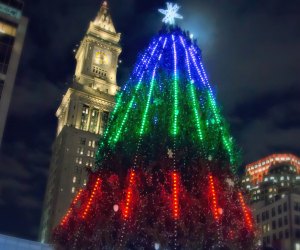 Photo courtesy of Faneuil Hall Marketplace
Getting There
If you can swing it, public transportation is your least expensive option. Take the Blue line to the Aquarium, the Green Line to Haymarket, the Orange to State/Haymarket, the Red to Park Street, or the Commuter Rail to North or South Station. All are in close walking distance. If you're driving, we'd recommend the 75 State Street Garage, a few blocks from the action. With plenty of spots, you're less likely to find yourself driving around circles and coming up short (not the best after a long drive when kids are anxious for the show and someone inevitably has to use the facilities). Even better: As the "official" parking garage of Blink!, you can buy discounted parking ahead of time online.
Where to Watch
The best view of the surrounding lights, which bedeck the smaller trees through the thoroughfare, is probably close to the giant fir tree in the middle of the marketplace. It also happens that this monumental evergreen lets off a wonderful glow itself, light show aside, and makes for a great photo-op.
Where to Eat
The better question may be where not to eat? There are more options than you probably have time for, so make a plan of where to dine in advance. Sit-down options include Crush Pizza, Union Oyster House, and a more recent (welcome addition), the Villa Mexico Cafe. If a quick bite seems more manageable, head to Quincy Market across the square. Grab a slice at Regina's Pizzeria, a bowl of warm soup at Boston Chowda Co, or a bowl of pure, cheesy goodness at MMMac n' Cheese.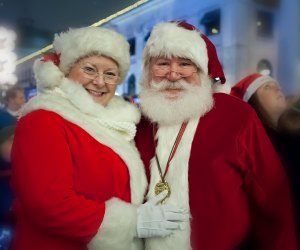 Photo by Scarpetta Photography
Good to Know...
The nighttime light show is not the only fun to be had around the big Christmas tree in the market over the holidays. If you're not keen on bringing the kids to the marketplace after daylight hours, consider a trip during a special event around lunchtime. From noon to 4:15 on Saturdays through Dec. 23, check out live bands or DJs and give to a charitable cause for a "Rockin' Around the Christmas Tree" event. At the same time, St. Nick will be on hand for "Selfies for Santa."