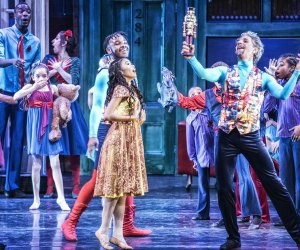 Nutcracker and Other Holiday Shows Kids will Love in Boston
The Nutcracker: It's among the most enduring of holiday family traditions in these parts. And just as there are many kinds of Boston families, there are different Nutcrackers appealing to different tastes, from the Boston Ballet classic to a high-energy, hip-hop interpretation. But Tchaikovsky's beloved confection is hardly the only holiday-themed stage performance delighting kids across Boston this month and next. Families can carol with the Pops, sing along with Rudolph, discover what your elves on the shelf are up to and more. All the shows are terrific, but tickets will go faster than cookies at Christmas Eve, so we'd advise booking sooner than later.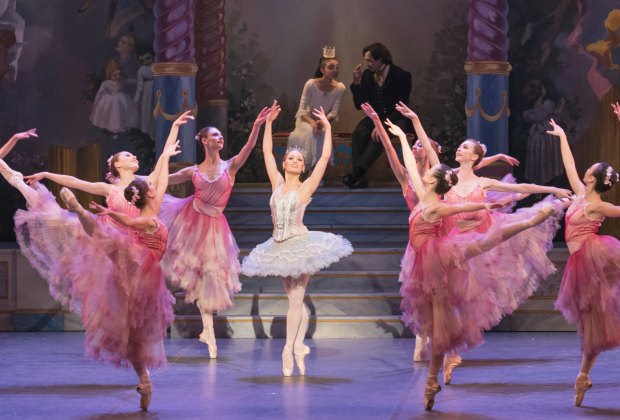 The Boston Ballet's Nutcracker is a tradition for many Boston families. Photo by Liza Voll courtesy of The Boston Ballet.
A Sampling of Nutcrackers around Boston
Boston Ballet's The Nutcracker—Boston
Opens November 29, 2019
Boston Ballet's performance of The Nutcracker, choreographed by Mikko Nissenen, is a traditional holiday event for the whole family. Join Clara on her magical journey through an enchanted winter wonderland to a palace of sugary confections at the Boston Opera House. Kids must be age 2 to attend the performance. See our tips for watching the show with preschoolers.
Jose Mateo's The Nutcracker—Boston and Dorchester
Opens November 30, 2019
With an emphasis on classical dance technique over stagecraft, the Jose Mateo Ballet Theatre presents the classic holiday tale at the Cutler Majestic Theatre beginning November 30 and the Strand Theater in Dorchester beginning December 13.
Moscow Ballet Great Russian Nutcracker—Boston
December 6, 2019
The Moscow Ballet brings it's elaborate Great Russian Nutcracker to Massachusetts. Your kids will love the larger than life puppets, nesting dolls, and hand-crafted costumes.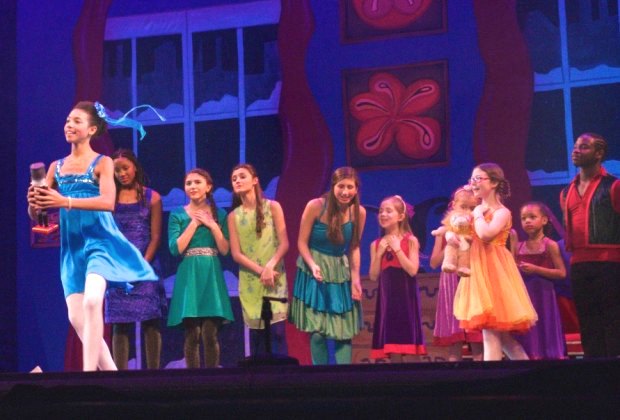 The Urban Nutcracker's party scene is colorful and playful. Photo courtesy of the show
Urban Nutcracker—Boston
Opens December 19, 2019
Tony Williams' Urban Nutcracker puts a modern spin on the 19th Century fairy tale, fusing Tchaikovsky's classic score with Duke Ellington's jazz interpretation and more than 100 local dancers performing classic ballet, urban tap, hip hop, swing, flamenco, step, and jazz. Read our review to find out why it's our pick for a child's first trip to the ballet.
Hip-Hop Nutcracker—Worcester
December 29, 2019
This isn't grandma's Nutcracker. A contemporary version of the classic Tchaikovsky tale, Hip-Hop Nutcracker returns to Massachusetts for one show at the Hanover Theater. Taking place in 1980s Brooklyn on New Year's Eve, it features all-star dancers, a DJ, and an electric violinist.
Other Holiday Performances around Boston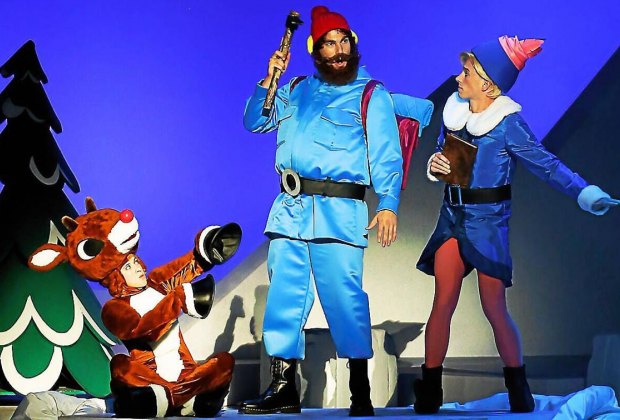 Rudolph the Red-Nosed Reindeer: The Musical will remind you of the animated classic movie. Photo courtesy of Shubert Theater
A Magical Cirque Christmas—Manchester, NH
November 14, 2019
This Cirque du Soleil show features all the daring circus acts audiences expect from their shows, but with a holiday twist. Along with dazzling costumes and acts, families will also sing-along to holiday classics with live musicians.
​A Charlie Brown Christmas—Lynn and Lowell
November 29, 2019 (Lynn), December 7, 2019 (Lowell)
Staying true to its television roots, A Charlie Brown Christmas features Charlie Brown, Snoopy, Lucy and all the Peanuts gang as they produce their own Christmas pageant and ultimately learn the true meaning of Christmas. Complete with the little Christmas fir tree, this production is a show the whole family (including nostalgic parents) can enjoy.
Miracle on 34th Street—Stoneham
Opens November 29, 2019
This classic Christmas story featuring the "real" Santa, Kris Kringle, comes alive on stage. Your little ones are sure to believe after watching this holiday show.
Elf on the Shelf: A Christmas Musical—Lynn
December 5, 2019
The Elf on the Shelf takes to the stage for a live musical performance! Follow everyone's favorite elves as they journey between the North Pole and Santa and their child's home to spread Christmas cheer.
Rudolph the Red-Nosed Reindeer: The Musical—Boston
December 6-8, 2019
This adaptation of the animated classic from our childhoods brings everyone's favorite reindeer to the stage. Rudolph teaches the importance of friendship and respect, while getting everyone very excited for Christmas in the process. This Boston production at the Shubert features a mixture of adult and young performers, and carols kids will recognize.
​A Christmas Carol—Beverly
Opens December 6, 2019
Discover the true spirit of the holidays at this classic Christmas story. Your little ones will love the dazzling special effects and singing along to traditional songs like "We Wish You A Merry Christmas".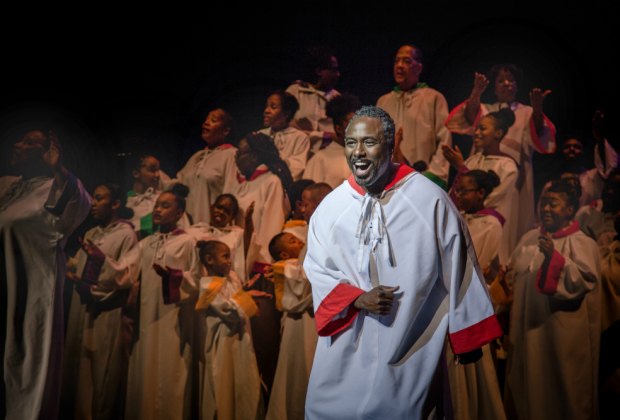 Dwayne Burgess of Voices of Black Persuasion performs a rousing solo during the song "Christ is Born" in Black Nativity. Photo by Edgar Troncoso.
Langston Hughes' Black Nativity—Boston
Opens December 6, 2019
Langston Hughes' Black Nativity tells the original story of the Nativity in scripture, verse, music and dance. This show is based on the Gospel of St. Luke, combined with the poetry of Langston Hughes.
The BSO's Holiday Pops—Boston
Opens December 7, 2019
Symphony Hall is transformed into a winter wonderland as Keith Lockhart and the Boston Pops perform the most beloved holiday music in these BSO Holiday Pops concerts. Special family matinee concerts include a children's sing-along and post-concert photos with Santa.
Originally published November 2012