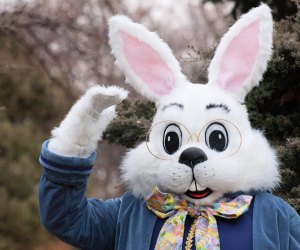 Easter Bunny Pictures for Kids around Boston
This time of year, the Easter Bunny is as busy as Santa in December. So of course, there are plenty of places offering Easter Bunny photos (and priceless springtime memories). Depending on the activity, only professional photographers may be permitted to take pictures, but be sure to bring your camera for great candid shots just in case!
Along with Easter Bunny photo ops, there are more festive ways to celebrate this spring holiday. Plan ahead and book a reservation to dine out on Easter Sunday—some brunches boast a very special guest of honor, the Easter Bunny— and all showcase delicious menus worthy of a celebration. And is it even Easter if you don't hit up an egg hunt? We are in the process of collecting all the egg-citing details on Easter egg hunts in the area.
For more seasonal events with kids, check out our top picks for fun spring activities with Boston kids, and make sure to keep tabs on our events calendar.
2021 note: Make sure to inquire about masking and social distancing policies so everyone is safe while celebrating the holiday.