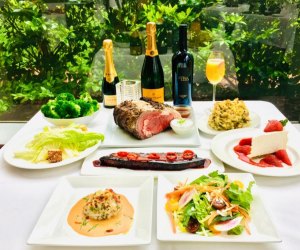 Easter Brunch and Dinner Takeout and Delivery Options in Boston
Your Easter or Passover table may not include as many friends or family as usual this year, but plenty of Boston-area restaurants are doing their best to make the spring holidays as festive as can be for local families. Spiral hams, leg of lamb, and Easter treats like carrot cupcakes are available for takeout or delivery in Boston and surrounding Massachusetts towns, taking cooking off your plate.
Decorate the table with Easter crafts and dyed eggs, connect with loved ones via Zoom or FaceTime, and savor your holiday!
This pre-order Easter feast will leave little to be desired. For $60 per person, you get an appetizer, salad, main course, side, and dessert. Orders must be placed by the Thursday before Easter.
South End's famed jazz hot spot is serving up Easter and Passover dinner to go this year! Meals are designed for families of 4, and include a choice of appetizer and entree along with multiple sides and chocolate chip cookies. Orders must be placed online by April 9 for curbside pickup on April 12 between 10am and 3:30pm.
OUR LATEST VIDEOS
Concord's specialty farm stand is offering an Easter Menu featuring homey, a la carte favorites like Honey Baked ham, quiche, and a kid-friendly frosted "lamb" cake. The meal is available for curbside pickup from 12pm and 5pm on April 11. Orders can be placed online or by calling the store by April 8.
This family-owned bistro is serving up a delectable holiday spread with options from rack of lamb to beef tenderloin (plus carrot cake cupcakes for dessert!). Orders must be placed by 4pm on Thursday, April 9 for takeout or delivery on Saturday, April 11 between 1pm to 4pm.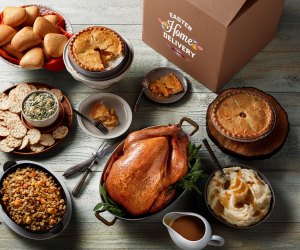 Order family-style meals or a la carte options for Easter from Boston Market. Photo courtesy of Boston Market
The Capital Grille—Boston, Burlington, and Chestnut Hill
In addition to its take-out menu, the Capital Grille is offering a full Easter brunch spread that feeds 4 to 6 people for $185. Pre-order is required as availability is limited. Reserve curbside pick-up starts Friday, April 10 between 12pm and 8pm.
Seasons 52—Chestnut Hill and Burlington
Seasons 52 is offering family-style Easter meals (with spiral ham, sides, mini dessert samplers, and mimosas) in addition to their regular take-out menu. Pre-order curbside pickup is on Friday, April 10 between 12pm and 8pm.
Willowbrook's Easter menu boasts everything from turkey and ham dinners to lobster casserole to bottles of wine or beer (plus a kids' menu for the littles). All orders must be pre-paid over the phone prior to pickup (11am to 2:30pm through Easter Sunday).
Roche Bros—Wellesley plus 16 other locations
This local grocery store chain is offering a heat-and-eat Easter dinner with several tasty sounding main course and side options, like roasted boneless leg of lamb, quiche, and au gratin potato towers. Orders must be place by noon on Tuesday, April 7 for pickup on Saturday, April 11.
This year, Boston Market is doing family-style Easter meals featuring ham or turkey (or both!) plus sides and desserts for up to 12 people. Meals are available to pre-order for pickup between April 10 and 12. Better yet, if you order by April 8, you can have your meal delivered to your door.