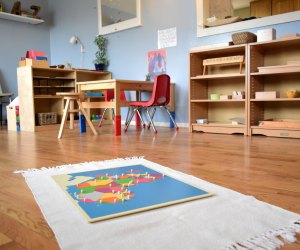 Coronavirus Closures Update: Schools, Museums, Libraries, Play Spaces around Boston
Normally, our job at Mommy Poppins is to clue parents in to where to have fun with kids around Boston. But as coronavirus spreads through our community, we're also here to tell you where not to go. Here are the schools, museums, zoos, indoor play spaces, libraries, and stages we know to be temporarily closed around Boston. (Note the Boston Public School system, a last holdout, just announced Friday evening that schools will be closed from Tuesday, March 17 through April 27.) Please visit and comment on our Facebook page to let us know what other closures we are missing and should know about.
Stuck at home? Look to our Mommy Poppins Coronavirus Guide for Parents for hundreds of ideas for games, crafts, and activities, as well insider tips and takes for keeping kids safe and healthy at home and beyond. All the best from our families to yours.
The following places are temporarily closed as of Friday, March 13, 2020 at 4pm. We ask that you check in with organizations and businesses for updates on reopening times, which remain uncertain for most venues.
Coronavirus Closures of Boston-Area School Districts
Note this may not be a complete list, and concentrated on towns within the I-495 loop outside of Boston. Check your local districts for more information.
Boston Public Schools (starting Tuesday, March 17)
Acton-Boxborough
Andover
Arlington
Bedford
Belmont
Beverly
Burlington
Brookline
Cambridge
Canton
Chelsea
Chelmsford
Concord/Carlisle
Dracut
Duxbury
Everett
Framingham
Franklin
Gloucester
Hopkinton
Lexington
Malden
Marblehead
Marlborough
Medfield
Medford
Natick
Needham
Newton
Norwood
Peabody
Revere
Salem
Somerville
Waltham
Wayland
Watertown
Wellesley
Weston
Westwood
Winchester
Woburn
Coronavirus Closures of Boston-Area Museums, Zoos
Boston Children's Museum
Museum of Science
New England Aquarium
New England Zoos—Franklin Park and Stoneham Zoos
Ecotarium
Harvard Museum of National History
Peabody Museum of Archaeology and Ethnology
Harvard Semitic Museum
ICA Boston
Boston Museum of Fine Arts
Isabella Stewart Gardner Museum
Boston Fire Museum
Old Sturbridge Village
MIT Museum
Mosesian Center for the Arts
Coronavirus Closures of Boston-Area Indoor Play Spaces, Gyms, and Pools
Goldfish Swim School
Little Flippers Swim School
Note that as of Monday, 3/15, most of the indoor play spaces in our Drop-In Indoor Playgrounds post remained open. Please check website or call before going.
Coronavirus Closures of Boston-Area Libraries
Somerville Public Libraries
Brookline Public Libraries
Lexington Public Libraries
Newton Free Libraries
Framingham Public Libraries
Coronavirus Closures of Performing Arts Spaces, Shows
Puppet Showplace Theater
Boch Center
Wheelock Family Theater
Blue Man Group