Coding Classes and Clubs for Boston-Area Kids—Scratch, Java, and More
Not loving the idea of your kids whiling away the afterschool or weekend hours in front of a tablet or computer? But what if they were engaged in programs that help nudge them away from mindless click-and-tap games and toward some serious 21st century computer skills? These cutting-edge area programs introduce children to coding and programming concepts through interactive games and challenges, and provide an alternative to these great online coding courses by enouraging collaboration in a social setting. My takeaway, after learning about these cool classes: Not all "screen time" is created equal!
Acera STEAM Learning Lab - Winchester
This K-8 school has a special focus on tech, and offers a wide variety of afterschool programs to non-enrolled students ages 7 to 15 in its STEAM Lab, from robotics to game design.
Sample program: Game Design (ages 8 and up)—"Leverage game theory and comp sci skills to create tabletop and video games, just like the pros!"
CS Recitations - Natick
Founded by MIT alums, CS Recitations offers small-group, intensive computer science classes grades 5 to 12. Students work their way up from introductory coding to challenging Python programming.
Sample program: Arduino Basics (grades 5-7)—"This class uses the open-source Arduino single-board computing system to create an engaging introduction to computing. In each session, students will create circuits and programs that allow their Arduino computer to interact with the physical world."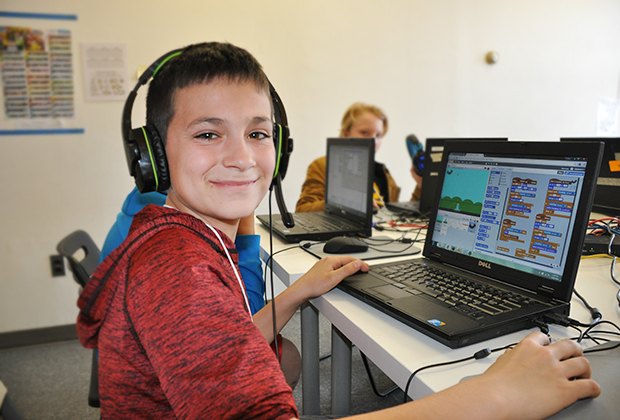 Kids get a mix of tech at afterschool clubs that meet almost everyday throughout the school year in Lexington.
Empow Studios - Lexington, multiple locations
Though its home base is in Lexington, Empow offers afterschool programs in local public schools and facilities and weekend clubs and classes in Newton. Offerings include robotics, girls-only STEAM clubs, and video game design.
Sample program: Weekend Coding Club (grades 2-8)—"Bridging the gap between Scratch and Java...for kids who want to try their hand at creating games, animations, and applications by writing code."
Einstein's Workshop - Burlington
This STEAM learning center north of town offers a year-round schedule of computer and other tech courses. They aim to introduce kids to coding concepts as early as kindergarten, and build skills through the middle school years.
Sample program: Robotics and Programming with Lego WeDo, 2.0 (grades 1-2)—"...Offers an opportunity for students to build and program motors and sensors as well as new robot designs and programming challenges."
Girls Who Code - multiple locations
Lots of little girls around town can't wait until grade 6, when they eligible to join a "GWC" club. Currently, there are more than a dozen clubs meeting in schools and libraries from East Boston to Wellesley—and best of all, they're free.
Program description: "Club girls learn the concepts of loops, variables, conditionals, and functions that form the basis for all programming languages—whether they want to build a website, an app, or a robot."
KTByte - Lexington
Touting "progressive" computer science classes to kids ages 8 to 18, KTByte offers classes both online and in person. Kids start with the basics and work their way up to some seriously advanced stuff, such as artificial intelligence.
Sample program: Minecraft Programming in Redstone (ages 9-12)—"Students will be building machines and other complex circuit based designs such as a simple adding counter to building a mock-LCD display."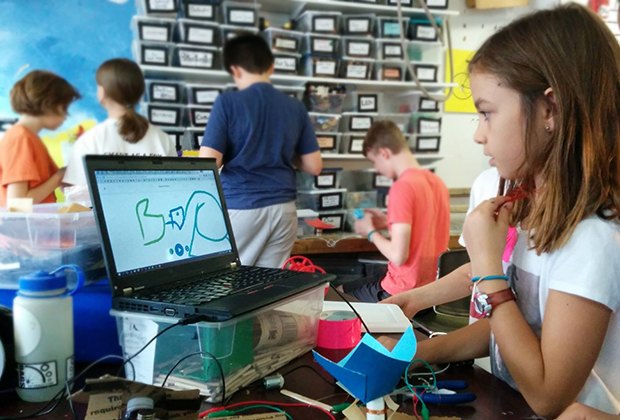 Parts and Crafts encourages creativity in all things tech.
Parts and Crafts - Somerville
Creativity is king in this Somerville makerspace. Kids can tinker with all kinds of hardware—from shop tools to computers—and learn computer basics at afterschool programs, periodic workshops, and vacation camps, mostly geared toward kids 7 and up.
Sample program: Afterschool @Parts and Crafts (ages 7-10)—"On any given day, kids will be exposed to any number of varied activities in subjects like electronics, programming, woodworking, and traditional handcrafts."
Scratch Club - Newton
Lots of libraries offer computer classes, but it's still rare for them to extend them to kids. Not so in Newton, where the (free!) monthly Scratch Club has a strong following among third and fourth graders during the school year.
Program description: "Kids in grades 3 and 4 come for an hour to explore and work with scrath (a free programming language designed at MIT) to create games, animations, and stories.
YouthSpark Classes at Microsoft Stores - Boston and Burlington
Sign up early for these popular free classes at the Microsoft stores at the Prudential Center and Burlington mall. Kids can become more facile with several different coding programs as well as Microsoft software.
Sample program: STEM Saturday, Hour of Code (ages 8 and up)—"Go behind the scenes to learn how to code, program, and play in your own gaming world. You'll use fun, interactive coding to learn how creativity and problem solving come together to make something all your own."
Zaniac - Winchester
Zaniac starts 'em early, offering computer programming and game modding as well as other STEM classes, clubs, and camps for kids as young as kindergarten-age.
Sample program: App Creation (grades 3 to 8)—"Students learn how to create new customized apps using App Inventor 2, a block-based, visual programming approach designed by MIT."
Top photo: Empow. Photos courtesy of the classes