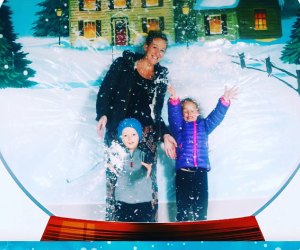 Christmas Festival of Lights at Edaville: Full Of Charm & De(light)!
There are many opportunities for a dose of Christmas cheer in the Boston area, but I recommend including Edaville's Christmas Festival of Lights on your holiday must-do list this year. During the holiday season Edaville USA is decorated with over 17 million (that's right, 17 million) lights! Admission also grants you the opportunity to enjoy the park's newest attraction, Dickens Village, with Santa on hand for pictures; a train ride for an up-front view of the light structures; and Edaville's 90 family-friendly rides and attractions, including the iconic Thomas Land.
Although my kids wanted no part in sitting on Santa's lap (three years and going strong!), they enjoyed the free candy cane and the whimsical Christmas toys on display in Dickens Village. You can't miss the larger than life inflatable Santa that greets you as you enter the park. My three-year-old asked if it was a building!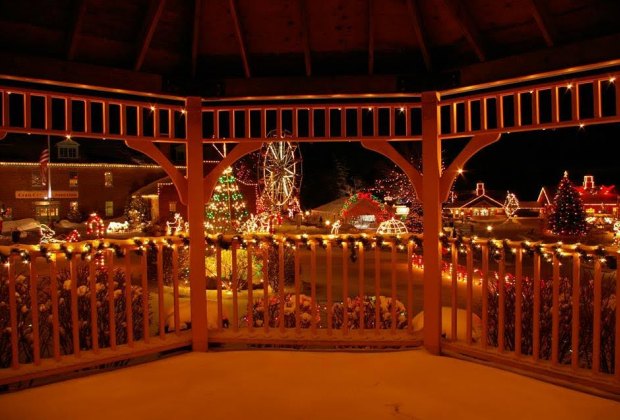 Photo of Christmas Festival of Lights courtesy of Edaville USA.
There are a couple of rides to occupy the kids as you wait for the main attraction, the train ride around the park. The train takes you on a slow trip to enjoy the light displays all around Edaville, which are all fantastic and are sure to delight kids and kids-at-heart. I found my eyes darting from one figure to the other, trying to take it all in, and calling to my kids to check out the hopping frog, pirate ship, or beautiful butterflies. We were lucky enough to catch the sun setting over the Cranberry Bog, which added to the charm. I recommend taking the train ride when it's at least slightly dark outside -- it really makes the light structures pop. The train ride lasts about 20 minutes from start to finish, a perfect length for squirming little bodies that are hopped up on candy canes.
Feel free to roam around the park after your train ride and make use of your entry fee. And here's a little secret: If you want a VIP train ride experience, you have the opportunity to upgrade your ticket to an Edaville Express tour called "Where's Santa?" This train ride takes the same route as the standard ride but also features dancing elves that serve chocolate milk, cookies, and Hood eggnog while guests help Mrs. Claus search for Santa. Eventually, every kid on board gets a visit from Jolly Old Saint Nick!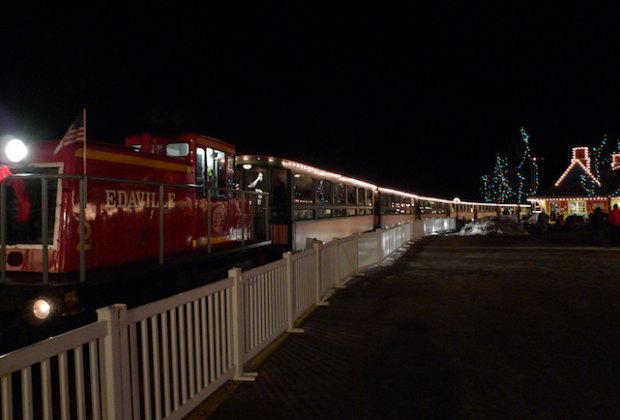 Departing the train station. Photo by Eric Kilby via Flickr.
Edaville USA's Christmas Festival of Lights is open through Sunday, January 1, 2017 on Sundays from 2-8pm, Mondays-Thursdays from 4-8pm, and Fridays and Saturdays from 2-9pm. Trains run every hour. If you can swing it, definitely go as the sky gets darker for maximum enjoyment.
Additional Tips:
Get discounted tickets by buying your tickets online at the Edaville website in advance.
There are light displays on both sides of the train windows, not just the side where the train starts. If you are traveling with another adult, sit on opposite sides facing each other so your kids can hop from lap to lap, depending on what they want to see.
Keep your entry tickets handy. A train conductor will come by and ask to collect tickets as part of the experience. (Psst: It's okay if you don't have them, they will still let you ride!)
Despite the 17 million lights on the train path, the park gets dark in certain areas. Bring a flashlight or dress your kids in bright and shiny clothing.
---
Top photo courtesy of the author.