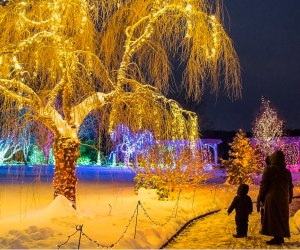 Boston's Best Christmas Light Shows and Holiday Drive-Thrus
Every Boston family favors different holiday traditions, but we don't know anyone—young or old—who isn't delighted by the twinkly glow of holiday or Christmas light shows. In 2021, the annual tradition of taking in holiday lights returns. As spectacular Christmas lights are mainly outdoors, it gives all a chance to feel a little seasonal magic in a way that continues to be safe and socially distanced.
Favorite drive-thru holiday light displays are back, such as the Magic of Lights at Gillette Stadium, the Greater Boston Celebration of Lights in Waltham, and the Marshfield Holiday Light Show, in addition to sparklier-than-ever walk-through events like ZooLights at Stone Zoo and La Salette Shrine in Attleboro.
Whether you venture out to one of these Boston holiday and Christmas light shows, or drive to spectacularly decorated local homes, set aside an evening, bring a thermos of cocoa, and experience some magic as a family. For more holiday and Christmas activities, plan ahead with our Holidays and Christmas Activities Guide for Boston Kids.
Best Holiday and Christmas Lights in Boston
Tuesday, November 22 - daily through Winter 2022
The Boston Parks and Recreation Department makes a big splash every year when it illuminates the trellis at Christopher Columbus Park on the North End waterfront in blue for the winter. For 2021, the opening event's festivities include cookies, hot chocolate, and clam chowder, as well as a visit from Santa Claus. FREE
Tuesday, November 30 - Saturday, January 1
Each year, Faneuil Hall features a splashy holiday light show centered around the Northeast's largest Christmas Tree. This year's Blink! opening event on November 30 features live musical performances at 7:30 pm. The show also runs daily from 4:30-10 pm through New Year's. While the marketplace can be daunting during the holiday and Christmas season, our guide to Blink! can get you to the best place to view the glittering lights with the least stress possible. FREE
OUR LATEST VIDEOS
Best Holiday and Christmas Lights North of Boston
Friday, November 19 - Thursday, December 30
Bundle up in your car, pack a favorite snack, and tune in on your radio to enjoy a synced light performance as you travel through the holiday light show. This new, drive-thru show features dozens of dazzling, larger-than-life holiday-themed displays.

The Stone Zoo's holiday light displays are a Boston treasure. Photo courtesy of the Stone Zoo
Friday, November 19 - Sunday, January 9, 2022
Enter a winter wonderland of tree-lined paths lit by thousands of twinkling lights. Enjoy a one-way stroll through festively decorated Yukon Creek, home to black bears, bald eagle, Canada lynx, reindeer, and arctic foxes. This year, several illuminated large-scale lantern displays will light up your winter's night.
Thursday, November 25 - Sunday, January 2, 2022
You'll need to drive north a bit farther, but the miles are worth it. New Hampshire Motor Speedway is trading in the checkered flags for more than 2.5 million twinkly LED lights for its 10th annual Gift of Lights. You will cruise through 2.5-mile of lights at this drive-thru experience, including the Tunnel of Lights.

Seaside holiday and Christmas light displays can be found throughout Cape Ann. Photo courtesy of Discovergloucester.com
Winter Lights on Cape Ann—Rockport, Gloucester, Manchester-by-the-Sea, and Essex
Friday, November 26 - Sunday, January 2, 2022
Pack up the car and take a driving and walking tour of the First Annual Winter Lights Celebration on Cape Ann. Local businesses throughout Gloucester, Rockport, Manchester-by-the-Sea, and Essex are getting into the festive spirit by decorating establishments, marinas, and galleries with twinkling lights and creative window displays. More than 50 locations are participating. FREE
Best Holiday and Christmas Lights South of Boston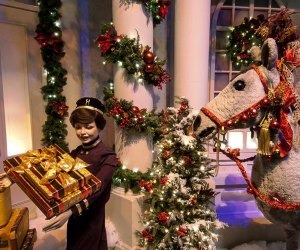 After going down the new 72-foot slide, marvel at the restored Enchanted Village. Photo courtesy of Jordan's Furniture
Friday, November 19 - Sunday, January 2, 2022
At this old-fashioned village (originally displayed at Jordan Marsh, Downtown Crossing in the 1960s) with 59 mechanical figures and 18 vignettes, you can also find Santa, skate on synthetic ice, and see a light show. New for 2021: Enjoy a thrilling ride in a colorful inner tube down a smooth slide—it's like a water slide without the water, or a backyard hill without the snow. This new Enchanted Village attraction at Jordan's Furniture is a beautiful wooden structure that is 72 feet long by 16.5 feet wide. It's an easy climb back up to the top, so young and old can slide down a few times. Note the slide's minimum height requirement: 40 inches. FREE
Magic of Lights—Foxboro

Friday, November 19 - Friday, December 24
Pack up the car and head to Gillette Stadium for a holiday lights drive-thru. Cruise through a Blizzard Tunnel, countdown the 12 Days of Christmas, and visit a Winter Wonderland as this lights experience takes holiday decorating to the next level. Find out more in our guide to the Magic of Lights.

This South Shore shrine offers a breathtaking light show featuring angels, snowflakes, Clopper the Christmas donkey, and more. Photo courtesy of Our Lady of La Salette
Thursday, November 25 - Friday, January 2, 2022
The La Salette Shrine lights have been shining each year at Christmastime since 1953. Visitors can see angels, snowflakes, and depictions of the Three Kings, the Peaceable Kingdom, and more lit up by more than 300,000 lights (nearly a third of them are energy-efficient LEDs). Highlights include displays of the Creche of Bethlehem and Clopper the Christmas Donkey and concerts with Father Pat and various artists. FREE

Southwick's Zoo Winter Wonderland drive-thru brings guests through the Frozen Forest and into Whoville. Photo courtesy Festival of Illumination
Friday, November 26 - January 9, 2022
Once a colonial farmstead known as Cherry Hill Farm, the Bradley Estate was transformed in 1902 into a classic country estate and this holiday season, its gardens sparkle with thousands of shimmering, artfully designed holiday lights. Bring the whole family for a magical, fun, and safe outdoor experience – including food and refreshments.
Best Holiday and Christmas Lights West of Boston
Friday, November 5 - Friday, December 31
Inspired by The Mount's unique architecture and history, NightWood combines music, lighting, and theatrical elements to create 7 unique scenes that evoke feelings of wonder, mystery, and magic. The total route is approximately 3/4 of a mile through the woods and gardens.

Santa Claus makes an appearance every Christmas season at Edaville Family Theme Park. Photo courtesy of the park
Friday, November 12 - Saturday, January 1, 2022
Edaville Family Theme Park is transformed into a winter wonderland of holiday delights for the Christmas season. Passengers can relax comfortably in warm and dry coaches while riding through a spectacular holiday setting featuring an explosion of lights. Plus, enjoy an array of vintage amusement rides and see Santa Clause.

The expertly decorated Festival of Trees features an indoor snow village and model railroad. Photo courtesy of the Massachusetts Horticultural Society
Friday, November 26 - Sunday, December 19
Along with trees decorated by Massachusetts Horticultural Society expert gardeners, you can wander through an indoor Snow Village, a model railroad, outdoor lighting displays, and relax by a fire pit with s'mores.
Friday, November 26 - Thursday, December 30
Celebrate the season with thousands of lights, new experiences, and enchanting landscapes. Enjoy an outdoors walking experience through roughly 15 acres of formal gardens and surrounding woodlands, including illuminated plants, paths, sculptures, and fountains. The magical scene is enhanced with fire pits for warming up, making s'mores, or enjoying a cup of hot cocoa or an adult beverage
Friday, November 26 - Sunday, January 2, 2022
A new holiday drive-thru experience is coming to the Boston suburbs this holiday season. More than 1 mile of roadway in Waltham will be transformed into a glittering display of over 1 million LED lights and animatronic scenes.

Make your way down the lighted staircase at Naumkeag Public Garden for Winterlights. Photo courtesy of Berkshires.com
Friday, November 26 - Saturday, January 8, 2022
Descend the marvelous staircase (the journey back up is beautiful as well) of the Naumkeag Public Garden and enjoy a magical outdoor experience as you get in the holiday spirit and take a stroll through thousands of shimmering holiday lights. Food and refreshments also available.
Friday, November 26 - Sunday, January 2, 2022
This year's Winter Wonderland guests will enjoy two events in one. Winter Wonderland and the Festival of Illumination will feature a drive-thru tour through the Frozen Forest where visitors may spot a few fallow deer, and through Whoville to encounter the Grinch himself.
A version of this post was originally published November 2013.
Updated November 2, 2021