12 Day Trips near Atlanta for Georgia Families in 2020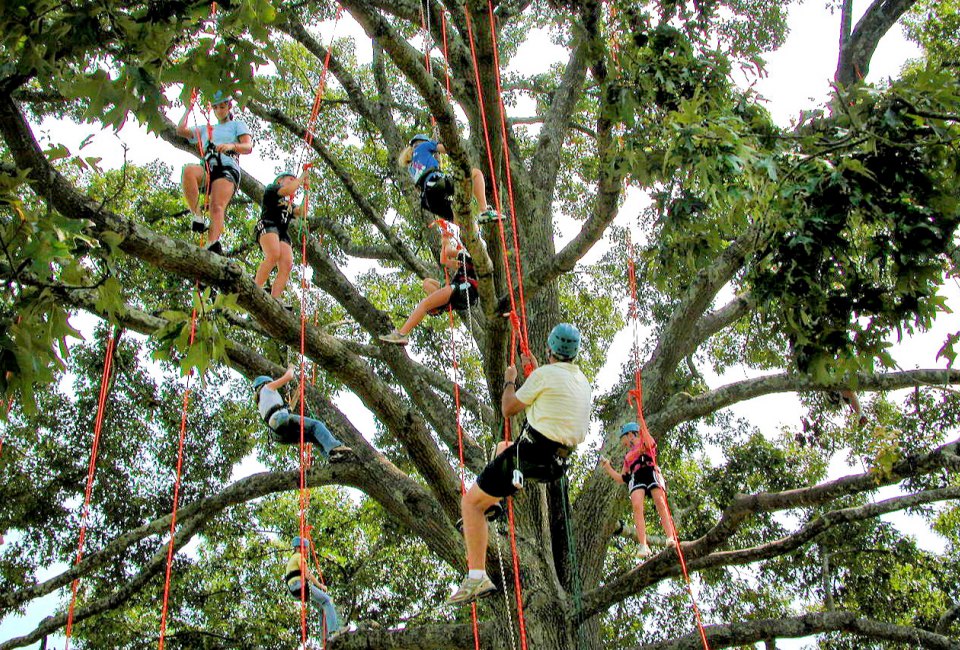 7/3/20
- By
Kendra Pierson
Big trips might be tabled this summer, but that doesn't mean you can't have adventures with Atlanta kids closer to home. We've created this list of day trips from Atlanta for families, including the most current information on open attractions at press time. This list includes Atlanta day trips that you don't need to leave town for (like drive-in movie night) and a few day trips a bit farther afield that can be turned into overnight getaways.
Be sure to check out our Atlanta Summer Fun Guide, which is full of more ideas for keeping kids busy this summer. Have fun—and stay safe—out there!
Social distancing is still recommended by CDC, so we've chosen outdoor activities that will limit your interactions with people outside your group. Policies and hours can change at any moment as current health guidelines evolve, so be sure check with any attractions before you head out.
Conveniently located in city limits, Starlight allows you to see the newest summer blockbusters from the safety of your own car. The double-features movies start at sundown with a new release followed by a recent release. Starlight is reasonably priced for family movie night, too! Adult admission is only $10 and children ages 5 to 9 can watch for just $1 each.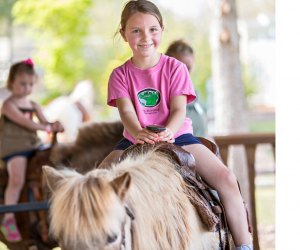 Horseback riding is just one fun activity on this ranch. Photo courtesy of The Rock Ranch
The Rock Ranch has been a favorite day trip from Atlanta for families over many years and this summer won't be any different. Rock Ranch is open for guests to come and explore all 1,500 acres. For 2020, Rock Ranch has moved to a punch card system for different attractions. Families can still ride the cow train, jump on the giant pillow, go fishing, or mine gems before enjoying lunch and homemade strawberry "IceDream." The farm stay homes are still open for overnight visitors if you want to make a weekend of it.
Get up and personal with the animals of Wild Animal Safari. You can choose to ride the guided tour bus or drive your own car through the park. More than 75 different species of animals will approach, and some even eat out of your hand. Before or after your drive through the park, walk through the animal roundabout and see tigers, monkeys, peacocks, and more in a more zoo-like atmosphere.
Families can tour more than 85 different military aircraft at the Museum of Aviation, which is also free to visit. After a self-guided tour, you can choose from one of five different adventures on the Virtual Reality Simulator. The Museum is also a host for different educational programs. The educational programs range from STEM Days to historical workshops; all programs require advance registration to ensure social distancing guidelines are followed.
Summer 2020 won't stop the Landsharks! Margaritaville Lake Lanier has opened their waterpark, beaches, restaurants, boat rentals, and margarita brunch crushes for families to enjoy. For water fun away from the beach, the waterslides and Fun Zone splash area for kids under 42-inches tall are open with suggestions to social distance. Margaritaville will host a traditional 4th of July Fireworks celebration in Summer 2020.
Family thrills abound at TreeTop Adventure Zip Lining. Photo courtesy of Callaway Gardens
Callaway has opened most of their attractions for guests while social distancing standards and mask wearing inside buildings are being enforced. Families can explore the gardens or trails on more than 2,500 acres. Robins Lake Beach, their private beach, is fully open and ready to rent beach umbrellas, kayaks, and paddle boats daily. In summer 2020, Callaway Gardens is hosting their traditional summer events, including a July 4th Weekend Beach Party and nightly fireworks.
RELATED: Kids' Face Masks from Disney to DIY
Helen is a small town in the Blue Ridge Mountains that transports you across the ocean to Bavaria, Germany. Helen offers all the charms of a quaint, downtown with shopping, restaurants, plenty of outdoor activities, with a distinct village feel down the cobblestone streets. Families can explore history at one of the many museums, or find outdoor adventures like tubing down the Chattahoochee. Helen also has the unique distinction of being the home of the only Georgia Mountain Coaster. With the variety of inns and camping options, Helen is another great place for an overnight trip.
At Panola Mountain, families can hike, bike, roller blade, or find a geocache. Other Georgia State Parks are open, too, and operating close to their usual schedules. Rangers-led programs are still occurring at most parks but all programs require pre-registration. During times of high traffic, parks may limit new visitors to encourage social distancing, so be sure to check the most current status before visiting.
At 729 feet, Amicalola Falls is the tallest waterfall in the Southeast. Because of its accessibility, it makes an ideal day trip from Atlanta for families. Families can choose from three different areas to see the falls without having to hike far. You can park at the bottom or middle and walk your way up. If neither one of those options sounds fun, then you can view the waterfall from the top. After spending the day hiking, fishing, and ziplining, consider staying the night at Amicalola Falls Lodge.
With plenty of shoreline, areas for fishing, and boat rentals, a day at the lake is a great option for Atlanta families this summer. Three of our favorite nearby Georgia lakes are Lake Allatoona, Lake Blackshear, and Lake Sinclair.
11. Pick-Your-Own Farm Day Trips
There are several favorite pick-you-own farms that may perfect day trips from Atlanta. Southern Belle Farms and Mitcham Farm both offer strawberries, blueberries, peaches, and blackberries, depending on the month and availability.
An hour north of Atlanta, in Cleveland, is the famous Cabbage Patch Doll factory, aka Babyland General Hospital. The sprawling grounds and mansion are set up as a tour that answers the question of where (Cabbage Patch) babies come from.