Valentine STEM Activity for Kids: Magic Crayon Messages
2/7/23
- By
Liz Baill
Want to put a science-y spin on your valentine cards this year? Try this creative STEM activity for kids inspired by the classic Sweetheart candy of yore—you know, the ones with the cutesy sayings like "Be Mine" and "You're Sweet". This Valentine's Day project is as simple as it is fun. Just write short messages on white paper hearts with a white crayon, then invite your little valentines to reveal their love notes by adding watercolor paint.
Once you've made a heap of hearts, the possibilities are endless. You can give them out as valentine cards, hide them for a heart hunt, or string them up as a banner for some festive Valentine's Day decor. Read on for instructions on how to make these magic crayon messages, the perfect STEM activity for kids this Valentine's Day and all year long.
Need another fun STEM activity for kids? Check out our Guide to Science Experiments for Kids, where you can learn everything from how to make rock candy to how to get an egg into a bottle. And if you need more ways to get crafty this Valentine's Day, see our list of 20 Valentine's Day crafts and recipes.
Magic Crayon Message Valentine Materials
Pencil
Scissors
White paper (We used cardstock.)
White crayon or oil pastels (We used pastels.)
Watercolor (We used liquid watercolor.)
Paintbrush
Optional: Heart cookie cutter or stencil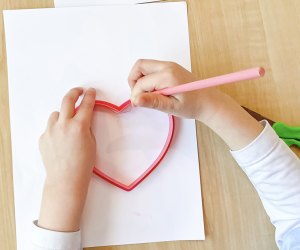 Cookie cutters are a great tool for drawing perfectly shaped hearts.
Magic Crayon Message Valentine Instructions
1. Draw hearts on white paper or cardstock in pencil
We traced cookie cutters to draw our hearts, ensuring a perfect shape.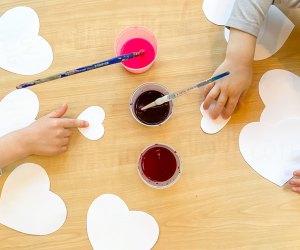 Just the shape alone makes these cards Valentine's Day-worthy!
2. Cut the hearts out
Use safety scissors if younger kids will be cutting them.
3. Write short notes in white crayon or oil pastel
You can also invite your kids to draw on the hearts or write their own messages. Be sure to press hard!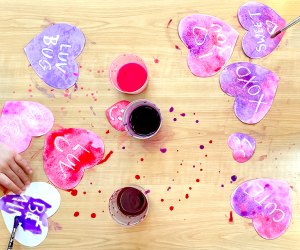 A simple coat of paint makes the messages appear like magic.
4. Paint the hearts with watercolors
Watch as the hidden messages and/or drawings are revealed!
How does this STEM activity for kids work?
This type of project is called a "resist" because the materials oppose one another. Everything in the world is made of tiny, invisible molecules. Some molecules are attracted to one another, while others move away from each another. In this project, the wax in the crayon or the oil in the pastel pushes away the water in the paint, leaving the color only on the blank paper and allowing the waxy words to shine through.
Helpful Hints
Try the project ahead of time
There's no bigger crafting bummer than hyping your kids up for a reveal only to have it not work. So, have yourself a solo crafting session first to test out the valentines.
Use this activity to promote early literacy
Early readers will love to decipher the hidden messages and sound out simple words. With that in mind, resist the urge to use cutesy spellings, like "luv" (as I did) if you're making these valentines with little ones.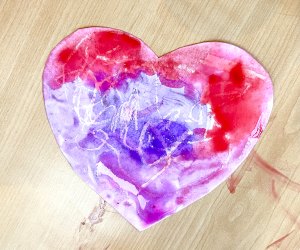 Messages scribbled by tiny hands are even sweeter.
Your kids WILL want to make their own
If you surprise your kids with these magic crayon message valentines, have the materials handy: they will almost certainly want to try the whole project from the start. My 4-year-old had a blast creating his own scribbly secret message after deciphering mine.
Keep paper towels nearby
Sometimes the paint pools, so have paper towels on hand to soak up any puddles.
Photos by Liz Baill @creativishmom

Sign up for our free
newsletters.
Mommy Poppins is a family activity website that helps people find things to do with kids.
©
2023
MommyPoppins. All Rights Reserved.
mp-prod4-v4.32.99
Click Here to Sign Up!
i