SPONSORED
5 Easy Ways To Scare Your Kids Silly this Halloween
Whether you'll be celebrating Halloween at home with the family this year or you're planning to have a few friends over, there's no shortage of easy ways to make the holiday extra special.
Light on the fright and heavy on the fun, here are five Halloween activities inspired by Rowley Jefferson's Awesome Friendly Spooky Stories by Jeff Kinney, #1 international bestselling author of the beloved Diary of a Wimpy Kid series. Packed with comically terrifying zombies, vampires, and ghosts, the book's scary-but-silly tales will leave your whole crew laughing—much like these Halloween games!
Mix Up Some Halloween Slime
There are so many cool ways to Halloween-ify your DIY slime. Start with one of our super simple slime recipes, then add one of these frighteningly fun twists:
Add orange or green paint or food coloring to Basic Slime for a Halloweeny feel.
Add glow-in-the-dark paint to the Basic Slime recipe for an extra spooky touch.
Purple or black sparkles make Glitter Slime perfect for the occasion.
Use clear glue instead of white in your Found Objects Slime and add googly eyes for a part-silly part-spooky surprise.
Opt for pumpkin scented oil in your fluffy slime for added Halloween fun.
Make the slime with your party pals, or whip up a big batch beforehand so that everyone can get right to playing at your ghoulish gathering.
Pin the Spider on the Web Game
A perfectly Halloween twist on an old classic, "pin the spider on the web" is an easy win at any kids' party. Simply draw a large spider web on a piece of posterboard—adding a bullseye or assigning point values to different parts of the web for a more elaborate game. On smaller pieces of paper, draw and cut out your spiders, adding a glue dot to each one (rolled up tape will also do the trick). When it's time for a kid to take a turn, blindfold them (a clean face mask works great…), give them a couple spins for an added challenge, and send them off towards the board with a spider in hand. See how many spiders each kid can get on the web or tally up points to find your winner.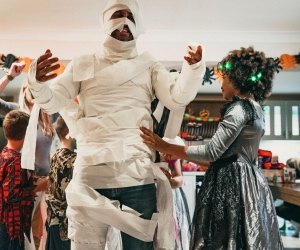 Make Your Own Mummies
Break out the toilet paper! What Halloween party is complete without wrapping someone up like a mummy as fast as humanly possible? Divide your group into teams of two to five, and give each team a roll of toilet paper (Hot tip: No need to break the bank here, but make sure your TP isn't so thin that it instantly rips). Decide who's getting mummified, and when the game starts begin wrapping them up as quickly as you can. You can choose to declare a winner when a team has used its entire roll of toilet paper or—if you can provide extra TP as needed—when one team has completely wrapped its mummy head to toe. For an added challenge, have the mummies race!
No-Carve Pumpkin Decorating
Since pumpkin carving is a high-supervision activity for a kids' party, consider the no-carve route instead. Provide each party guest with a pumpkin and try one of these Halloween-worthy ideas:
Paint your pumpkins! Acrylic paint will adhere best, but washable tempera paints and paint pens can be a good option for younger kids.
Provide kids with foam shapes, googly eyes, feathers, and glue to create spooky or silly faces.
Use masking tape or Washi tape to cover your pumpkins with creepy spider webs and other fun designs.
Use pre-made tissue paper confetti or homemade tissue paper shapes and Mod Podge to create cool decoupage pumpkins.
Get inspired by Rowley Jefferson's Awesome Friendly Spooky Stories with a Rowley-themed pumpkin carving activity here!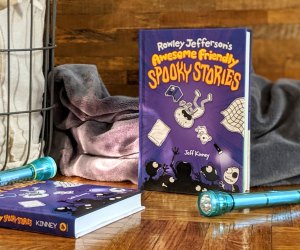 Swap Scary Stories (But Not Too Scary)
When the sun goes down, grab your flashlights and gather round… Scary stories were made for Halloween night! Bonus points for LOL-worthy tales that don't give anyone nightmares. If you're looking for a little inspiration, pick up a copy of Rowley Jefferson's Awesome Friendly Spooky Stories. The hilarious and ghoulish hijinks in this third installment of Jeff Kinney's Diary of an Awesome Friendly Kid series are bound to get your imagination going.
For more of Rowley's adventures, check out the bestselling Diary of an Awesome Friendly Kid and Rowley Jefferson's Awesome Friendly Adventure, both available now. And get an early Halloween treat with the next Diary of a Wimpy Kid book, Big Shot, which goes on sale Tuesday, October 26. Pre-order it here.