Where to Host a Baby Shower in Westchester—That's Kid-Friendly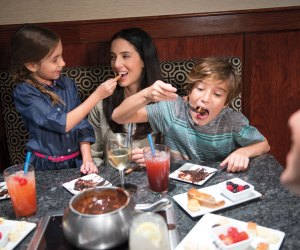 When looking to host a baby shower in Westchester, there are lots of options throughout the county, from high-end halls to outdoor venues with a more casual vibe. But what if the shower is for a soon-to-be-parent who's hoping for the event to be more of a family affair? Whether the invite list includes siblings, younger cousins or friends' little ones, there are a number of places that are great for both adults and kids—and ensure everyone will have a good time.
Here, we've rounded up a few restaurants that fit the bill. And if you're looking for even more restaurants where you can take the whole family, check out our Kid-Friendly Restaurant Guide.
The Rye Grill & Bar - Rye
There are three different rooms to choose from in this large family-friendly restaurant, each with a different feel. The Red Room, in the main dining area downstairs, is ideal for smaller parties and holds up to 50 people, while the upstairs rooms—the Party Room and the Blue Room—have a maximum number of 80 and 115 guests, respectively. Along with the versatility of the venue, there's lots of menus, including buffet and sit-down options for brunch and lunch. (For brunch, think traditional dishes like eggs benedict and French toast, as well as entrees like lobster ravioli and chicken stir fry.) A kid's menu can be added to any party and includes favorites like sliders and chicken fingers. Also great? Parking is free on the weekends and there's a changing table in the ladies' room on the main floor.
Bar Taco - Port Chester
Looking for a twist on the typical baby shower fare? Try tacos! There's a fun and lively vibe at Bar Taco in Port Chester, where you can host a sit-down party in a private room that can hold up to 40 guests (though they recommend sticking with about 35 for a shower). There are food and drink minimums for parties and menu options for both adults and kids. While adults can choose their tacos and other favorites, the kids' menu includes choices like non-spicy guac, chicken and beef tacos and extras like corn wheels and fruit skewers.
The Melting Pot - White Plains
Kids and chocolate fondue seems like a match made in … well, kid heaven. (Not to mention fun for the adults, too!) At The Melting Pot in White Plains, kids and adults and can enjoy bread with cheese and marshmallows with chocolate—along with plenty of other options—in a separate party room that holds anywhere from eight to 60 people. There are prix fixe menus available for parties, as well as a kids' option that includes cheese, entrée and chocolate fondue. Parties are usually booked for 2.5 hours. Bathrooms are equipped with changing tables, and you can either opt to bring in your own décor or the management staff can help.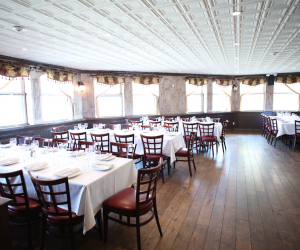 Dolphin's has private and semi-private space available.
Dolphin Restaurant Bar Lounge - Yonkers
If you haven't been to the Yonkers downtown waterfront yet, consider this your chance. Dolphin's has both private and semi-private spaces available for a baby shower, with the private room welcoming as many as 70 people. Party packages range from buffet to sit-down styles—and include people-pleasing choices like rigatoni Bolognese, filet of sole and chicken parmigiana, plus family-style appetizers, depending on which menu you go with, and special options for the kiddos. Hoping to include lots of Pinterest-inspired decor? It'll be easy to incorporate here: While they provide the white linens, you can bring in your own decorations to make the party match the theme. (Another kid-friendly plus: Changing tables in both the men's and women's restrooms.)
Kathleen's Tea Room - Peekskill
Dreaming of a tea party-themed baby shower? Head to Kathleen's Tea Room in Peekskill. At this Victorian-inspired venue, private parties of 25 to 45 people can be held in the main room on Sundays. As a host, you'll choose between an afternoon tea option that includes tea sandwiches, crumpets and scones, and a "you pick three" version, where you choose three items from the menu and guests then pick one. For the little ones, there are kid-friendly tea sandwiches as well as old standbys like mac and cheese. There is also, of course, the tea: Kathleen's has over 75 different loose tea varieties, of which you choose three for guests to decide on.
Vintage Lounge & Restaurant - White Plains
There are a variety of party options available at Vintage, including two separate private party rooms. If you're having a large shower, you're in luck: The restaurant can accommodate parties of 30 to 150 people in the private room, and as many as 300 people if you rent the whole restaurant. For the brunch buffet, you'll find included options like a pancake station and an omelet station, as well as an entrée choice like chicken marsala or eggplant rollatini. There's also a kids' menu available and—always helpful—changing stations in the bathrooms.
Top photo: The fondue at The Melting Pot will sure to be a hit with the youngest guests. All photos courtesy of the respective venues.