Swim Time at 'The Brook': Summer Visits at Tibbetts Brook Park in Yonkers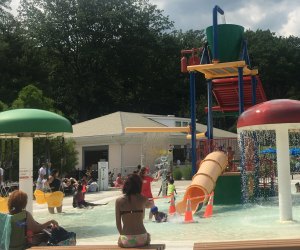 One of Westchester County's official parks, Tibbetts Brook Park in Yonkers features a jewel of a water area—calling it just a "pool" really doesn't do it justice.
Families with kids of all ages can find ways to splash, play, slide, float and cool off at "The Brook." We're frequent visitors to this awesome water spot, and we recently took another trip to see how 2017 is shaping up. Read on for the inside scoop and on how to get the most out of your visit.
Looking for even more summer fun? Sign up for our newsletters and be sure to follow us on Facebook.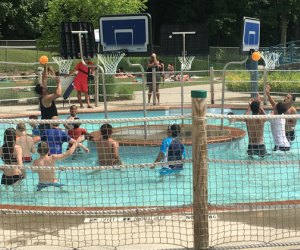 Basketball in the pool is a fun option for tweens and teens.
Tibbetts Brook Park in Yonkers features an "aquatic complex"—not merely a pool!—with a lazy river, a water play area and a large water slide. There are also basketball hoops in the water, a volleyball area, a full snack bar and locker rooms.
The centerpiece is the lazy river, which snakes throughout the middle of the complex. Younger kids can sit in a parent or caregiver's lap on an inner tube (or splash around in the shallow end near the snack bar), while older kids can grab their own tubes. Life jackets are available for those who need them, and inner tubes are in plentiful supply.
There are sections of the "river" with cascading water, so those with tubes either have to paddle like mad to avoid getting splashed or just enjoy getting wet. The entire river is about 4 feet deep at its deepest and 2 feet deep in other places.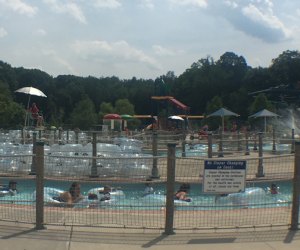 There's no shortage of tubes at the lazy river.
The water play area, meanwhile, is perfect for toddlers. It has animals for climbing, water sprayers, a giant water-dumping bucket, and a shallow pool. There are even swings for infants. It's paradise for little kids on hot days.
For more adventurous kids (and parents), there's a water slide. It's a manageable size, and there usually aren't huge-theme-park-sized lines.
The park also features miniature golf right near the pool, as well as a small playground for younger kids.
What to Know Before You Go
A Westchester park pass is not required to enter, but you will need proof of Westchester residency. Bring a driver's license or other form of ID with a home address.
Hours of operation are Monday - Sunday, 11 AM - 6:30 PM with no admittance after 6 PM. These hours are different than the park hours - the aquatic facility opens later than the park itself.
Parking is $5 (with a park pass) or $10 (without a pass)
Guests must pay another fee (in addition to the parking fee) to use the water facilities. The fees range anywhere from $5 - $15 per person, depending on whether you have a park pass, what time of day you go, whether you're the guest of a park pass holder, and the child's age.
Lockers can be rented for $1. Bring cash.
There is a snack bar with plenty of food and drinks for purchase.
Looking for a shady spot? There are some umbrellas and a grassy area with trees.
Life jackets are provided on the premises.
Changing rooms, restrooms and showers are plentiful and spacious.
All photos taken by the author.