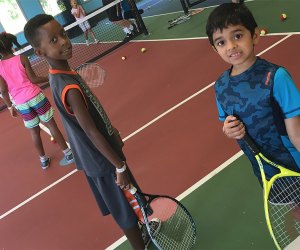 A Dozen Drop-In Play Spaces for Kids in Westchester and the Hudson Valley
Kids complaining they're bored—or you just have your eye out for something new for them to do? Whether you're looking for something on the weekend, tween-appropriate activities, or spaces for the toddler set, we've rounded up a dozen drop-in play spaces and fun zones, from trampoline parks to play cafes.
Looking for even more activities? Check out our newly updated classes guide.
Billy Beez – West Nyack
Here's just some of what you'll find at this play space, on the first floor of the Palisades Center mall in West Nyack: tunnels to crawl through, areas to play soccer and basketball, and a crazy number of slides—as well as a separate space for the smallest visitors. When the kids are ready for a break, you can find food and drinks at the onsite Honey Café. Planning to head over often? Ticket packages are also available. (There's lots more to do at the Palisades with kids, too.)
The Castle Fun Center – Chester
Looking for a place where you can easily spend the entire day? The Castle Fun Center offers lots to do. You'll find everything from go-karts and laser tag to mini-golf, a skating rink (you can do roller skates for some retro fun), and even amusement park–style rides. From September through April, the facility is closed on Mondays, Tuesdays, and Wednesdays, but during the rest of the year, it's open every day—though times vary—and of course, outdoor activities are dependent on weather and season.
The Elk's Place – Harriman
Headed to Woodbury Commons—or have some errands to run? Consider The Elk Place's "Drop and Shop" program. Kids from 4 to 14 years old can be dropped off at the play space—which has trampolines, tunnels, and lots more—for up to two hours. Planning to stay instead? Along with the play area, there's a café with buffalo wings, French fries, pretzels and hummus, and other kid-friendly fare.
Grand Prix New York – Mount Kisco
Whether your tweens or teens would rather be bowling or racing, there's fun to be had at Grand Prix New York in Mount Kisco. Kids over 8 years old can try their hand on the Kids Track—kids who are at least 3'3" can ride with an adult who has a license—while kids from 11 years old can also try the Brownstone Track. (Once teens have their license, there are other tracks they can check out.) Along with bowling, there's also an arcade and restaurant.
RELATED: Indoor Trampoline Parks in and Around Westchester

There's a host of activities to keep kids busy at Legoland. Photo by Rose Gordon Sala
Legoland – Yonkers
Here's another Ridge Hill spot to go for drop-in fun: Legoland. There's tons for little Lego enthusiasts to check out—from the 4D cinema to the Earthquake Tables (that shake to ensure your creation is sturdy) to the Duplo Village, which is great for toddlers and preschoolers. And don't miss the Ninjago City Adventure! Also important to note: There's a café onsite, and kids under 2 are free.
Life: The Place to Be – Ardsley
Not only can you host large-scale special events at this Ardsley space, like a Sweet 16 or bar/bat mitzvah, but you can also head over on just a regular day when you're looking for something to do, whether that's mini-bowling, rock climbing, or playing arcade games. Snack time? There's a cafe that serves kid favorites like hot dogs, chicken tenders, and grilled cheese.
Lil' Chameleon – Tuckahoe
Sadly, Lil' Chameleon is closing its doors on December 21, 2019, so be sure to stop by soon! With toys, puzzles, books, a chalkboard wall, and more, young kids will love hanging out in the play area at this kids' resale boutique—and parents will love the self-serve coffee and snacks (plus the comfy couches). There are lots of classes offered, like crafts, storytimes, and more, most of which are drop-in and have a fee. Monthly memberships are also available.
RELATED: Play Cafes for a Bite To Eat and Tot Playtime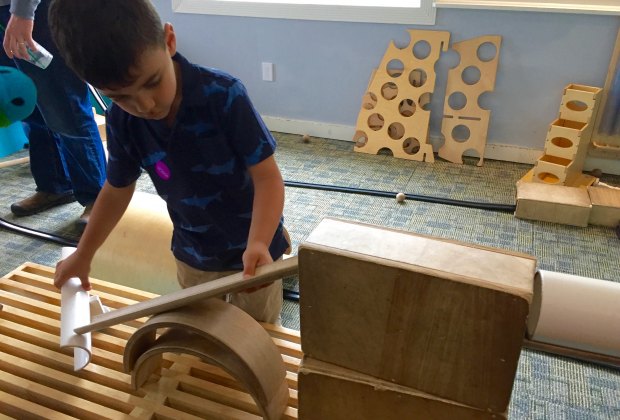 Kids can construct a ramp maze on the second floor of the Mid-Hudson Children's Museum. Photo by Michelle Vames
Mid-Hudson Children's Museum – Poughkeepsie
Kids will love exploring this Poughkeepsie-based children's museum, which has a variety of fun and educational exhibits that touch on everything from science to art in an age-appropriate way. There are daily events, and once a month, on Saturday evenings, the museum hosts Family Free Nights for kids under 6, with no admission fee. Check out our full review for even more info on the museum.
The Play Place – Elmsford
When it's too cold, rainy, or hot to hit the neighborhood playground, consider The Play Place in Elmsford, which has a large indoor play structure that makes a great alternative. Along with places to slide, climb, and crawl for kids under 10, there's a "Tiny Tots" area for infants and young toddlers. The Play Place also has tennis and soccer areas, and it offers classes for kids in both sports—as well as dance and martial arts. Play times are in two-hour increments, and socks are required to play.
Rockin' Jump – Yonkers and Mount Kisco
With two locations—one at Ridge Hill in Yonkers and another in Mount Kisco—Rockin' Jump gives southern and northern Westchester kids a chance to bounce to their hearts' content. Kids can take part in the daily open jump times, which gives them access to the trampoline, plus specialty areas like the Slam Dunk Zone and Dodgeball Arena. Have little jumpers? The "Rockin Tots" time is specially reserved for the under-6 set.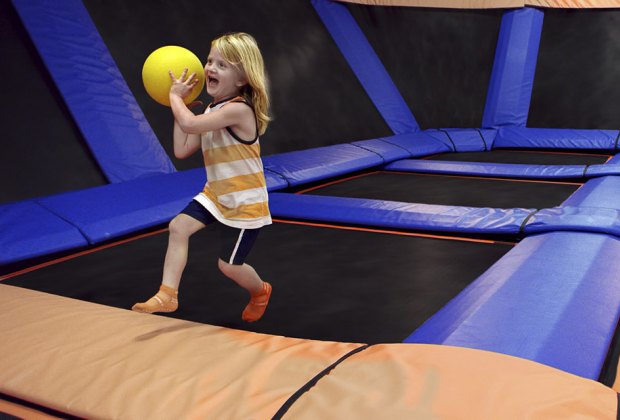 The Sky Zone will keep all ages jumping! Photo courtesy of the venue
Sky Zone – New Rochelle
Bored tweens? Try Sky Zone in New Rochelle, another trampoline-centric spot. They'll be able to jump on the trampolines, as well as try their hand at the Sky Ladder or the Warrior Course, among other activities. The under-4 crowd can jump on their own during toddler time. Along with the ticket, you'll have to buy Sky Socks, for $3, on your first visit.
Westchester Children's Museum – Rye
Along with exhibits like Build Your Own Rollercoaster and Rigamajig Big Construction, the Westchester Children's Museum in Rye also runs various programs to check out, including "Young Discoverers" on Wednesday mornings and Rhyme & Read on Saturday mornings, both ideal for the toddler and preschool-set. Bonus: you don't need to sign up ahead of time to participate! (There are events for older kids, too.) The museum is closed on Mondays and Tuesdays (except for certain holidays), and kids under 1 are free.