ICS Carnival: A Family Fun Tradition in Lower Westchester
The annual carnival presented by the Immaculate Conception School in Tuckahoe—known colloquially as "the ICS Carnival"—is one of two must-do carnivals in Lower Westchester (the other being the annual Lake Isle carnival). The large-scale scope of the event makes it destination-worthy for families with kids of all ages.
An annual tradition for more than 20 years, I've been taking my kids for nearly a decade, and I expect to continue to do so till they go off to college (maybe even beyond).
Read on for our first-hand account of this fun-filled annual tradition, and check our Event Calendar for other fun happenings!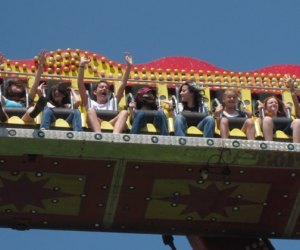 There thrill rides are the real deal at this carnival.
Held Thursday, May 31, through Sunday, June 3, 2018, this is a full-fledged affair offering around 15 rides, approximately 20 games, food and activities for all ages. Younger kids can spin to their hearts' content on the elephant ride, Dizzy Dragons, a merry-go-round and the like, while older kids get their thrills on the Scrambler, the Tornado and the Cliff Hanger, to name a few. Mixed ages collide on bumper cars, sail down the Super Slide, and soar on the Ferris wheel. Adults can join their kids on most rides, even those for the younger set.
OUR LATEST VIDEOS
My family loves the games offered at this event, particularly because the prizes are quality. Don't worry about bait-and-switch; the toys on display are the ones you win. The stuffed animals that my kids have claimed over the years are still constant bedfellows and BFFs. Earn these by playing Whac-A-Mole, shooting water at a target to test your accuracy and speed, and rolling balls into holes to advance your race horse, among others. There's a winner in every game, so for the best shot at prizes, vie for these soon after the carnival opens, when competition is less fierce.
Other kicks come from the Wacky Shack (an obstacle course of sorts, topped by funhouse mirrors) and sand art, though offerings may change from one year to the next.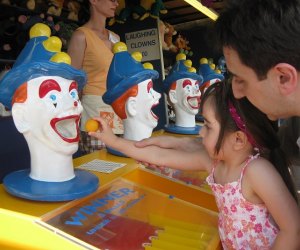 There's a winner with every game!
A variety of carnival-type refreshments is offered, such as lemonade, candy apples and snow cones. Food vendors include the Fathers Club BBQ (hot dogs and burgers); Italian and Greek food vendors offering assorted cuisine; and homemade Italian zeppole made by the ICS parish priests, Some seating is provided.
Admission is free, and games and sand art are cash only. Rides are ticketed, but you can purchase all-you-can-ride wristbands for $25 on Thursday and from 1-5pm on Saturday.
Heads-Up:
Being the first weekend in June, it's easy to underestimate the weather. Somehow the heat is usually intense, and there's little source of shade. Don't forget the sunscreen!
Limited parking is available for free on school lawns. Approach from Route 22, where police will direct traffic.
Port-a-potties are provided.
Crowds tend to accumulate later in the day, so arrive early for ease of parking, shorter lines and a better shot at winning game prizes.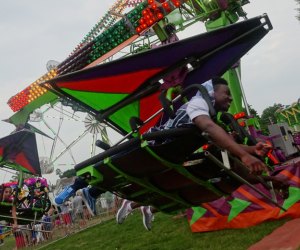 This was originally posted in 2017 and has been updated for 2018.
All photos by the author.