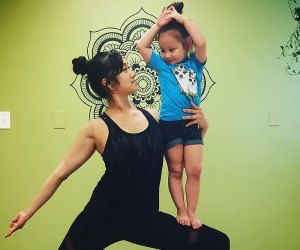 12 Mommy and Me Classes You Can Take on the Weekend in Westchester
Whether you're interested in mommy and me music classes, dance, or yoga, Westchester has no shortage of kids' classes you can take with your child. But for working parents—or any parent who's short on time during the week—it can be tough to find a class that fits your family's schedule.
The good news: There are a number of mommy and me classes that meet on the weekends. Here, we've rounded up 12 parent/child classes that take place on either Saturday or Sunday.
Find more classes and enrichment programs in our Classes Guide for Westchester Kids.
Sign up for our newsletters to have them delivered straight to your inbox, and follow us on Facebook!
Bach to Rock – Mamaroneck
What toddler doesn't love to hear his or her favorite tunes? At the Rock n Roll class at Bach to Rock in Mamaroneck, kids can do just that—and more. Geared toward children 6 months to 3 years old and their parents, the class is filled with sing-a-longs, instrument play, and movement. Plus, each week centers around a different theme, with a story to go along with it. The class meets on Saturday mornings, and drop-ins are welcome!
Great Play – Scarsdale
This kids' gym in Scarsdale offers a Great Start class, which combines activities like climbing and tumbling with "Interactive Gym" technology. The class features different levels—A, B, C, and D—which correspond to different ages. On Saturday and Sunday mornings, there are sessions available for kids in levels B, C and D (ages 12 months to 3.5 years).
Gymnastics City – Cortlandt Manor
Jump, tumble, and swing your way into the weekend with a Saturday morning class at Gymnastics City. The Mommy & Me session starts at 9am and is geared toward kids 18 months to 2.5 years. Children are introduced to gymnastics basics like an obstacle course, uneven bars, and the balance beam, with movement and learning throughout.
RELATED: 10 Westchester Spots with Enrichment Classes for Babies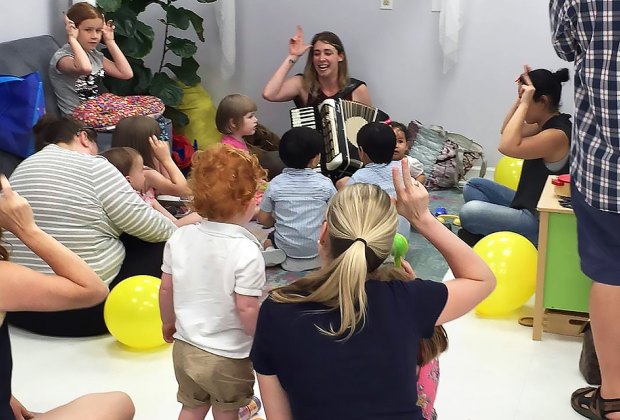 Learn sign language through songs and games at Lil Chameleon. Photo Courtesy of Lil Chameleon
Lil Chameleon – Tuckahoe
There are a number of fun classes held throughout the week at this resale shop. On Saturdays on the parent-and-baby front, you'll find a Baby Sign Language class. There, kids up to 3 years old, with their parents, will be taught a variety of signs from American Sign Language. The class features games, songs, and more, and is either $20 per class.
Little Language League – Rye
Instill a love of language early (and brush up on your own high school French or Spanish skills) with the Language Together classes at the Little Language League. The classes, for kids from 6 months to 3 years old, provide a playful and interactive environment. The Saturday mornings classes are for kids starting at 18 months, and are available in French, Spanish, or Italian. Various topics are covered each session, like a day at the beach or tea time.
RELATED: 16 of the Best Party Places for Preschoolers and Toddlers in Westchester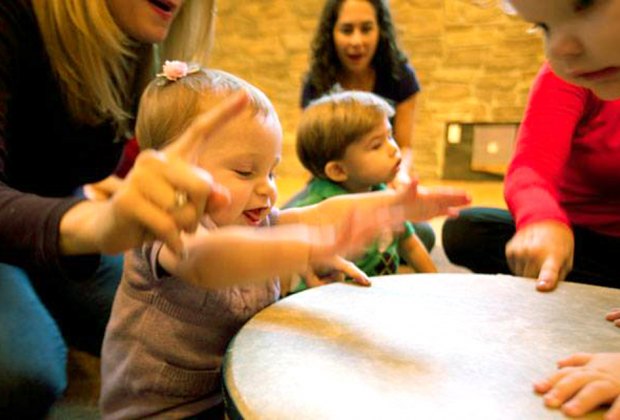 Music Together combines music, singing, dancing, and more. Photo courtesy of Music Together
Music Together of Northern Westchester – Various locations
For two decades, the Music Together program has been offered at various Northern Westchester locations through Music Together of Northern Westchester, and on Saturdays, you'll find classes at the American Legion Post 1009 in Yorktown Heights and at Mustard Seed Studio in Katonah. The class runs for 45 minutes, and sessions are usually in 12-week blocks (with shorter sessions in the summer), so be sure to check in on the offerings for the upcoming semester.
My Gym – Mamaroneck and Dobbs Ferry
Both the Mamaroneck and Dobbs Ferry locations of this kids' gym offer a Tiny Tykes/Waddlers class on Saturday mornings. The class, which is geared toward little ones between the ages of 7 and 22 months, includes songs and dancing, as well as a chance to start kids tumbling and doing other movements.
Sounds Good Westchester – Various locations
The Music Together program is also offered through Sounds Good Westchester, this time on the Sound Shore side of the county. This fall, there are two 45-minute classes are being held on Sundays at New York Dance in Harrison, at 9:30am and 10:30am and another at Bet Am Shalom Synagogue in White Plains, starting at 4:30 p.m. For a different spin, you can also try the Generations class, offered on Saturday mornings at Willow Towers, an assisted living facility in New Rochelle. It's the traditional class, but welcomes a group of residents from Willow Towers as well.
Sprout Wellness – Pleasantville
If you were a regular at prenatal yoga and want to continue your practice as a new parent, check out the Pleasantville-based Sprout Wellness. As a family-friendly studio, there a variety of options, including a Baby & Me class that meets on Saturdays at noon. The class is for parents with infants from 6 weeks until they can crawl and emphasizes connection. Baby-centric poses, including tummy time, are incorporated, and the class is set up to accommodate parents (read: mid-class diaper changes are A-OK).
Starlight Starbright Music – Scarsdale
The Music Together program—which combines music, singing, dancing, and more—is offered at a slew of locations throughout Westchester. At this Scarsdale studio, there are 45-minute sessions held on Saturdays and Sundays this fall for kids up to 5 years old. Another cool class at the studio? Uke U, where parents and kids between the ages of 3 and 6 can try their hand at the ukulele.
Swim Tank – West Harrison and Mamaroneck
With classes held every day of the week—including Saturday and Sunday—there's bound to be a class at Swim Tank that works for you. The infant/toddler classes, which are for kids from 4 months to 3 years old, are designed to help kids learn to feel comfortable in the water and to help parents learn how to keep them safe. There are a number of 30-minute classes to choose from on either day, at either location.
Y Dance YMCA – Tarrytown
Have visions of tutus and tap shoes? While your under-2-year-old might still be too young for ballet, why not introduce him or her to dance by taking the Mommy & Me class through the Y Dance program at the YMCA at Tarrytown? The interactive class, which is for 18 to 36 month olds, gets kids and their parents moving. The class is held on Saturdays at 9am.
This post was originally published in 2017 and has been updated since.