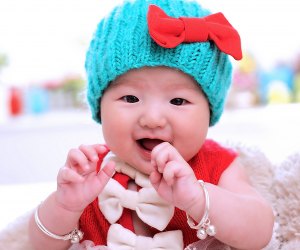 Learn, Play & Grow: 10 Westchester Spots with Enrichment Classes for Babies
Westchester has tons of classes for kids of all ages—and babies are no exception. Whether you're interested in introducing your little one to yoga and gymnastics, or even have her start learning a foreign language, you'll find something in our area. Here we've rounded up a few classes to try, for babies anywhere from 6 weeks to 12 months old.
Looking for even more first-year fun? Read our round-up of Mommy & Me music classes—and be sure to check out our Event Calendar for daily events.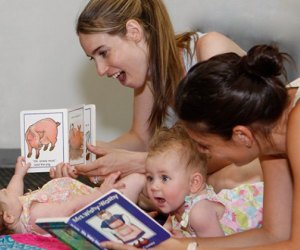 Kidville has classes for babies 6 months and older.
1. Kidville - Mount Kisco
If you're looking for something that both your baby and toddler or preschooler can do together, check out the Circle, Sing & Play Together or the Big Muscle Together classes at this Mount Kisco kids' center, both of which welcome babies and their older siblings in one class. Kids will take part in various activities appropriate for their age—from playing with books and balls to going on the swings. These classes are for babies 6 months and up.
OUR LATEST VIDEOS
2. Lil Chameleon - Tuckahoe
This Tuckahoe resale boutique-with-play-space offers a variety of activities, including a Baby Sign Language class on the weekends that teaches newborns (up through 3 year olds) American Sign Language signs through games, stories and more. You can do 4 weeks and snag a lower rate or try a drop-in class for $20.
3. Great Play of Scarsdale - Scarsdale
The Great Start program at Great Play of Scarsdale is for babies starting at 6 months old, who'll utilize the Interactive Gym to try all sorts of fun activities that help develop their motor skills—from playing with bubbles to swinging. There are different levels to the program, and kids move through each as they grow.
4. LinguaKids - Larchmont
Babies as young as 6 months old can start learning a new language—French or Spanish, in this case—at this Larchmont language studio, where little ones will learn basics like numbers, colors and animal names thanks to the "interactive musical curriculum."
5. Little Language League - Rye
Another option? In the Language Together program at this language school, French and Spanish are also offered for babies from 6 months old, who will be fully engaged in the language of choice. As they get older, they can stick with these or try their hand at Italian or Mandarin, which are also offered.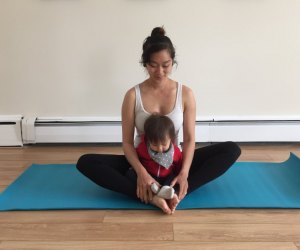 Sprout brings mindfulness to the littlest minds.
6. Sprout Wellness - Pleasantville
It's never too early to introduce even the tiniest tots to yoga and the Baby & Me yoga class at this family-focused Pleasantville studio offers just that. Together, babies starting at just six weeks old and their caregiver will try their hand at various poses.
7. Rye YMCA - Rye
The Rye Y has a number of enrichment classes for kids, including those for babies starting at 6 months. In the Baby & Me Gym Class and Movin & Groovin Babies with Ellen Watermelon, infants and caregivers will play with everything from parachutes to bubbles and puppets. There are family memberships available, though non-members are also welcome.
8. The Little Gym of Scarsdale - Scarsdale
Called "Bugs," the littlest members of the Little Gym of Scarsdale—from 4 to 10 months—can take a beginner gym class with a caregiver that introduces them to age-appropriate gym gear, movement and more.
9. Mandarin Discovery Preschool - White Plains
In the Mommy & Me program at the Mandarin Discovery Preschool—which is at the YWCA in White Plains—babies will be introduced to everything from Mandarin songs to stories, with arts and crafts and other fun activities in the mix. Drop-in classes are $20 per session.
10. My Gym - Mamaroneck
In the Little Bundles class, babies from 6 weeks old can get in on the action with exercises, baby-safe rides, songs and more. Once they hit 6 months old, they'll move into the Tiny Tykes program (which goes until they're 13 months), where they'll take the fun up a notch and start to learn more about activities like stretching and tumbling.
All images courtesy of the venue unless otherwise noted.