SPONSORED
CaliCase: The Waterproof Phone Pouch Your Family Needs This Summer—Plus a Discount
For a camping, beach-loving, amusement or waterpark-going family like mine, CaliCase is the summer staple we never knew we needed until we tried it for ourselves. Yes, the world-famous, wearable, waterproof phone pouches truly live up to the hype, enabling you to go handsfree while keeping one of your most prized possessions safe—but also easily available for fly fishing photos and splash pad selfies.
Here are the reasons why my family will be stashing these little lifesavers in our beach bags and backpacks all summer long. And don't miss our exclusive discount for Mommy Poppins readers!

Built in foam padding allows your phone to float on water. Photo by Rachael Cherry.
Keep your phone safe and accessible in or around the water—or just on the go.
Where I go, my phone goes, but the storage options aren't great when it comes to summer activities. Usually I'm nervously hiding our devices in the back of a locker or stuffing them into the depths of my bag so they don't get lost or damaged—giving up the ability to text, call, or even snap photos. With CaliCase, my kids and I can safely bring our phones into the water, on boats, or roller coasters, while documenting our adventures and still being able to connect with one another as needed. Having my phone on me in case of emergency gives me real peace of mind as a parent, too.
It's not just for water either. You know that phone graveyard under amusement park rides? There's no worse feeling than losing a phone because it slipped out of your pocket, or your hands, on a bumpy ride or boat. The lanyard keeps you and your phone connected in the water and out, whether you are trying to get that action shot or just keeping it on you. Plus, you can even stash your hotel key and credit card in there too.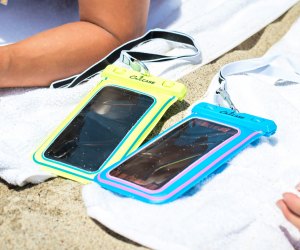 From the beach to the amusement park, CaliCase keeps your phone safe in and out of the water.
Go worry-free thanks to a double layer of protection.
One of the defining features of CaliCase is the double layer of protection that you won't likely find on other phone pouches. Thanks to this dual layer of high-quality PVC plastic, you can swim, snorkel, or kayak without worrying about punctures and leaks that will damage your phone. Plus, CaliCase's waterproof pouches are made with foam padding that will protect your phone from falls while also keeping it afloat should the case slip off your neck in the water. My daughter gleefully tested this repeatedly in our pool, and every time it popped back up, she was totally thrilled.
Capture clear photos and video without even taking your phone out of the pouch.
Like many families, we love being able to take tons of photos and videos on our phones—especially during our summer adventures. Conveniently, CaliCases are made with a unique, heat-transferring plastic that allows you to easily utilize the touchscreen features on your phone and take amazing photos in the water while your device is safely inside the case. With CaliCase, we're able to capture really cool underwater photos (the case's waterproof IPX8 rating means it's certified up to 100 feet underwater) and other snapshots we'd never get without reliable phone protection.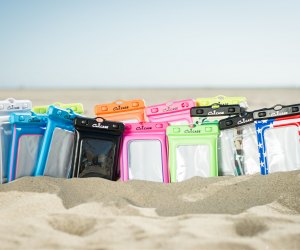 There are 15 colors to choose from, including glow-in-the-dark options.
Keep it fun with 15 cool colors to choose from.
Bonus! CaliCases come in a bunch of different colors and patterns—with vibrant and glow-in-the-dark options that make it even easier to quickly locate your phone should the case slip off in murky waters. There's also a handy tool on the CaliCase website where you can answer a few quick questions about your device to determine which size pouch will be best for you. I slid my phone right into a Regular CaliCase without taking my case or pop socket off with no problem. In fact, the biggest problem my kids and I ran into was picking which colors we wanted!
Safety, functionality, and the ability to capture our waterside fun make CaliCase our summer hero! Head to the CaliCase website for more details and to order your own waterproof pouches now, plus use the exclusive code "mommypoppins" to get 20% OFF your order for a limited time. They're flying off the virtual shelves...
Unless noted, photos courtesy of CaliCase